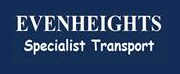 Evenheights Ltd is based in Enfield (North London) and supplies mainly to the rail industry but also to construction, Recycling and event companies. Jim Wellington, Director explains how Evenheights Ltd has achieved reductions in fuel use through FORS by cutting down our idling times and through better route planning.
Our company does a lot of work for London Underground, and we were approached by their transport manager who suggested we join up. Several months after we joined it became a contractual condition any way. We've seen many benefits to, such as being allowed access to some large sites where non FORS compliant companies cant.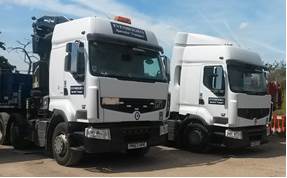 Evenheights Ltd passed their initial bronze assessment first time round, we were also given a few little pointers in organising the vehicle files and documents. Once we were bronze accredited we really made the most of the benefits on offer, such as the discounts available to us and the performance management tool. A year later we then passed the silver accreditation.
The biggest benefit of joining FORS, is allowing us to keep our contract with London Underground, as it is our biggest contract. Also in the Past 18 months the company has noticed a vast improvement in fuel and tyre wear since we started using the transport for London freight journey planner.
"FORS has helped us keep our costs down and profits up"
Since being a part of FORS the cost effectiveness of our company has improved greatly. On average we are getting 2 MPG's more out of our Lorries and almost another month out of our tyres.
"The savings speak for its self"
Getting Gold adds to the professionalism that our company strives to achieve, we aim to do every job to the best of our ability and by achieving gold it shows we can also run the company to the highest standards. Our future goal is to maintain our FORS standard and keep on saving.
| | | |
| --- | --- | --- |
| | MPG | Incidents per 100,000 Kms |
| Jan-Dec 2011 | 3.8 0 | 0 |
| Jan-Dec 2012 | 5.2 0 | 0% |
| Percentage improvement | 14% | 0% |