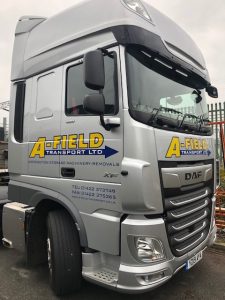 Section 1 – Introduction
A-Field Transport is based in Elland and have developed an enviable reputation based on the reliability and professionalism of its nationwide transport business. With over 30 years' experience within the transportation industry, we have undertaken considerable expansion of our warehousing facilities and vehicle fleet. Enabling us to provide a fast, highly reliable storage and distribution service on behalf of all our customers.
At A-Field Transport we offer facilities for contract haulage utilising our own fleet of vehicles. These vehicles are available on either short or long-term contracts and include provision for the application of customers own liveries if required.
A-Field Transport provides a comprehensive service in support of customers engaged in relocations or machine replacements. Our extensive experience in the removal and installation of a wide variety of machines, plant and equipment means that we can provide a fast, cost-effective service aimed at minimising site downtimes.
Richard Firth – Managing Director, explains how A-Field Transport has achieved significant improvements through FORS including reductions in fuel use and improvements to the company's environmental impact.
As well as being ISO 9001 accredited, the company also boasts modern warehouse facilities which consist of over 60,000 sq ft split over two buildings. The main 40,000 sq ft building offers free standing, stacking storage whereas the 20,000 sq ft building has a controlled environment for products that need to be kept clean from cross contamination such as the food industry.
Section 2 – How did you hear about FORS, what prompted the company to join and how long have you been a member?
We heard about FORS when a contractual requirement came into force back in 2014 with Crossrail. As we are an ISO certified company, quality standards are important to us. FORS is improving the industry with its safety and 0000environmental impact and we wanted to be part of it.
Section 3 – What was your experience of the initial FORS Bronze audit?
A-Field Transport passed the initial audit first time round. We could see that FORS would be critical for the business to progress, so we moved straight onto silver and passed that. We are now going for gold and hope to be the best in the industry and strive for excellence.
Section 4 – What was your main reason(s) for you progressing (either from Bronze to Silver and then Silver to Gold or straight from Bronze to Gold)?
Once we achieved bronze accreditation it was only natural, we advanced to silver. We identified improvements to our performance and fuel efficiency from the FORS tools and training. All the drivers and managers have taken advantage of the e-learning courses that FORS provide. The decision to progress to gold was easy because FORS is helping the company become more effective and efficient.
Once accredited, we really made the most of the benefits on offer, in particular the FORS Collision manager and the FORS Practitioner workshops. The FORS training dashboard has really helped us keep on top of the training for drivers and managers. Our drivers make use of all the FORS guides including fuel management, tyre management and winter driving which helps as a refresher when needed. The going for gold toolkit has provided confidence with what could have been a daunting task regarding the accreditation. The templates they have provided for gold are excellent and really help you get everything you need to pass.
"FORS has certainly made our fleet a better rounded and safer force to recon with alongside brilliant driver training aids." R Firth Owner A-Field Transport

 " FORS has given the transport industry a very much needed push in the right direction with up to date driver training and fleet management tools " L Stansfield Transport Manager A-Field Transport.
Section 6 – What improvements have you made?
| | | | | | | | |
| --- | --- | --- | --- | --- | --- | --- | --- |
| | MPG | Incidents per 100,000 Kms | CO2 | NOx | PM10 | Number of PCNs | Proportion of fleet that uses alternative fuels |
| Nov 2018 – Nov 2019 | 11.13 | 0.28 | 2848.61 | 6884.41 | 105.91 | 15 | 0% |
| Nov 2019 – Nov 2020 | 11.13 | 0.39 | 2830.04 | 6830.46 | 105.11 | 13 | 0% |
| Percentage improvement | 0% | -39% | 0.65% | 0.78% | 0.76% | 13% | 0% |
Driver health and fitness review – We currently have cycle racks installed at our operating centre to encourage staff to cycle in along with our cycle to work scheme. We will be installing more racks so more staff can benefit from this scheme. With the gold progression we will be implementing the fleet check driver's app which has a daily fitness declaration that the drivers must use.
Recruitment of drivers – A-Field's staff retention is very high, so our turnover is low. We advertise our vacancies on our website and Facebook. We also utilise our refer a friend scheme where there are incentives for staff and future colleagues.
Noise assessment – Corded/banded ear plugs, ear defenders and disposable ear plugs all for use up to 100db are available for all staff to use and are available in the warehouse. Driver operators have also been handed the products for use on the road and at other customers premises. We have designed the workflow to keep noisy machinery out of areas where people spend most of their time and limited the time spent in noisy areas. Our loading times are between 07:00-17:30 reducing the impact to areas around our site. A-field Transport also work to the Control of Noise at Work Regulations 2005.
Modal shift and alternative vehicles – A-Field Transport have investigated the benefits of alternative vehicles but feel that until the refuelling infrastructure or the range of electrical vehicles have improved, we must stay with diesel power. Our vehicles are fitted with eco modes and we are committed to alternative fuel and consistently analyse this.
Section 7 – What are your plans for the future?
In order to make continual fleet improvements we will be purchasing Euro VI vehicles when old vehicles need replacing and revising the way we monitor driver fitness and health with the Fleetcheck drivers app. With the FORS toolkits and guides we aim to further reduce our carbon footprint to help improve our environment.
Section 8 – What evidence do you have of positively promoting FORS at requirement G7?
We have positively promoted FORS by displaying the logo in our digital signatures and on our website. All the vehicles are also promoting FORS by displaying the stickers. As a FORS member aspiring to the Gold standard, we expect any future relevant contractors involved in our supply chain, to also be part of the scheme. As part of this, we have reviewed our future contractors' requirements, and will require all contractors wishing to work with us and agree with our terms and conditions stating that all suppliers must hold a valid FORS accreditation, relevant to the contract they are required to undertake.
Section 9 –What FORS Gold accreditation means for your organisation/to you?
Gaining gold accreditation would show our commitment to making the industry safer and improving the environment. With the help from the FORS guides/toolkits we will always strive for excellence. FORS continues to improve the transport industry and we want to be at the forefront of that as an accredited gold member doing things the FORS way whilst promoting them and getting everyone in transport on board.
Section 10 – (Optional) Please provide your social media contact details so we can follow your organisation
N/A
Section 11 – FORS members' feedback questionnaire
Questionnaire completed.
*Please note: All published FORS Gold case studies have been submitted by the accredited company named above and transcribed verbatim