Fire protection Ltd is part of the Hotchkiss group and one of the Britain's leading manufacturers and installers of fire-resistant ductwork. Fire Protection Ltd markets the Flamebar range of passive fire resistant products, including the highly successful Flamebar BW11 fire rated duct system.
We were made aware of FORS when tendering for work across London and we looked at the requirements and benefits of joining the scheme and we saw that it fitted perfectly with our ethos of improving safety.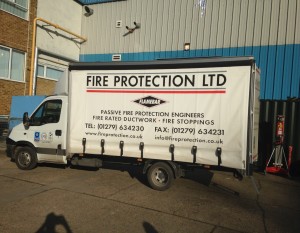 We first gained FORS Bronze in August 2013. The following year in March we achieved Silver and now we want to go for Gold recognition by improving on the existing system we already have in place.
We encouraged our sub contractors Barry Ives haulage and John Atwell Transport to become FORS Bronze accredited in 2013 and they are now Silver accredited through our encouragement. FORS has also improved the credibility with our clients.
The safety of vulnerable road users is the area we consider of paramount important and working with FORS, such as through their workshops has provided a further impetus which has helped in consolidate awareness across our transport operation.
FORS has provided our driver with better training through E- Learning such as work related road safety, cycle safety and also with the in house tool box talk like manual handling, loading and unloading, house keeping and the safe urban driving training which has given us real drivers focus and has helped our fleet operative become more involved in ensuring the fleet operation is professional and competent.
Through FORS training we have a reduction of 80% in fine and charges as shown below
| | |
| --- | --- |
| | Fines and charges |
| March 2013 – Feb 2014 | 4 |
| March 2014 – Feb 2015 | 1 |
FORS has help with the introduction of vehicle inspection process, driving licence check from DVLA and vehicle maintenance records.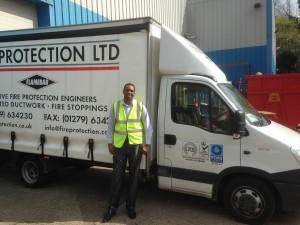 Fire Protection has an ongoing commitment to vehicle safety improvement and this development contributes significantly to road safety where cyclists and pedestrian are in closer proximity, in addition the company has now fitted four blind spot cameras to our new van which gives our driver that extra awareness and has also attained the CPC card in the last year.
We are proud to be FORS silver accredited, but we can't rest on our laurels because we intend to continue to monitor and advance with FORS moving to the elite of enviable Gold accreditation status. We cannot rest, as there is more to achieve. FORS is not an exclusive club but a necessary addition to any business and we strive to do better by applying FORS principle and practice throughout the business.