FM Conway – Recognizing Professional Drivers' Skills and Knowledge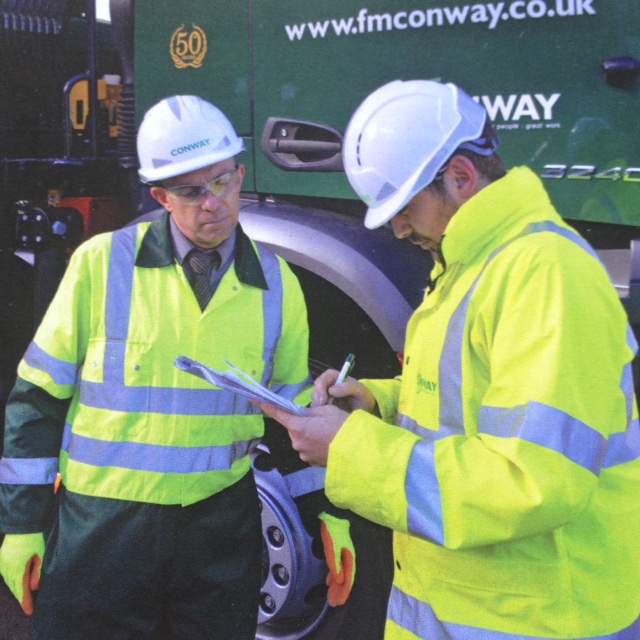 FM Conway is one of the UK's leading infrastructure services companies, providing inspection, design, enhancement and maintenance services in transportation, the built environment and open spaces for both communities and businesses. Peter Parle -Transport Manager, demonstrates how FM Conway have developed a scheme to recognise and rewards its professional drivers who can show that they are the cream of the crop.
'We first became aware of FORS whilst undertaking several contracts for Transport for London and were introduced to the scheme through our close relations with TfL', explains Peter. 'Since the early days of FORS we have progressed through FORS Bronze and Silver Accreditations before achieving FORS Gold in 2013 and certification to ISO 39001 in January 2014'.
'For Conway, FORS has delivered demonstrable results, The fuel efficiencies, reduction in CO2 emissions, safety enhancements, and access to training materials, were in addition to the marketability of our membership to potential clients.' says Peter. 'However, our key focus always was, and continues to be, safety for our operatives and all other users of the road network.'
"We recognised at an early stage of the development of our Road Traffic Safety Management System that the key to safe fleet operation is Right Driver, Right Vehicles, Right Place'.
'Compliance with the ongoing development of the TfL CLOCS scheme vehicle safety enhancements, culminating in the introduction of the Safer Lorry Scheme in September 2015, has ensured that our fleet vehicles are the safest in the industry, and The London Lorry Control Scheme, supported by site logistics planning and live tracker data enables the fleet to be in the Right Place at the Right Time.'
'The Key to safe Fleet Operations is Right Driver, Right Vehicle, Right Place. Our driver recognition scheme recognises and rewards the best drivers.'
'We wanted to ensure that our drivers were the very best available for the job and chose to implement a Professional Driver Recognition Scheme (PDRS)' continues Peter. "The scheme we came up with emulates the FORS scheme in that we recognise Bronze, Silver and Gold standards for our drivers and provide recognition and reward for the standards achieved."
'We expect all our drivers to achieve Bronze Status before we authorise them to drive a fleet vehicle. They must complete a full induction; have qualifications checked and verified; have attended a Customer Service Course, be signed up for automatic driving licence checks, have completed the Safer Urban Driving Course'.
"To achieve Silver, then Gold status, our drivers must receive service recommendation cards, keep exemplary records of vehicle inspection checks and tachographs, and keep their vehicles clean and tidy, inside and out".
'Most importantly, we require Silver status drivers to have successfully completed three of the FORS Online Driver Training modules'.
'These are a fantastic resource', enthuses Peter, 'We have some excellent in-house training facilities and resources but I can't imagine us, or any other logistics business, being able to produce such good training material'. 'The PDRS has enabled us to encourage our people to take advantage of this excellent resource and given us a mechanism to reward the very best of our professional drivers. We even give a Gold safety helmet to Gold status drivers to ensure that their peers know of their success.'
| | | | | | |
| --- | --- | --- | --- | --- | --- |
|  Quarter | September 2014  | December 2014 | March 2015  | June 2015  | September 2015  |
| Online Training Modules Passed | 1 | 44 | 186 | 281 | 361 |
| Gold Status Drivers | 0 | 0 | 0 | 1 | 5 |
| Silver Status Drivers | 0 |  5 | 45 | 76 | 106 |
| Bronze Status Drivers | 0 |  180 | 180 | 210 | 254 |
The PDRS aligns with FM Conway's certification to ISO39001, the international standard for Road Traffic Safety Management Systems. 'Addressing stakeholder requirements is a key element of the ISO39001 specification, and we recognise that our own drivers are key stakeholders of our business. Additionally we hope that we can help our supply-chain by encouraging them to use our drivers as the role model for their drivers and by using the TfL Online Driver Training Modules to help meet our standards '.