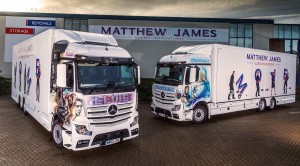 Matthew James Removals has made the decision to progress to FORS Gold to show its commitment to achieving the highest standards of fleet management and road safety.
After their initial Bronze accreditation, Matthew James Removals, experienced the benefits of being part of the scheme as they reduced their operating costs through improved driver training and a reduction in vehicle related incidents.
Matthew James Removals were motivated to progress through the scheme, firstly to Silver in 2014 and then finally Gold last month.
All of Matthew James Removals' new vehicles are Euro 6 and fitted with high quality camera, scanning and sounder systems to further enhance their commitment to road safety and to reducing their carbon footprint.