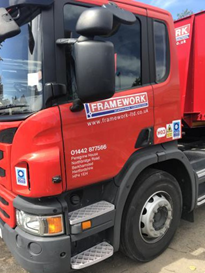 Section 1 – Introduction
Framework (Specialist Works) Ltd is an industry leading Scaffolding Company based in Hertfordshire providing Scaffolding Services to London and the South East. Alex Ball the company Logistics Manager explains how Framework (Specialist Works) Ltd have achieved significant improvements since becoming a FORS Member (including reductions in fuel use / reduced CO2 emissions, lowered NOx and Particulate Matter emissions, improved its road safety record, decreased transport related fines and charges etc.)
Section 2 – How did you hear about FORS, what prompted the company to join and how long have you been a member?
We found out about FORS whilst exploring accreditation that would be relevant to our business. We saw that FORS would be useful to help reduce our carbon footprint, become more efficient with our Transport Operation and to demonstrate to clients and members of the public our commitment to best practices.
Section 3 – What was your experience of the initial FORS Bronze audit?
Framework (Specialist Works) Ltd passed the initial
Bronze Audit first time with absolutely no minor or follow up points. The audit was a simple and smooth process. The auditor came to our operating centre and thoroughly examined our systems of work and record keeping.
Section 4 – What was your main reason(s) for you progressing (either from Bronze to Silver and then Silver to Gold or straight from Bronze to Gold)?
As soon as we obtained Bronze Accreditation, we knew straight away that we would progress onto Silver and Gold. Bronze shows that an operator is legally complaint and enforces some best practices. Progression to Gold demonstrates an exceptional operator and that is what best describes our business.
Section 5 – Explain how you have made use of the benefits FORS provides?
We have already made good use of the benefits offered to FORS Members. Initially not all of our vehicles had the full safety equipment installed. Immediately after achieving FORS Bronze we began fitting the additional safety features required for Silver and Gold. By using the FORS discount provided by their approved suppliers we were able to save 10% on the supply and installation of this equipment. FORS also encouraged us dig deeper into our fuel and emissions which demonstrated to us that more savings could be made.
We have already seen a reduction in our fleet operating costs since becoming a FORS Member. Obtaining FORS has been great for our business and has allowed us to tender for more clients.

-Matthew Loddy, Managing Director

Having the FORS accreditation makes me feel proud to drive for Framework (Specialist Works) Ltd. It shows to me that the company I work for are committed to improving standards across the industry and gives me a great sense of job security.

-Joe Dean, HGV Driver
Section 6 – What improvements have you made?
These shall include:
Performance data – Use data provided for FORS requirements S2 and G2. See example below for table (data can be presented in different table format if you prefer)
MPG

Incidents per 100,000

Kms

CO2

NOx

PM10

2018-2019
13.55
0
157.17
3691
55.24
2019-2020
9.2
.08
115.9
228.55
3.43
Percentage improvement
-32.1%
–
26.25%
93.80%
93.7%
Driver health and fitness review – we have regular meetings and reviews with all our staff to monitor their performance and their personal health and well-being as well as periodic eyesight checks and regular drug and alcohol
Recruitment of drivers – our Logistics Manager is also a Careers Enterprise Advisor supporting the careers department of a local school and regularly visits the school to talk to the students about career options. We also provide work experience and work placements to all schools in our
Noise assessment – all of activities have been assessed with a noise level meter and we have increased the amount of PPE available for different tasks. We have also isolated areas of high noise for example metal cutting. Additionally we have changed times of operating some machinery in our depot for example use of our road sweeper is completed by an employee before or after a shift to limit the amount of staff in the
Modal shift and alternative vehicles – we already have 3 fleet cars that are petrol hybrid and on our next purchase we are considering alternatively fuelled vehicles across the fleet.
Section 7 – What are your plans for the future?
As part of our continuing improvement plan we will be purchasing Euro VI vehicles with bespoke bodies that include additional vulnerable people audible and visual warning systems, additional lighting, improved fuel efficiency and decreased noise. We will also continue to develop our driver and staff retention plan and constantly improve working conditions for everybody involved in our operation. All of this combined will improve our efficiency, our safe working conditions, our profitability and our public and client relations.
Section 8 – What evidence do you have of positively promoting FORS at requirement G7?
We positively promote FORS in and around our offices and operational depot with posters and information relating to the scheme and our personal improvements since registering.
Section 9 –What FORS Gold accredition means for your organisation/to you?
We have seem so many benefits since joining FORS within our own organisation and expanding our customer base. Going forward we plan to take Gold registration to further increase our customer base and to demonstrate our commitment to ultimate compliance, safety and environmental positivity.
Section 10 – Please provide your social media contact details so we can follow your organisation
The company is not on social media
Section 11 – FORS members' feedback questionnaire
Completed
*Please note: All published FORS Gold case studies have been submitted by the accredited company named above and transcribed verbatim