Based in North Lincolnshire, Freightmaster is a small General Haulier specialising in delivering large/obscure concrete panels and beams for major city constructions. We currently have 9 vehicles in our fleet and have replaced 4 with new MAN 44 tonne euro 6 tractor units in 2015 and 1 DAF 44 tonne euro 6 in 2016. The remaining 4 vehicles in our fleet have recently been upgraded this month.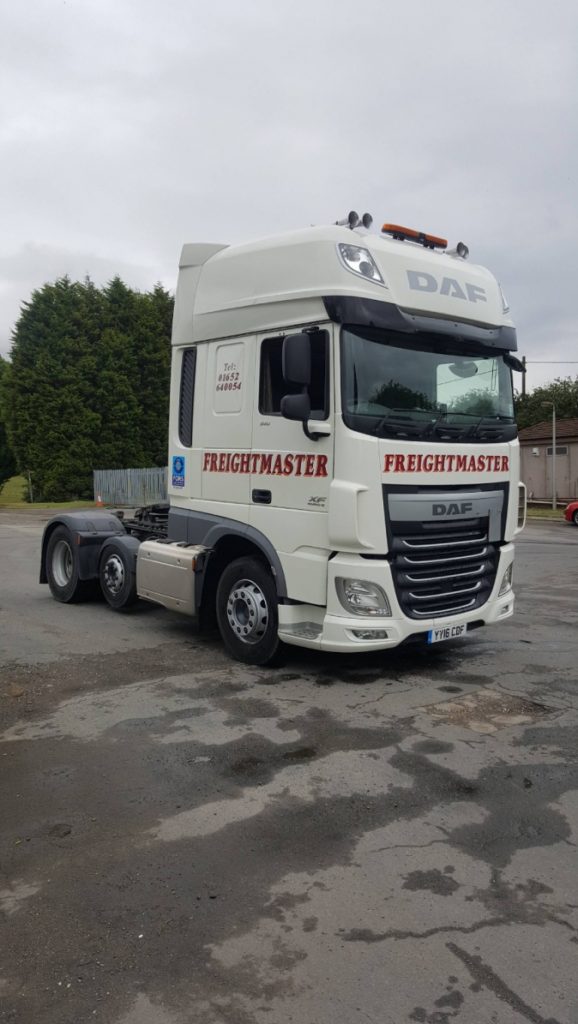 We initially joined FORS in 2013 as a contractual agreement, due to the majority of our delivering sites being in London but we quickly saw the benefit FORS provided to our company, so it made sense to progress and we successfully completed our first Bronze audit in August 2014 and have just successfully re-achieved Silver.
During the initial audit we found we had everything in place, passing first time round, we were keen to progress to silver to actively demonstrate our commitment to road safety, so we made the most of the benefits on offer from FORS. We have taken advantage of the additional training provided for both drivers and managers, developed and improved strategies to reduce collisions and fuel emissions.
Our Transport Manager attended the FORS Practitioners workshops and the knowledge and experience he gained, gave him the tools to produce the necessary documentation, processes and evidence required at the initial audit and through the year to progress to Silver. Additionally, our drivers have benefited from the FORS Safe Urban Driving training with the added bonus that they were also credited with 7 DCPC hours for taking part. They all enjoyed the practical course and found it beneficial to see the perspective of a cyclist coming alongside a large HGV and how small they are in comparison. The FORS e-learning courses have proved to be another invaluable tool to help teach the drivers and prepare them for large city deliveries and keep compliant. It has also made the drivers part of our progression which has kept them interested and made them feel part of what we are trying to achieve and maintain as a company.
'FORS enables us to make meaningful improvements in our safety, performance and environmental impact.'
FORS workshops have been a practical way of both improving our knowledge and learning from others. We have implemented an internal targeted training strategy and we have seen improvements in staff morale and knowledge and retention.
'FORS has given us the tools to enhance our own internal training by using the free e-Learning training and also the toolbox talks available on their website which help to bring staff, experiences and best practices together.' Jo Oakley Transport Manager
A core target of ours has been to improve fuel efficiency. FORS have given us the tools and the knowledge to address our emissions to not only monitor but put in place ways to reduce them; we have seen good improvements over the last year.
| | | | |
| --- | --- | --- | --- |
| | Distance travelled (kilometres) | CO2 Emissions (Tonnes) | Number of PCNs |
| Apr-Mar 2016 | 1,165,377 | 1151.88 | 16 |
| Apr-Mar 2017 | 1,277,452 | 1139.41 | 4 |
| Percentage improvement | 9.62% increase | 1.08% decrease | 75% decrease |
We have introduced a comprehensive driver fitness and health annual questionnaire along with a fitness to drive policy, which is in addition to the eye sight checks and drink and drugs checks we already carry out. This is to identify any problems that may affect ability to drive in order to increase safety and minimise the risk of incidents as a result of underlying health problems or diagnosis of a condition.
We have a dedication to attract new young drivers into the industry. We offer support to bring out the best in new drivers, in a supportive, industry leading environment giving them the tools to succeed in this most demanding of jobs. We also offer this support internally if current employees wished to change their career to a driver, although we have had no one request this, they are aware of the possibility of up skilling.
We have modern fleet and operate at times where disruption will be minimal by our vehicles and drivers. We encourage eco driving techniques such as anti idling and courtesy such as muting of radios in an effort to reduce noise pollution. We have retrofitted noise reducing matting onto all our panel carrying trailers, with the aim to reduce noise pollution from our operational activity as much as possible.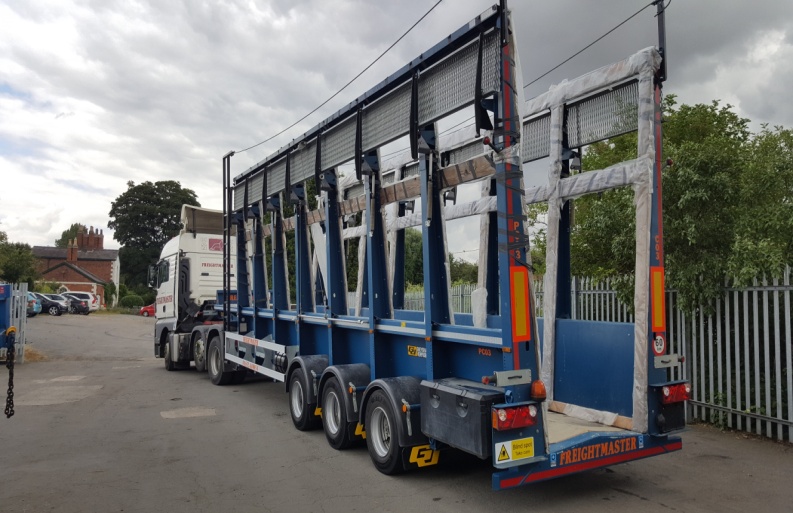 We have investigated the opportunity to move part or all of our consignments from road transport to an alternative mode; we have also explored the opportunity to use electric or alternatively fuelled vehicles. However the nature of our contracts makes the transition unachievable at this time but we will continue to re assess the cost and practicality as future technologies advance.
We have a commitment to continuous improvement at Freightmaster. We have already seen a decrease in our emissions, together with an improvement in driver efficiency and attitudes. Our aim going forward is to continue to promote the FORS standard, further invest in the FORS available courses for both drivers and managers to help reduce MPG and incidents and increase overall image and safety.
Please note: All published FORS Gold case studies have been submitted by the accredited company named above and transcribed verbatim