My name is Matt Fuller and I started Fuller Grab Hire Ltd in 2014, initially I commenced as a sole trader in 2012. The company now operates 10 vehicles at its new 'OC' in Smallfield (Surrey), providing Grab & Tipper Hire, Roll-On-Off Services, demolition & site clearance, waste management solutions and the supply of new and recycled building materials.

A lot of the work that the company undertakes is in the greater London area and because of this, cyclists are always a constant worry to our drivers.  The company obtained FORS Bronze in December 2015 and all drivers were booked on a Safe Urban Driving course as part of their ongoing training. When our drivers were informed that they were going to attend a SUD course, the remarks were pretty much what was expected. However, a meeting with the drivers on the Monday following the course confirmed it was evident that they not only enjoyed the experience, but equally felt it gave them a better understanding of the vulnerability they themselves felt whilst undertaking the role of a cyclist on the practical aspect of the course.
Since becoming involved with the company in April 2016 our Transport Manager has managed the fuel and emissions data available and has produced easy to understand weekly/monthly spreadsheets. This has enabled the company to have access to Fuel, CO2 and Mileage data thus enabling it to interrogate the information by driver and/or by vehicle.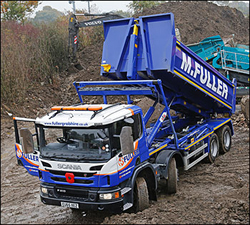 As a result of the information currently to hand, the company have implemented a vehicle replacement policy and will eventually only operate one marque and  following the recent purchase of another new vehicle which will be delivered at the end of September 2016 we have arranged the introduction of weekly telematics data to be provided from the manufacturers dealer. This will assist us in compiling the most accurate data available moving forward
The company became a CLOCS Champion early in 2016 and recently joined the FTA. As a company, we believe that FORS is the bench mark of operator compliance and endorses a commitment to meeting the highest standards of compliance and road safety at all times. Equally, achievement of FORS Gold would serve to confirm that Fuller Grab Hire ltd has achieved that accolade.