My name is Nicky Daw and I run the Transport Compliance at Fuller Grab Hire. We are a company that specialises in Muck Away, Aggregate deliveries and various other activities including dust suppression and road sweeping across the South East and London. Operating in the most congested area of the UK we must be mindful of making a difference and displaying our intent to set ourselves apart from the rest.
Back in 2015 after seeing more and more about FORS in the trade press, noticing accredited companies in our area and speaking with local companies we decided we should set our sights on achieving FORS. Following a meeting in January 2016, at which FORS progression was discussed, it was decided that FORS Silver should be the company's next step and an application should be considered for the spring/summer.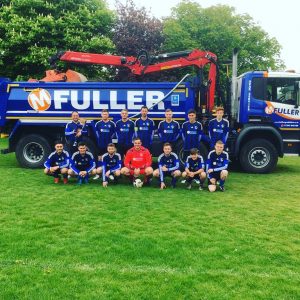 Our first FORS Bronze audit was an experience, the auditor was very thorough but supportive at the same time. We spent a lot of time preparing for this it is wise to point out to anyone considering FORS should give the task full respect and plan ahead.
Since our initial Bronze accreditation, all our drivers attended a Safe Urban Driving course with Fleet Source in London. The SUD course, free due to our initial accreditation had a huge impact, with every driver confirming that it was not only beneficial, but equally gave them a better understanding of the risks vulnerable road users faced every day. As a bolt-on to the SUD course, every driver has also completed an E-learning course in cycle safety.
Nicky Daw, Transport Manager "Our First FORS Bronze Audit was an experience, the auditor was very thorough."
Mindful of the benefits of vehicle data, our management team expanded upon the FORS requirement and set in place our own vehicle data analysis programs that are updated weekly and are accessible by all managers. FORS set our standard in vehicle data analysis to which we have improved and made it more personal to our company.
Nicky Daw, Transport Manager "FORS set our standard in vehicle data analysis to which we have improved"
With our goal being to achieve FORS Gold, our submission to that effect was made in October 2016 and we achieved Gold Accreditation on 11 October. We have communicated the benefits of FORS and will certainly continue to do so, offering support to our customers in their journey to FORS and the development within.
| | | | |
| --- | --- | --- | --- |
| | MPG | Incidents per 100,000 Kms | Number of PCNs |
| Jan-Dec 2015 | 6.48 | 0.318 | 2 |
| Jan-Dec 2016 | 6.98 | 0.308 | 0 |
| Percentage improvement | 7.2 % | 3.2 % | |
*Annual improvement in MPG and Incidents per 100,000 Kms
Due our comprehensive induction and continued development of our new and existing drivers we are able to ascertain and monitor their health and fitness levels.
As we are promoting FORS to the community by sponsoring Football teams, we are able to push the industry to potential new recruits. We try to employ from within too, our drivers will come to us with recommendations from within.
We have purchased an App to record and monitor our vehicles noise emissions, with our drivers Health & Wellbeing at the forefront of our mind and the public we monitor everything.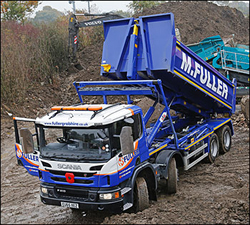 Currently Hybrid vehicles are in their infancy where commercial HGV's are concerned, equally, the manufacturing process must be such that the purchase or lease price must be viable. Fuller Grab Hire Ltd prides itself on the fact that its management team maintains strict adherence to managing every aspect of its business, operational compliance and the ongoing data monitoring of its vehicle fleet. With plans going forward including the offer of support to other local companies in their journey to and through FORS and more detailed progression within the industry for our drivers through the Practitioner Courses.
In conclusion, FORS has afforded Fuller Grab Hire Ltd the ability to quickly, simply and effectively implement various strategies to ensure the company and fleet operates as safely as is possible. We have built around it a framework that ensures we are as up to date and as current as we can be. Importantly, we now have access to tools such as e-learning and other training courses that we would otherwise have been unaware of.
Please note: All published FORS Gold case studies have been submitted by the accredited company named above and transcribed verbatim