Gatwick Group has been providing Hiab hire, Construction Logistics and Contract Lifting solutions predominantly to the aviation, rail and construction industries since 1979. In October 2015 we were bought by R Swain Group and are now part of a much larger organisation.  We have been working over the past year to the FORS Gold standard. We have been very active in highlighting the benefits of FORS to our internal and external stakeholders and to our supply chain. Our commitment to FORS as ever continues and retaining our Gold Standards highlights our dedication to continual improvement'.
We first learnt about FORS in the latter half of 2012, as we had ISO 9001, 14001 and 18001 accreditations, we wanted to use the FORS standards to show the continual improvement a small company could make in a big pond.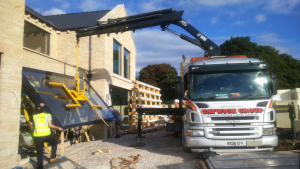 We are now looking to re-new our FORS Gold accreditation. We have held our FORS Gold for the last year alongside our Bronze and Sliver awards. FORS has helped us demonstrate to all industries that we are committed to ensuring our fleet and workforce are setting the best examples for all the FORS standards. This in turn has led to us gaining more works particularly on regulated sites in London.
The FORS benchmarking tool continues to help us to track our progress. Their recommendation of using the TOM TOM Telematics system has continued to really help us look at better ways to plan our routes and reduce our idling time. This has seen us make a real impact this year in reducing the amount of mileage our trucks have been doing. FORS also advised us to switch to using the Advance Check Ltd and again this has streamlined our driving licence checking and saved us time. We have the confidence that all the checks are up to date and it has enabled us to highlight any potential for concern in advance.
All our existing operatives from last two years have really benefitted from the Safe Urban Driver Courses (SUDS). They really found it a valuable insight into how a cyclist is seen on the streets and the difficulties both cyclists and HGV drivers have. We were very keen to continue to educate our new recruits on these dangers and so have ensured all our new members of staff have completed or are booked on the SUDS courses. The FORS E-learning has been very useful to us and all our existing staff have completed this. All our new recruits are also undertaking their FORS e-learning courses. We are insistent that they are reminded of their responsibility to vulnerable road users and how to drive with a sustainable ethos in mind. This in turn has seen a huge reduction in our Transport Related Fines and Charges (41%), we feel that all our operatives are better informed now having completed the E-learning. We also regularly keep the drivers updated through tool box talks and transmittals.
Using the benchmarking system that FORS recommend, we have seen real improvements. Although our MPG has gone down this year we have greatly reduced our fleet mileage. We have better planned our routing of vehicles. We have saved money on our fuel purchasing but more importantly FORS has helped us achieve a reduction in our fuel consumption by 5.3% and a reduction in our CO2 emissions by 5.34%. We are delighted on the further improvement we have made compared to last year in these areas. We continue to ensure all our Hiab lorries have automated gear boxes and a Power On Demand facility on all the Hiab cranes. This has helped to cut our fuel consumption, and particularly any over revving.
MPG
Total Diesel Consumption (ltrs)
Distance travelled (miles)
Co2 output

(tonnes)

Transport Related Fines & Charges
Jan – Dec 2014
6.82
164,255
246,566
52.98
£715.00
Jan – Dec 2015
5.56
155,479
209,318
50.15
£420.00
Percentage improvement 
-1.8%
5.3%
15.1
5.34
41%
FORS has helped us achieve a reduction in our fuel consumption by 5.3% and a reduction in our CO2 emissions by 5.34%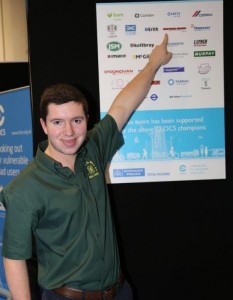 Retaining our Gold accreditation would re-affirm our commitment to FORS. We have used the advice and standards provided by FORS to continually improve as a company. We actively promote FORS to all our supply chain and many of our subcontractors have now begun their own FORS journey's. We continue to support FORS, CLOCS and TFL, we recently sponsored the CLOCS Bike Show at the Excel Centre and one of our graduates Sam Durkin helped out at the event and spoke with many of the public about the benefits of FORS. We look forward to another year making improvements in all areas of our business with FORS.