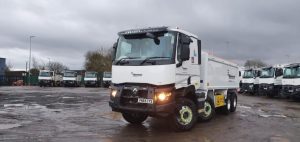 Gerrards of Swinton Ltd is a family run Tipper haulage company based in Swinton Manchester, we deliver Aggregates and Asphalt around the north west and the motorway networks on behalf of several blue-chip companies. We specialise in contract haulage as well as day hire of Tippers.
Gerrards of Swinton ltd has grown significantly throughout the years and achieved significant improvements through FORS including reductions in fuel cost, lowered emissions, improved road safety record and reduced fines and charges.
We were first made aware of FORS though our Tarmac Account manager when we obtained our first Tarmac contract in 2013 and realised that it would help us to achieve success within the industry following its management system.  We have now been a member since 2014 and feel that it is a necessity to the industry. It is a great health and safety benchmark for all hauliers to aspire towards.
Gerrards of Swinton passed their initial Bronze audit 06.11.2014. This showed us clearly the path we needed to take to ensure all the correct measures were being taken.  I myself took over the fleet operations manager role at the back end of 2018. Prior to that I had an already extensive knowledge of FORS as its guidelines were at the forefront of all our training and health and safety policies. In December of the same year I had my first experience with the FORS auditing process. On the run up to the audit the entire process seemed quite daunting, however once I settled into it, it all made sense and came together nicely. Even though we passed this audit first time the auditor did point a few things out to us that helped to make us a stronger candidate going forward. By the end of the audit I felt comfortable and confident with the whole process and immediately begun preparation for Silver accreditation. Whilst we did have a lot of processes already in place, we did find the various templates on the FORS website invaluable. The Silver audit process was much more in depth and help us to concentrate more on key fuel factors. This in turn helped us to massively reduce the amount of fuel used across the fleet.
We have decided that now is the time for us to go for Gold. As the industry has changed over time so too has the industry requirement. More and more companies are requiring FORS bronze as a minimum accreditation for their contracts (ourselves included), as things progress FORS Silver will likely become the benchmark. Best practice for us would be to acquire Gold and stay there, this way we are always ahead of the industry standard and any potential suppliers/contractors know that they are getting the safest and most efficient service from their haulier. We would like to consider ourselves to be the haulier other hauliers aspire to be. FORS Gold will go a long way in helping us to achieve this.
All our drivers complete a minimum of two weeks training. They must also complete a safe urban driving course, MPQC course and have completed the FORS e-learning courses – (Training dashboard). In addition to this they must also complete any contract specific courses, such as Aggregate industries E-Tots. Our drivers also all undergo extra safety training through our onsite training school T&G Training Academy Ltd.  All driving is reviewed and if anything is flagged up it is dealt with immediately. Where necessary extra training is provided to help prevent further incident and to create an understanding as to why the driver has found themselves in this position. We constantly review our training to ensure it is the best it can be with the resources we have.
Our FORS accreditation has been invaluable in helping us secure more contracts as our business has grown. With our Gold accreditation we hope to continue driving forward within the bulk haulage sector.  Once accredited we plan to continue enjoying the benefits that come with it. We have always been particularly proud of our accreditation logo and look forward to displaying Gold on our trucks, Emails and certainly on our social media pages. One of the great benefits to being a FORS accredited haulier are the various courses that are on offer. Courses such as the collision management and investigator classroom course as well as the various online courses and FORS practitioner courses have become an integral part of the way we run our day to day operations. The fuel saving benefits alone are enough to make you sit up and take note. In addition to this it's always great to hear from our drivers after having completed one of the courses how much they feel that they may benefit from it in there day to day activities and what they can be doing differently to help us move forward in the industry in a safe and efficient manner.
As you can see from the table below, we have made significant improvements in various areas across our business.
| | | | | | | | |
| --- | --- | --- | --- | --- | --- | --- | --- |
| | MPG | Incidents per 100,000 Kms | CO2 | NOx | PM10 | Number of PCNs | Proportion of fleet that uses alternative fuels |
| Year 2018 | 6.73 | 0.77 | 1954.1617 | 3286.0395 | 49.1795 | 17 | 0% |
| Year 2019 | 7.36 | 0.38 | 1536.1707 | 2825.3584 | 42.2849 | 12 | 0% |
| Percentage improvement | 8.9% | 67% | 24% | 15% | 15% | 34.48% | 0% |
As part of us helping our drivers live a healthy more active lifestyle, we have started making a big push on our cycle scheme to our longer serving drivers. This is to try and encourage health and fitness daily to all members of staff.
We have a close working relationship with our account manager at Indeed. They have thus far been able to accommodate all our recruitment needs at Gerrards of Swinton ltd. In addition to this we work closely with walking with the wounded and project Reece to help ex serving soldiers get back to civilian life and secure a long and promising career in the transport sector.
As we are based primarily in a residential area, we have had to take several measures to help minimise the noise pollution that we create. In the morning, our vehicles only exit via the Dawson street side of our operating centre. We have also taken steps to ensure that we are not carrying out any unnecessary maintenance or using power tools such as Jack Hammers between the hours of 7pm and 8am.
All our vehicles are currently Euro 6 and offer the best emissions return available to us currently. We have been in talks with Renault to discuss the direction they will be taking in the future and whether more sustainable methods of travel will become available. At present they have no other options available to them due to weight restrictions and other varying factors. Having said that as technology advances, we will be looking very closely at what becomes available and how and when we can incorporate that into our fleet.
*Please note: All published FORS Gold case studies have been submitted by the accredited company named above and transcribed verbatim