Gill Aggregates is a prominent FORS Gold accredited aggregates wholesaler that supply building materials to trades predominantly in the London area. The company originated in 2007 and has been a growing success ever since. By joining the FORS scheme we have reduced fuel by refining procedures in place with regards to measuring fuel usages, the environmental impact and improving driving techniques. My name is Raj Shergill; I am the company Health & Safety Advisor. It is my role to ensure that the HSQE Management System procedures are understood and implemented throughout the company.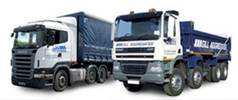 We came across FORS due to contractual reasons.
Initially Gill Aggregates Limited intersected FORS into the company as it was a crucial requirement to have this accreditation in order to enter FORS registered customer sites. However we soon appreciated the benefits of utilising FORS standards and objectives into everyday operations of the company. This provided us with confidence that our operations are now worthy for higher accreditation and since then we have received a Gold certificate which we aim to maintain and achieve for a second time round.
Gill Aggregates proudly attained the bronze certificate first time round
It was a great achievement to be reassured that our standards and procedures were being implemented correctly. The regular attendance of the workshops allowed us to gain more in-depth knowledge of what is involved as a FORS Accredited company. The next step was to aim for silver, then gold. We had found that quite a few of our suppliers were FORS accredited. From this, we were encouraged as a customer to encourage other trades to join the scheme which would benefit not only the daily operations but also the industry as a whole. Our success with FORS has now encouraged our customers and suppliers to join the FORS scheme, making them aware of how their daily operations can be improved.
'It was more about refining old procedures rather than implementing new ones'
Ever since joining the FORS scheme, Gill Aggregates worked on progression in areas of safety, environmental protection and legal compliance. Examples of progression can be directly seen in the number of PCN's we have recently received and there is a reduction rate of 30% since joining FORS. Greater communication with the drivers through toolbox talks and training sessions enabled Gill Aggregates to work towards greater efficiency and safety. Cash incentives have also been introduced improving driving style, reducing fuel intake and co2 emissions. We have attempted to improve driver visibility by installing cameras, side guards and reversing alarms which act as sensors. Gill Aggregates have greatly worked towards refining and advancing old procedures.
By attending most of the workshops, we have gained more knowledge of what is involved and how to 'up our game' as such in this competitive industry'
Gill Aggregates are committed to adhere to the standards set by the FORS scheme which benefit both the company and drivers. Procedures of fuel monitoring and tracking driving styles through CMS Supa Trak have enabled Gill Aggregates to see improvements in fuel usage and co2 emissions. By attending the workshops, we have gained more knowledge including controlling, recording and prevention techniques for PCN's, how to monitor drivers and how training can lessen the chance of them receiving driving infractions. From these designed talks we gained more knowledge and became more aware of what is involved and how to 'up our game' as such in this competitive industry.
| | | |
| --- | --- | --- |
| | Litres used | Litres saved |
| Jan - Dec 2014 | 182688.50 | 10936.27 |
| Jan - Aug 2015 | 247489.50 | 5879.85 |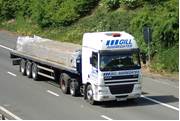 For Gill Aggregates, achieving the FORS gold accreditation for a second time would be an exceptional achievement for our company as we have continued to maintain our accreditation. Gill Aggregates, now a FORS accredited company has weighed greater commitment towards meeting FORS standards in everyday operations. From using side guards to four way cameras fitted onto our Lorries for improved visibility and improved communication between transport managers and drivers. Gill Aggregates has progressed to become a company that is not only FORS Gold Accredited but to also be known for its continual success and improvement from the standards set by FORS. We highly recommend to our sub-contractors to become FORS accredited and are continuously promoting the scheme.