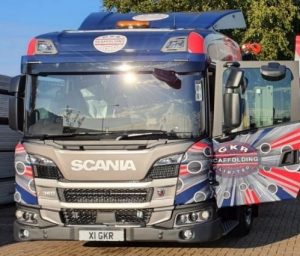 Section 1 – Introduction
GKR Scaffolding Limited Fleet depot is based in Rochester, Kent providing Scaffolding Access solutions to many large Construction Contractors mainly in the Capital London.
Over the past 7 years Transport Manager & FORS Practitioner Phil Wise and Commercial Director Paul Hersey have adopted the FORS Standard and have seen improvements in our Fleet safety record, Driver training and Fleet PCNs.
Section 2 – How did you hear about FORS
We came across FORS in 2013 during a client supply chain meeting pushing for safer roads in London which we fully support. Further on it was clear that the whole of construction in London was to support this initiative and being a forward-thinking company GKR wanted to achieve the Bronze Standard not only aid to our Industry Compliance but also lead to significant improvements in Driver training which would assist in improving Road Safety.
Section 3 – What was your experience of the initial FORS Bronze audit?
At first glance the Bronze Standard seemed quite daunting with many different areas covering Operational compliance as well as in depth Driver Training but with the FORS guidance in all areas it became straight forward. GKR Scaffolding passed their first Bronze Audit in 2013 and by the end of the audit the whole FORS Bronze Standard made complete sense for our business as we could see the benefits operationally and safety but also potential financial savings as we move forward allowing us to re-invest these saving back into our Fleet and Drivers.
Section 4 – What was your main reason(s) for you progressing from Bronze to Silver?
Having gained the Bronze Standard and already seeing the benefits over the first few years it was only natural that we wanted to improve our Fleet further by progressing to the FORS Silver Standard. It also became a client requirement to further improve road safety in London.
We achieved Silver in 2016 and have continued to use every E-Learning module for Drivers and Managers throughout each year along with our Transport Manager Phil Wise completing the FORS Practitioner Course. During the COVID19 we switched to Group Remote FORS training to keep the training going but also to enable the Drivers to engage with each other safely which we found beneficial for their mental wellbeing.
Section 5 – Explain how you have made use of the benefits FORS provides?
From the initial Bronze Audit in 2013 and Silver in 2016 to date we have seen savings from several areas due to being accredited to FORS. These include PCN fines where constant monitoring and initiatives learned from FORS have produced savings in excess of £5,000 since 2014 and a decrease of fines by 50% since 2014.
Also, our Fleet incident level has improved to such a level that we are now seeing Fleet Insurance premiums reducing and potential rebates in 2021 which will be re-invested back into the Fleet and Drivers.
Increasing Road Safety and Compliance is paramount and when it produces savings that we can re-invest back into the Fleet the FORS Standard has certainly assisted greatly in GKR achieving these results!
Paul Hersey – Commercial Director
Since joining Fors in 2013 we at GKR have raised the level and quality of our transport operation. Our transport compliance has improved to a higher standard, which with help from Fors is now improving all the time.
Phil Wise – Transport Manager
Section 6 – What improvements have you made?
Given the tight logistics of working in London PCNs are always a challenge but with FORS Driver training and constant monitoring, reviewing and communication we have managed to lower these by 50%+ since being a FORS accredited member.
Driving in the congested capital has not helped our CO2/NOx and PM10 emissions but as of May 2021 we launched our first HVO fuelled Articulated Scania onto the road which will assist in lowering these emissions together with further vehicles replacing the existing fleet during 2021.
| | | | | | | | |
| --- | --- | --- | --- | --- | --- | --- | --- |
| Number of Trucks | Incidents per year | CO2 | NOx | PM10 | Number of PCNs | Number of Vehicles | Proportion of fleet that uses alternative fuels |
| 2019-20 | 4 | 175.68 | 357.08 | 5.85 | 20 | 9 | 0% |
| 2020-21 | 2 | 111.27 | 382.25 | 6.26 | 8 | 10 | 10% |
The Bronze standard assists with ensuring that we continually monitor our Drivers medical fitness. At GKR we promote healthy initiatives and also run Wellbeing and Mental Health campaigns for all our Drivers as part of the FORS Silver Standard. Thishas become even more important during the COVID19 pandemic and staff have mental first aiders on hand to provide advice when necessary.
All new drivers recruited spend their first few days being inducted, medical checks including eye-sight test and training using FORS E-Learning modules and Safe Urban Driving courses. They are sent out with our Driving assessor and if successful spend the first week with one of our experienced Drivers which allows the new driver to experience the tight logistics of construction sites in London and hazards surrounding
One of the hazards for our Drivers is Noise and in-line with FORS Silver we have carried out extensive on-going noise assessments in order to protect our This is not only at Site but also back at the depot. One of the improvements being made is moving to remote control Hiab allowing the Driver to stand clear of the vehicle engine causing less noise impact and also gives the driver a safer view of the load being lifted.
GKR are currently changing their fleet to operate using HVO (Hydrated vegetable Oil) which will lower the fleets emissions by 93%. Our first Scania HVO vehicle is already in operation and we expect the full fleet to be changed by Jan 2022.
Also, the Scania fleet were chosen not only on alternative fuel basis but also their 5 Star Direct Vision compliance which dramatically improves the Drivers vision increasing Pedestrian safety.
Section 7 – What are your plans for the future?
Commercial Director Paul Hersey has been heading up the GKR Road Map to Net Zero Carbon. Tackling the biggest contributor to our Company CO2 emissions 'The GKR Fleet' emitting 80% of our total CO2 had to be our priority. We reviewed the currently availability of Electric and Hybrid HGVs and the financial viability of these vehicles but this option is not yet available for our trade. Following advice from Scania and making contact with a Haulage company that trialled their Scania fleet we found the solution with HVO fuelled Scania Euro Six HGVs resulting in a 93% emission reduction. The trail concluded no issues with engine performance, lifecycle or MPG issues. Once the fleet has completed its move to HVO then GKR will be Carbon Neutral and the target for this is August 2021.
Section 8 – What evidence do you have of positively promoting FORS at requirement G7?
All GKR Vehicles proudly display the FORS logo along with the GKR Website and letter headed correspondence. GKR have promoted FORS Silver Accreditation on its news article stating FORS 'promotes and accredits based on high standards in safety, efficiency and environmental protection.'
We also have included a FORS requirement on our Subcontractor Prequalification questionnaire for vehicles 3.5 tonnes and over. In addition we state that we are happy to offer advice in achieving FORS accreditation.
Section 9 –What FORS Gold accredition means for your organisation/to you?
GKR have always set their standards to be the highest possible so being accredited to Gold is part of those high standards. We believe with the further level of accreditation we can yet still improve road safety, our Drivers safety, welfare, and wellbeing and provide a better service to our Clients.
Section 10 – Social media contact details
twitter.com/GKRLtd (@GKRLtd) www.facebook.com/GKRScaffoldingLtd (@gkrscaffoldingltd)
www.instagram.com/gkrscaffolding/ (@gkrscaffolding)
www.linkedin.com/company/gkr-scaffolding-ltd/ (@gkr scaffolding ltd)
Section 11 – FORS members' feedback questionnaire
 Please could you take the time to complete a short questionnaire and provide feedback about FORS. Please note all answers you provide will be strictly confidential and will only be used by FORS to help us to improve the scheme. To access the survey, please click the link here: https://www.snapsurveys.com/wh/s.asp?k=153908006313