Glynns Skips has been trading for in excess of 30 years in the skip hire business and operate from our Neasden site. Jason Glynn the Site Manager explains how FORS has ensured the high standards expected within our business are maintained, matching all our ambitions along the way.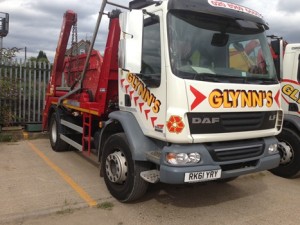 "My grandfather, Joe, founded Glynns Skips before I was born! My dad, Bert, is now the Managing Director and has been in charge of day to day operations for many years. He has used his experience in skip hire to become more involved in recycling as the business has expanded.
My role is as Site Manager which involves ensuring our drivers and vehicles comply with necessary legislation affecting the transport industry. FORS has been a key part of the organisation for the last 4 years and has helped me achieve an even better understanding of what is required. It has also provided an improved awareness of road safety through the helpful guidance available on line. We first heard about the scheme in detail over 3 years ago through a transport consultant who we have worked with for many years.
Paul Shea of Sheas Transport Services, now a FORS Practitioner, provides us with a tachograph analysis service as well as delivering a number of training workshops, including Driver CPC modules. The Neasden operating centre uses a fleet of 17 vehicles during daily operations with a range of transport companies and haulage operators used locally within our supply chain, many of which are FORS registered, and have achieved the Standard up to Gold level, a position which has been our aspiration ever since joining the Scheme in 2011.
"FORS has helped us improve and maintain high standards"
We are very proud of our fleet of vehicles and despite being in an industry which makes upkeep challenging, condition is always of a high standard. Furthermore since the last Silver submission in August 2014 five of the older skip lorries have been replaced with upgraded versions, built to our specifications, and with Euro 6 engines; every vehicle on our fleet now has a 4 way surround camera. The installation of an on-site fuel bunker in September 2014 is already reaping benefits in terms of tighter fuel monitoring using the Merridale analysis system.
FORS has helped maintain an ongoing awareness within our business of the benefits brought about by ensuring the rigorous monitoring of standards as well as the costs savings and impact on fuel consumption on the environment through the use of appropriate fleet management systems. There is, in my opinion, no doubt that adherence to the Standard, borne out by our continued successes at Bronze and Silver levels, has resonated throughout the organisation, particularly drivers who are more focused on complying with requirements. This has seen operatives taking a pride in their work with loyalty to the company and no turnover of staff over the past few years. I have no doubt that this has also been achieved by investing in driver development and ensuring the training rolled out is relevant, specific and encompasses the high standards of road safety that FORS demands.
"Nowadays to attract quality business you need to show you are a quality Operator and FORS has helped in this regard"
A regular review of our Operator Compliance Risk Score has seen an improvement over recent years, at least partly as a result of the rigorous planning and application of resources based around the FORS standard, as evidenced in the table below.
| | | |
| --- | --- | --- |
| | Roadworthiness | Traffic |
| July 12 | Amber 04 | Amber 04 |
| Nov 12 | Green 00 | Red 10 |
| Dec 12 | Green 00 |  Amber 05 |
| May 13 | Green 00 |  Amber 05 |
| April 14 | Green 00 |  Green 00 |
| April 15 | Green 00 | Green 00 |
Going forward our aim is to look to continually improve with FORS underpinning our transport quality with the ongoing support available".