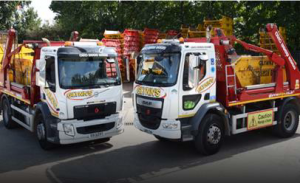 Glynn's Skips are a family run waste collection and recycling company that has been trading  for over 30 years. Skip hire, roll on and off and wait and load services are offered throughout  London and the South East. Operations Manager, Jason Glynn, explains how the FORS standard has helped the company create a positive culture of compliance, environmental awareness, safety and efficiency.
The company was initially introduced to FORS through client contracts more than eight years ago and gained Bronze accreditation relatively seamlessly. Whilst initially embracing the scheme the company proceeded to develop and enhance systems and strategies which  reinforced the existing culture of compliance and safety of the company. By aligning company policies and procedures with the FORS standard we quickly achieved FORS Silver  status before gaining FORS Gold accreditation in 2015.
Since first becoming FORS members Glynn's Skips fleet renewal programme has resulted in  significant reductions in CO2, NOx and Particulate Matter emission outputs. Adopting this approach has seen our current fleet of Euro VI vehicles return much improved fuel efficiency  figures.
Over the years the company has taken advantage of the various FORS toolkits, training and  management systems that have been made readily available via our FORS company dashboard. These systems combined with our use of The Driver Handbook, which has infinitely improved driver communications, has seen an improved road safety record as well  as a decrease in transport related fines and charges.
Operations Manager, Jason Glynn – "Aligning company policies and procedures with the FORS Standard has seen improvements across the full gambit of our operation in turn raising our company profile". 

Operations Manager, Jason Glynn – "The utilisation of the vast array of toolbox talks, toolkits and training that FORS have made available in conjunction with the use of The Driver Handbook has definitely raised driver standards". 

Glynn's Skips monitor and review the health, fitness and wellbeing of our drivers using medical declaration forms which are issued on employment and reviewed periodically thereafter. In addition, we will continue to encourage drivers to eat healthy, participate in regular fitness activities and distribute healthy lifestyle literature  to drivers.
Our drivers largely come from recommendation, but we are currently reviewing ways to encourage new drivers into the industry via local schools and colleges and adding  a recruitment section to the website.
Although our operating centre is not in a noise sensitive area, some of the various
site we deliver to can be, so we carry out toolbox talks to make drivers aware of
keeping noise to an absolute minimum. Also, we are always careful in planning our
deliveries to minimise disruption in the local area.
We are continually looking at how technology is moving forward to meet the needs of the industry however there is not yet any alternatively fuel vehicles available that
would meet our requirements.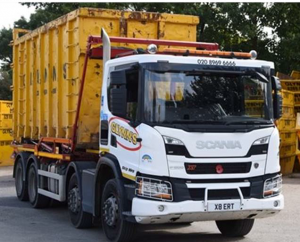 We have continued to invest in the latest cleaner and more fuel-efficient euro 6 vehicles that have proved a significant improvement in reducing our fuel usage and reducing harmful emissions.
We will continue to develop and evolve looking for ways to constantly improve safety standards and reduce the emissions output of the fleet by investing in the latest technology on the market.
Glynn's skips actively encourages customers, suppliers and other companies from within the  industry to take advantage of the benefits that FORS can bring, by advertising the brand
wherever possible. Ordinarily the company would also be extremely active in the community,  engaging with schools, colleges and regional events whereby the sector and FORS would be promoted. However, plans and events were largely disrupted due to the coronavirus
pandemic.
Maintaining our Gold accreditation gives our customers confidence that Glynn's Skips are
maintaining, exceeding and promoting the FORS Standard within the industry. We will keep  looking for ways to improve and develop and look forward to continuing our FORS
association for many more years.
For more information about our business visit our website https://www.glynnsskiphire.co.uk