Glynns Skips has been trading for in excess of 30 years in the skip hire business and operate from our Neasden site. Jason Glynn the Site Manager explains how the continued membership of FORS, and in particular having gained Gold accreditation, has ensured the high standards expected within our business are maintained, matching all our ambitions along the way.
"Since last year's Gold accreditation we have continued to update our fleet with 8 brand new vehicles replacing older ones and built to FORS/CLOCS specifications. These include four way surround recording cameras which enable the driver to be aware of other road users (particularly vulnerable ones) within the immediate vicinity – these complement the sensors already built in around the vehicles. The picture is of one of our latest vehicles parked in the yard.
"FORS has helped us improve and maintain high standards"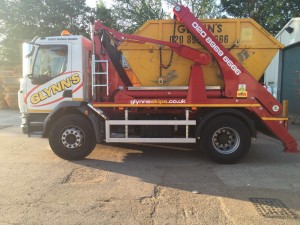 We continue to make full use of our Merridale fuel system which facilitates on-site refuelling with detailed reports very useful in helping to monitor and analyse use to ensure economies are maximised.
Joining the CLOCS scheme has also provided us with up to date knowledge of matters affecting transport safety and the alerts received assist in ensuring we route our vehicles through the safest and most cost effective roads.
Since joining the Scheme 5 years ago we have felt that FORS has equipped us as a company and our drivers through attendance at the Safe Urban Driving workshops (our 2 latest recruits' attendance at the end of May will confirm 100% of our drivers' participation) to feel confident that we have put in place appropriate safeguards which ensure the safety of other road users as well as our operatives' welfare is maximised – my quotations from last year remain valid and are reasserted in this case study. Having said that we know we can't afford to be complacent and have learnt that being a member of FORS presents continuous learning for the benefit of all parties and we will be refreshing our commitment to this over the coming months – my father Bert the Managing Director attended CPC refresher awareness training in 2015.
"Nowadays to attract quality business you need to show you are a quality Operator and FORS has helped in this regard"
The table below has been updated to include our latest OCRS scores which as stated last year have improved over time with the considerable effort we have put in which has been underpinned by our long term involvement in FORS.
Going forward our aim is to look to continually improve with FORS underpinning our transport quality with the ongoing support available".
| | | |
| --- | --- | --- |
| | Roadworthiness | Traffic |
| July'12 | Amber 04 | Amber 04 |
| Nov'12 | Green 00 | Red 10 |
| Dec'12 | Green 00 | Amber 05 |
| May'13 | Green 00 | Amber 05 |
| Apr'14 | Green 00 | Green 00 |
| Apr'15 | Green 00 | Green 00 |
| Apr'16 | Green 00 | Green 00 |