Based near Windsor, Manor Environmental Ltd is a haulier of waste materials, with our core business being site clearance and the supply of re-instatement materials. We currently have 8 vehicles in our fleet and have replaced 6 with new Mercedes 32 tonne tippers in 2015 and 2016. The remaining 2 vehicles in our fleet will be replaced with new in 2017.
When our Transport Manager joined the company in 2015, she introduced us to the FORS and recommended that we become accredited. Coincidentally, around the same time, our clients started asking whether we were FORS accredited, so it made sense to progress and we successfully completed our first Bronze audit in October 2015.
The knowledge and experience our Transport Manager gained from the FORS Practitioners workshops gave her the tools to produce the necessary documentation, processes and evidence required at audit and through the year. Additionally, our drivers have benefitted from the FORS driver training and all enjoyed the Safe Urban Driving training with the added bonus that they were also credited with 7 DCPC hours for taking part.
Subsequently, we were re-accredited with Bronze in October 2016 and shortly after this audit we decided to progress to Silver, which we acquired in early January, 2017. With more and more clients requesting the demonstration of higher standards of compliance and accreditation, we submitted our application for Gold in March 2017.
'We have always been keen to use companies who actively demonstrate their commitment to road safety. Your silver accreditation has enabled us to use your company on projects requiring this level of FORS accreditation'.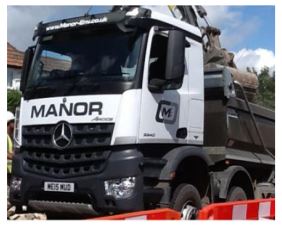 We have always been fully compliant with our Operator Licence undertakings and by being audited by an independent body, FORS has allowed us to prove this to our clients. Our accreditation benefits both parties as it confirms our compliance and also gives our clients peace of mind and a standard to monitor against.
The brilliant thing about our FORS accreditation, is that it gives us access to work that we would not be normally be able to tender for without!
'To date we've been using you as a preferred supplier on the strength of your safety standards, quality vehicles and your silver accreditation. We are keen to use you on all future works however for the contract we discussed last week, we will require you to have your Gold accreditation. Please let me know when the accreditation is in place so we can put you on this contract from the start of works on this project.'
The requirement to have the increased levels of vulnerable road user safety technology required for Silver, provides our drivers with increased visibility therefore less stressful driving and ultimately a safer environment for both drivers and other road users, including high risk areas on site.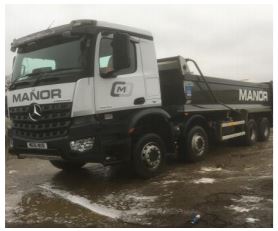 Obviously we want to be a successful and profitable haulier, however the safety of our staff and other road users is paramount to our business objectives and FORS has given us the tools to enhance our own internal training by using the free Safe Urban Driving Training and also the toolbox talks available on their website.
The journey to our FORS accreditation has given us a framework for all aspects of the business and we will continue to support and promote the scheme whenever possible.
Since 2015, we have increased our fleet and replaced the majority of our older vehicles with new Euro 6 Mercedes with a Boweld tipping body. Our tipper bodies are steel and whilst this decreases our load capacity, it allows us to supply re-instatement materials to site and then the back load allows us to take waste materials away. For the company, this means that we are earning for both journeys and equally or perhaps more importantly, as the vehicles are carrying loads both ways, and avoiding empty journeys, we are decreasing our fuel consumption and emissions.
Our choice of vehicle manufacturer was determined by the improvement in our safety, performance and environment impact. The enhanced braking safety systems, lane and attention assist, improved fuel comsumption with lower emissions plus vehicle reliability made us choose the Mercedes Arocs. Wherever there is a viable solution Manor Environmental Ltd is determined to implement and promote safe working practices.
We will continue to invest in new lower emission vehicles and promote a safer road environment for all users. Our investment in new vehicles and our FORS enhanced training programme also gives us an excellent driver retention record.
Because of our choice of vehicles and signwriting, we are told that our vehicles have a very good presence on the road. Both competitors and clients have remarked on the appearance of the whole fleet and have they have been impressed by our continued and improved FORS accreditation.
By achieving the FORS Gold accreditation, it will demonstrate to our staff, clients and competitors the strength and successful progress of the company and our continued commitment to the FORS standard and road safety. The additional contracts that are being offered, are the icing on the cake!!
Please note: All published FORS Gold case studies have been submitted by the accredited company named above and transcribed verbatim