Flood Transport Ltd is based in Leicestershire and provides 9 x 32-ton Euro 6 tippers to the quarrying industry for the delivery of dry and coated aggregates within a 50-mile radius of our base. Mr Mark Flood Managing Director of Flood Transport Ltd explains how we have improved our business by being members of FORS, careful selection of vehicles has shown lowered fuel use in turn this has improved our emissions helping to protect the environment, I cannot say FORS has helped reduce fines and charges as this is something we have never suffered from (Never say never), however as a result of being FORS members we now have a system to manage this process.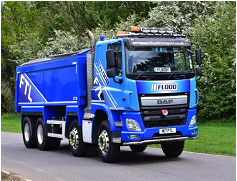 We first heard about FORS through the work we do within the quarry industry. We saw that by being members of FORS this gave us an opportunity to achieve best practice and to further improve our business vision to improve Health & Safety for drivers construction workers and other road users, and those who come into contact with our business and in turn create a better environment for vulnerable road users. We have been FORS bronze members for over 5 years and 2 years as silver accredited members.
We were used to being audited by Lafarge / Tarmac, and when we had our first bronze audit we passed first time, in fact we have passed all our bronze and silver audits first time we also learned a great deal from the preparations for the above audits.
Once we were bronze we were hungry to progress and improve further and to achieve the Silver accreditation, and FORS has helped Flood Transport Ltd in how we tackled this from on and In vehicle technology to driver training both in classroom and the amazing suite of elearning modules, all vehicles have the latest technology to not only assist the drivers, vulnerable road users and to reduce insurance claims.
Since we became FORS members we have used the portal to our benefit in many ways, firstly for education the e-learning modules have been a great benefit to both educate and re-enforce the safety and environmental message to all my drivers, in addition I have benefited from doing the FORS Practitioner training. We have taken a long and serious look at our fuel and emissions and by ensuring all the drivers have done the Lo-City e-learning both for silver and the classroom course for Gold we G3 – FORS mandatory Gold case study template have seen a better fuel return per vehicle in turn this has also reduced our emissions and operating costs. FORS has helped us improve in all areas of our operation Mark Flood (MD).
In the past 12 months we have not reduced our fuel and emissions this is due to the increase in our work being FORS silver accredited, our average MPG has come down slightly due to some of the older vehicles.
MPG

Incidents per 100,000

Kms

CO2

NOx

PM10

Number of PCNs

Proportion of fleet that uses alternative fuels
Year 2018
12.37
0
818,425
1,724.988
31.477
0
0%
Year 2019
11.29
2
976.567
2,058.304
37.560
0
0%
Percentage improvement
0%
0%
0%
0%
0%
0%
N/A
We continually review our drivers for fitness and health and more particularly health conditions relevant to their job role as part of our recruitment policy each driver completes a health questionnaire and is then tested for drugs and alcohol. Our drivers sign a daily health declaration as part of their walk round checks and are actively encouraged to report all ill health & medications, they may be on either prescribed or over the counter.
Mr Mark Flood (MD) said: that having a better understanding of driver's health & fitness is benefit to everyone that comes into contact with our business.
We have committed to look at recruiting apprentices via an approved government scheme and we are negotiating with a national provider, we are also looking at doing job fairs more particularly with ex-service personnel as part of their resettlement programme as many armed forces personnel do gain HGV licences during their military career. As a haulage business we can see that achieving Gold status will enable us to attract and retain a more quality committed driver, not withstanding they will still go through our own induction process.
I operate 2 model of vehicles DAF and Volvo my advisor and myself are both FORS practitioners and we carried out our noise assessments across the whole fleet using the App demonstrated on the practitioners course, for our silver accreditation we looked at the basic requirements, however we also looked a little deeper into the vehicles other operations but none of the other items exceeded the engine noise, i.e. sheet operation engaging PTO closing doors. The vehicles are all equipped with automatic hydraulic tailgates, automatic sheeting (hydraulic) and we ensured all the external storage bins on the vehicles were of high-quality ABS plastic so there are no metal doors slamming shut.
The vehicles are all equipped with the standard manufacturers noise suppressing systems and there have been no alteration to this equipment, I only use genuine parts to maintain the vehicles noise integrity. The DAF vehicles are all fitted with the new generation exhaust G3 – FORS mandatory Gold case study template system that is placed midway between the 2nd and 3rd axle on rigid vehicles the noise levels at this point is one of the lowest I have seen for a 32 ton commercial vehicle.

Our plans as a business to move to alternative fuelled vehicles is very much part of our forward planning and focus, myself and my advisor have had meetings with both DAF and MAN to discuss both alternative low emission fuels and electric vehicles, currently both companies have admitted that whilst the drive for these vehicles is quite real, the national infrastructure is not in place to truck charging, whereas if you were operating an organisation that returns to the depot after 2 or 3 drops and you have the facility to plug in the concept of electric vehicles is perfect.
We take the opportunity to promote FORS at every level within our business and the wider tipper business, including through our suppliers from tyre companies to vehicle dealers, by being Gold this clearly demonstrates our commitment and determination to improve the public's perception of the transport industry.
To achieve the FORS gold accreditation would mean a great deal to myself and my drivers it would be the high point of my business and something to be very proud of it would clearly demonstrate the commitment we have put into the business and the commitment to my drivers and overall to promote safety in all we do to the public and other road users and construction sites.
Mark Flood said: We are proud to be FORS members and actively promote the FORS standards with all our customers new and old, we do not pass any work onto any other companies unless they are a minimum of FORS bronze our e-mail footers, business cards letterheads and vehicle all display the FORS logo with pride.