My name is James Williams, I am the FORS Compliance Manager at GJ Bowmer Waste in Brentwood Essex. We specialise in Asbestos Disposal and are one of the few companies operating in this area so FORS has given us the opportunity to set ourselves above the rest by displaying our compliance through our FORS accreditations.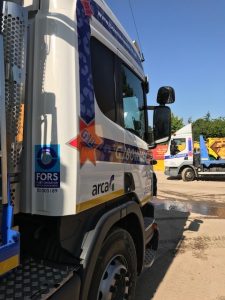 We stumbled across FORS when it was with the FTA in 2013, we are long standing members of the FTA and it seemed logical to progress in this direction. We immediately noticed the supportive tools available through FORS and decided to utilise them to support our compliant approach. Initially, FORS was for our benefit then in 2017 it became a contractual requirement for one of our main clients, we stepped up to silver.
Back in 2013 we had our first Bronze audit, this was something we had planned for but were still shocked at the depth the auditor investigated. It is obvious why it should be this way, but we had no idea what to expect and no one to ask.
Since we gained our Bronze we quickly utilised the funded training for our drivers, invested in our office team and started reaping the rewards that being FORS Accredited offered us. I am a FORS Practitioner and our Transport Manager is half way through his own development. Combine this with the Safe Urban Driving, eLearning and the Compliance Tools on offer we are shocked that all transport companies have not joined yet.
James Williams FORS Compliance Manager "We immediately noticed the supportive tools available".
During the past Five Years we have noticed that being FORS Accredited has supported the company in increasing its productivity, allowed us to invest in compliance, educate our staff and has increased our turnover by approximately 50% for our key clients.
James Williams FORS Compliance Manager, "Being FORS Accredited has supported the company in increasing its productivity".
Our main criteria is to achieve Gold, we have communicated the benefits of FORS and will continue to do so by offering support to any of our customers considering joining this accreditation.
| | | | |
| --- | --- | --- | --- |
| | MPG | Incidents per 100,000 Kms | Number of PCNs |
| Jan-Dec 2016 | 7.212 | 3.11 | 0 |
| Jan-Dec 2017 | 7.896 | 1.68 | 6 |
| Percentage improvement | 8.70% | 54% | N/A |
*Annual improvement in MPG and Incidents per 100,000 Kms
Due to our stringent recruitment and company induction processes we can install the importance of communication on the drivers health & wellbeing.
We have a loyal workforce, we try to employ from within but as we are promoting FORS we are seeing more applications from drivers based on recommendations.
We have found a Noise Monitoring Ap, this allows us to record and monitor the noise levels of our machinery thus keeping the health & well being of our staff at the front of our minds.
We have concentrated heavily on reducing our emissions through fleet procurement, driver training and efficient route planning. We have explored the options of moving waste by barge on certain central London jobs but the Hazardous Nature of the waste we transport does not allow us this option.
We have researched the increased reliability of alternative fuelled vehicles, but they are still work in progress in our opinion. By continuing the development of our drivers, office staff and concentrating on the efficiency of our fleet we feel that we are covering all the available options open to us. The Technology we already have in place is supporting our goal, Live Information from our vehicles allows us the security to see our efforts are not wasted.
To conclude, FORS has offered us the tools to realise our goals, we have been able to implement strategies based on knowledge not gut feeling. We have an exciting year ahead as more customers come on board and we will not lose sight of the bigger picture.
GJ Bowmer Waste Ltd