John Bourne & Co have been trading since 1947 firstly as agricultural lime merchants and haulage contractors, then latterly as national suppliers and contractors to the sports turf and landscape industries.  Today we are a manufacturer and haulier of bulk lime and aggregate for farmers, builders and land owners covering Kent, Sussex and Surrey.
We initially became aware of FORS through general trade media and trade associations. Graham Grieves is the Transport Manager at John Bourne & Co and he could see the benefits of joining the scheme from the outset. 'FORS has been the way forward for a safer more compliant fleet for our line of business both from a contractual requirement but also for the long-term benefits in increased efficiency and improved standards for safety.'
Our first FORS audit was conducted in 2013. We found the experience to be a useful exercise; although we had most of the required policies and processes already in place we knew that the audit would provide an independent view of our documentation. The audit was a straightforward process, though it highlighted areas that would benefit from minor improvement, which we took on board and subsequently actioned.
This set the tone for our continued progression up through the FORS levels. Once we gained bronze accreditation, we were keen to utilise the benefits on offer. So far this has included Safe Urban Driver training for all our drivers, attendance on all nine FORS practitioner workshops and frequent use of the FORS website to obtain materials for toolbox talks which we regularly conduct with our drivers.
Our Managing Director, Peter Bourne, was initially sceptical about joining the FORS scheme, but now acknowledges that the company has experienced tangible benefits because of our membership. 'Any procedure that challenges and questions established work practices is valuable in itself but the FORS journey in particular, with its root and branch approach, has made a significant contribution towards the safe and efficient operation of a modern fleet of trucks'.
Since joining FORS we have seen our record keeping and control methods improve, and we now use the data to manage key areas such as fuel efficiency and emissions; we try to reduce the impact rather than just record the data.
Over the last two years we've seen a significant reduction in our CO2 emissions and this is despite adding 3 vehicles to our fleet during that time.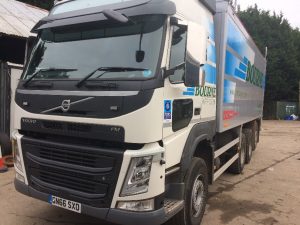 Our total mileage has also reduced which is attributed to more efficient route planning.
Most importantly, FORS has raised our awareness of vehicle safety and this has influenced our decisions on the specification we require for our vehicle fleet, leading to our recent acquisition of the first Volvo truck in the country that's fitted with a Volvo Tridem Walking Floor. Managing Director, Peter Bourne explains, 'This truck virtually eliminates the risks when it comes to discharging the load'.
Safety is a core value at John Bourne & Co, and we have also specified a low-level nearside window, camera and sensor systems to meet with the FORS, CLOCS and Crossrail requirements. This will ensure improved safety which is ideal as we cover a lot of contracts in London where there are a significant number of vulnerable road users. We have more of these trucks on order for March 2017 with the same full specification and windows in the lower passenger door.
Achieving FORS Gold accreditation has always been our goal since joining the scheme, and the steps taken to reach this point have provided us with so many benefits; it's certainly been a useful learning curve.
Gold accreditation also means that we can be more competitive and it will therefore increase the potential for work through meeting the requirements of certain contracts. FORS is a significant status symbol that we are proud to achieve.
We are already promoting the benefits of FORS to our customers and we will now be able to do this with even more credibility.
 Please note: All published FORS Gold case studies have been submitted by the accredited company named above and transcribed verbatim