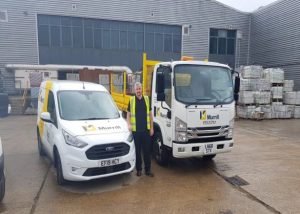 Murrill Construction Ltd is a family owned, civil engineering company, carrying out highway repairs and maintenance work for the London Borough of Ealing and other local authorities in London and the home counties.
We have been a FORS member since 2013 & a Gold member since 2015. I, Mike Lally, have been the Transport Manager since May 2016 and this is my 4th year of working with FORS. Working with FORS has highlighted the modern working practices of a transport office. We operate 28 vehicles ranging from 3.5t transit pickup trucks to 32t tipper grab trucks, this is an increase in the number of vehicles on last year.
The latest additions to our fleet are 5 new Euro 6 Isuzu 7.5 tonne tipper Trucks and 4 new Euro 6 Ford Transit 3.5 tonne trucks, these vehicles are cleaner and quieter than the older vehicles they have replaced; this is the latest phase in our commitment to cleaner, quieter and safer vehicles for both our staff and other road users. Although our workload has remained the same over the past year, our miles travelled has reduced due to the more efficient use of our vehicles.
Working with FORS has been a positive experience. I had presented my first Bronze audit last year; I found the auditor to be extremely helpful in pointing out some minor improvements that I could make. The auditors feed back on the day meant that we could fully understand the requirements. we had passed the Bronze audit 1st time last year and hoping to pass next years one 1st time too.
Here at Murrill Construction Ltd we pride ourselves in trying to protect the environment together with our staff and other members of the public who we may come into contact with whilst carrying out our duties. Although being a FORS Gold accredited member has been a requirement for some of the clients we work for it's proven to far more helpful than just an audit system.
Working to a FORS Gold standard has inspired us here at Murrill Construction Ltd to aim even higher to improve the quality of the environment that we all live and work in. This year we have improved our fuel efficiency on our fleet from:
2.05 km/lt to 2.44 km/lt on our HGV fleet (7.5t to 32t vehicles)
7.07 km/lt to 8.60 km/lt on our LGV fleet (3.5t vehicles).
We have reduced the amount fuel used and distance travelled by improving productivity of the vehicles.
We have now replaced all our older fleet of Euro 3/4 converted vehicles to Euro 6. By the end of 2020 we are planning to have all the remaining vehicles up to a Euro 6 standard or better.
Km/lt

Incidents per 100,000

Kms

CO2

NOx

PM10

Number of PCNs

Proportion of fleet that uses alternative fuels
April – March 2016/17

7.07

LGV

3.92

HGV

3.2

225.26

466.17

8.50

10

0%

April – March

2017/18

7.07

LGV

2.06

HGV

3.3

398

730.09

18.95

6

0%

April – March

2018/19

8.60

LGV

2.44

HGV

1.4

292.21

577.93

8.88

7

0%

Percentage improvement

+22% LGV

+18% HGV

137%

36%

26%

113%

-17%

0%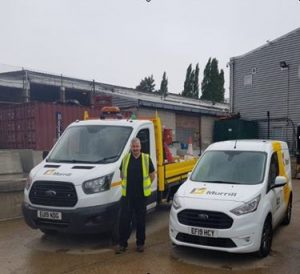 Following a trial of an in-cab / front view camera system last year, we now have this system installed in all our vehicles of 3.5t and above. This system has a combined telematics within it. This system is monitored by a third party and only sending relevant footage to me by email saving me time by not looking at unnecessary footage. This system has highlighted and improved some driver behaviour issues resulting in our third-party complaints reduced to two this year. Although I have had to talk to more drivers than last year, I'm expecting to see an improvement next year.
Murrill Construction Ltd spend a great deal of time informing our staff on the risks of driving and operating vehicles, this is normally done by toolbox talks. As we are a highway maintenance / repair company, all our work is regulated health & safety/ construction regulations, these are of a higher standard than road transport.
This year we have recruited two new apprentices, these apprentices were recruited from a local college, the college run the course that we need to support the on the job training. We do not have a high turnover of staff at Murrill Construction; we have an ongoing training program that covers both construction and road transport industries; the welfare of our staff and the wider environment is important to us and although we are a construction company, we understand that noise & air pollution is very important and we make every effort to reduce our impact to a minimum.
Our plans for modernizing our fleet are well underway. In addition to the five new Isuzu tipper trucks we have already on our fleet, we are expecting delivery of our two new Mercedes Econic 32t tipper/ grab trucks by the end of August 2019. The Mercedes Econic is one of the latest vehicle models to be as vulnerable road user friendly as possible. We have just taken delivery of four new Ford Transit 3.5t Euro 6 trucks; these will be replacing the four of our older vehicles. The remainder of our Euro 4/5 vehicles will be due for replacement by mid- 2020
We had plans for some electric vehicles on our site at Greenford but due to an unforeseen technical issue with the electrical supply, we are not able to install the charging points we needed. However, this is still an ongoing issue and we are hoping to have move forward to resolving this issue in the near further. We would prefer the option of a 7.5t & a 3.5t hybrid truck but this type of vehicle doesn't seem to be available.
We are continuing to promote the FORS standards by ensuring that more of suppliers are FORS accredited. This has proven to be a positive outcome, not only from a FORS point of view but also from a service level and professional working relationship point of view. We do try to use FORS accredited suppliers whenever possible, but we understand that this is not always possible.
Section 10 – (Optional) Please provide your social media contact details so we can follow your organisation
Facebook: Murrill Construction ltd
Linkedin: Murrill Construction Ltd
Section 11 – FORS members' feedback questionnaire
Please could you take the time to complete a short questionnaire and provide feedback about FORS. Please note all answers you provide will be strictly confidential and will only be used by FORS to help us to improve the scheme. To access the survey, please click the link here: https://www.snapsurveys.com/wh/s.asp?k=153908006313
*Please note: All published FORS Gold case studies have been submitted by the accredited company named above and transcribed verbatim