West Horsley Dairy is a family business based in Woking, Surrey delivering Food Service 'not just milk' to the catering trade. Deliveries started 23 years ago by Catherine & Philip from home using a small van. Today we run 40+ vehicles in London and throughout South East England delivering nightly to over 1400 different premises.
We first encountered FORS in 2008 at the Commercial Vehicle Show. We were concerned about the No. of PCNS we were receiving in London and thought FORS membership may help. We soon realised that FORS had much more to offer than this and we saw there was an opportunity to be publicly recognised for being a professional Operator.
During all new customer tenders and customer site visits we talk about the benefits of being FORS members and link it to the continual fleet improvements we are making.
The Bronze audit was far more detailed than we expected but we passed first time and looked to progress at a pace where we could restructure our processes to make; 'the FORS way the West Horsley Dairy way'.
We sent our transport managers on the first FORS workshops and realised the benefit of general & specific training on offer for operators working in and around Central London and the Boroughs. An extra spin off has been the ability to meet other operators and share experiences and solutions.
One of our managers was in the first group of managers to achieve the brand new Transport Practitioner qualification course in 2010. We have gone on to make use of all the training workshops offered through FORS and our Transport Supervisors training programme reflects the modules within the FORS Bronze & Silver Standards.
'Its never easy sitting a driver down and teaching drivers or managers new tricks but using the FORS Cycle Safety e-learning module has really helped, it's a first class training product'.
Being a member of FORS has pushed us to want to perform at the highest level and take the lead with new environmentally benefitting technology.
Case Study Title: Increasing Payload without increasing CO2 & Operating Costs
In Spring 2016 some of our customer rounds in London had become too heavy to service on a our exclusive 7.5t lorry fleet. The easiest way to solve the problem would have been to put more 7.5t vehicles on the road which is what our delivery managers were asking for.
However we decided not to take this route until we had done more investigation as to why certain rounds were getting too heavy and to understand the make up of our growing customer base.
First we established that our growth was not only due to more customers and delivery addresses but also due to existing customers purchasing far more from us.
This delivery information allowed us to realise that certain drivers had time to deliver to more locations but that the biggest issue was that our 7.5t trucks with their 3.1 tonne payload weren't able to take the weight of the extra product. Vehicles with a greater payload were required.
If you want extra payload that means stepping up to larger trucks. We ran for several weeks on demonstration a 12 tonner and 15 tonner to see how they would perform. What we found was that larger trucks are not only 60% more costly to purchase & 30% more costly to run but more importantly are less suited to some of London's back streets and loading bays. Productivity slowed down and less customer drops were achievable. The smaller 7.5t Isuzu vehicles we were used to are easier to drive and negotiate around London's roads far easier. The Japanese manufactured low height cabs on our vehicles give the driver much greater all round vision of the road and of vulnerable road users.
So the question was can we up-rate our fleet and plate them to a higher GVW, giving a greater payload?
Unfortunately not, however a solution was found. Mitsubishi Fuso said that were bringing to the UK market a 8.55t truck which was a 7.5t chassis cab and drive train but up-rated by an extra 1.05t. This increase in GVW was developed in the factory by strengthening the chassis & springs but the rest of the vehicle remained the same giving a new payload of 4 tonne. We test drove the new vehicle on Millbrook proving ground with Mercedes/Mitsubishi dealer Rossetts Commercials and confirmed that the vehicle was just what we required. The increase in purchase cost compared to a 7.5t chassis cab was £5k per vehicle, so in Spring 2016 we placed an order for seven.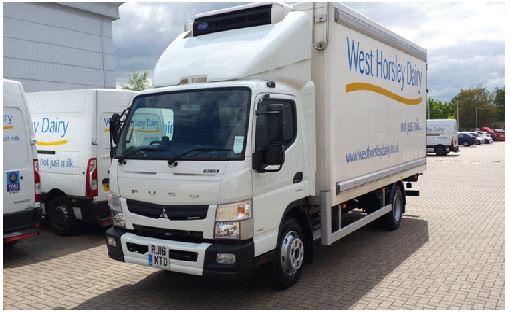 90% of our drivers had category C on their driving licence, so driving a vehicle greater than 7.5t GVW was not an issue.
The 25% payload uplift (900kg) for the 7x vehicles has given us an extra 6.3t total payload across the fleet (which is the equivalent to an extra 2x 7.5t trucks) with no increase in operating costs.
All 7x vehicles had entered service by August 2016 and will help prevent an extra 40+ tonnes of CO2 being generated each year!
As of the 31st December West Horsley dairy was the largest operator of the Mitsubishi Fuso Canter 8.55t in the UK.
—————————————————————————–
Obtaining the Gold standard tells our customers that we mean business.
We don't just want to comply or even run a quality operation that stands still.
We wish to join those operators who are working towards setting new and exceptional standards for the industry.
Philip Colton & Catherine Colton
Managing Directors