Grafton Merchanting GB – Gold standard in safety

Grafton Merchanting GB is one of the largest suppliers of building materials to the trade, construction industry and DIYers, with approximately 680 branches nationwide with brands that include specialist timber merchants, mortar mix and various other specialist areas. Laura Devonport, Compliance Administrator in the Transport Department based in Head Office in Oxford, describes how using FORS has helped with the safety aspect within the fleet.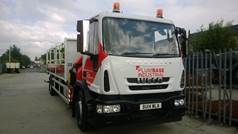 Grafton Merchanting GB heard about FORS when tendering work for the Crossrail project in London. We discovered it would benefit us with monitoring our fuel usage, CO2 emissions and safety for all our branches. We have our own vehicle database but by using the benchmarking system from FORS we can use data more effectively to analyse safety issues and fuel consumption.
We have used FORS CPC courses Safe Urban Driving and Cycle Awareness which moved our accreditation to Silver. The Cycle awareness CPC course was greeted by huge praise from our drivers and was a great success. The feedback from these courses was very encouraging allowing our staff to see other road user's point of view.  Side minder and reversing camera information in the cab is a driver aid, which reduces blind spot incidents and helps to avoid incidents with vulnerable road users, cyclists and pedestrians. Drivers have had a positive reaction due to a greater field of vision so potential incidents can be avoided. Having had most of our drivers complete their CPC hours and using FORS benchmarking and courses we have seen a drop in incidents of 27% even with the increase in our fleet size.
| | | |
| --- | --- | --- |
|   | Incidents | Incidents per 100,00 Kms |
| Jan-Dec 2012 | 80 | 1.52 |
| Jan-Dec 2013 | 56 | 1.11 |
| Percentage improvement |   | 27% |
In 2014 an Accident Reduction Plan Group was formed in line with our FORS Gold accreditation with the aim to reduced accident and incidents.  The main aims of the plan are to reduce the number of incidents with the GMGB group. It was agreed that this would have key target areas. Driver behaviour was targeted as the most likely area to reduce most common incidents. Our Audit team have now been trained to FTA/DVSA assessor standards and all drivers will be assessed once per year and raise the standard of driving throughout the GMGB group.
'Sharing information provided by the industry is key, and working together can only lead to better standards of road safety'
A previous pilot study in this area by another specialist supplier to the industry suggests a 30% reduction in incidents and improved driver standards also reducing emissions through better driving standards.   A risk Matrix is being produced to identify our riskiest drivers. After any incident has occurred an investigation from our audit team will take place. This is to ascertain what lessons can be learned from the incident, the accountability of the driver/branch and any further training that could be required. Our telematics system has proven to assist in managing speeding and idling which have been a cause for concern and management reports are produced across the business to ensure that best practice and safe systems of work are followed helping reduce emissions and incident levels. In year four we have shown a reduction in incidents although an increase in fleet size and distance travelled.
| | | |
| --- | --- | --- |
|   | Incidents | Incidents per 100,00 Kms |
| Jan-Dec 2013 | 56 | 1.52 |
| Jan-Dec 2014 | 54 | 1.11 |
| Percentage improvement |  From Year 3-4  | 36% |
After becoming a gold accredited company, this has given Grafton Merchanting GB an advantage as we strive towards higher standards of safety and maintaining these standards. We plan to take further advantage and continue to use FORS workshops provided – many of our branch managers/drivers have attended and have seen the advantages of the FORS program. We are proud to be a FORS accredited company, I hope other companies will turn to FORS to decrease their incident levels, fuel usage and CO2 emissions.