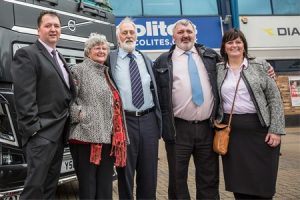 H.D. Ricketts was founded in 1964 by Dave and Virginia Ricketts. The company is now run by Dave's three children, Adrian, Tony and Ruth. Since day one, H.D.Ricketts have strived to be the largest haulier and supplier of sand and gravel in the West Midlands, supplying some of the biggest names in the building industry and taking part in some of the country's biggest construction projects such as the M6 Toll Road.
H.D.Ricketts Ltd, located in Sutton Coldfield is one of the largest hauliers and suppliers of sand and gravel in the West Midlands, with a strong fleet of 58 vehicles providing some of the United Kingdom's biggest builders merchants along the way.
H.D.Ricketts, has vast experience in sand and gravel haulage. With a policy to supply quality of service, with tested and proved products, the company has developed a strong reputation in the aggregates industry.
Adam Ricketts Transport Manager explains how H.D.Ricketts Ltd will see significant improvements buy using the FORS training and initiatives to help reductions in fuel use, reduce CO2 emissions, lower NOx and Particulate Matter emissions, improve its road safety record and decrease transport related fines and charges."
The performance management toolkit will really help us set our targets for reducing our carbon footprint and improving our MPG. FORS has already helped us improve our monitoring systems and procedures as well as ensuring our compliance and safety records are constantly monitored'   – Adam Ricketts – Transport Manager.
Once we achieved Bronze accreditation, we decided that it would be good for the business to progress to Silver as it seemed to become the benchmark for the industries and locations, we were working in. We are now on the pathway for FORS Gold accreditation, as we want to show our customers, we are leading the way forward and want to be the best in our industry and keep striving for continuous improvements wherever possible.
"Becoming FORS Bronze and then Silver has helped become a more conscientious and productive company" – Adrian Ricketts – Director
MPG
Incidents per 100,000 Kms
CO2
NOx
PM10
Number of PCNs

Proportion of fleet that uses alternative fuels

Year

Oct 2018 – Oct 2019

7.13
3.5
4456.96
10357.56
158.65
0
0%

Year

Oct 2019 – Oct 2020

7.64
2.9
4729.97
7833.66
121.68
0
0%
Percentage improvement
6.7%
18.75%
+6.13%
24.37%
23.3%
0.00%
0%
D.Ricketts Ltd drivers complete a comprehensive Medical Declaration on an annual basis even though the FORS Standard states once every 5 years. It's also mentioned in the drivers handbook that if they at any point in time that any medical condition changes they may affect their ability to drive, they need to notify the company immediately as well as if they need to start taking medication prescribed by their GP. We will then record and investigate to see if it is still safe for the driver to be driving.
We have recently introduced a recruitment policy to try and help us recruit ex-military personnel and encourage young drivers into the Transport industry.
We will continue using what FORS has taught us to improve our MPG and reduce any wasted idling we might have and keep our Parking fines and Charges to zero'
Gaining FORS Gold Accreditation will show how dedicated we are at D.Ricketts Ltd to improving road safety and the safety of all vulnerable road users throughout the country. We will continuously use what FORS has taught us to help reduce our carbon footprint and make the roads so safer for everyone that uses them. We have also managed to make a significant saving by reducing our fuel usage and improving our MPG.
H.D.Ricketts Ltd intends to continue in investing in the latest technology and safety equipment. Replacing older vehicles when the time comes to the newest Euro standard as well keeping up to date with industry initiatives to help drive down fuel consumption and emissions. Low entry and high visibility vehicles will be continually researched, with the intention of upgrading the current fleet.  
H.D.Ricketts Ltd actively promotes FORS proudly displaying the FORS logos on their vehicles, on official letterheads as well as emails. We are also in the process of updating our social media account, which will be updated periodically with pictures of the fleet at high profile locations.
Going for Gold and becoming accredited to the highest FORS Standard will show that H.D. Ricketts Ltd is dedicated to continual improvements, across the environment, road safety, driver welfare and driver training.
H.D.Ricketts – Home | Facebook
*Please note: All published FORS Gold case studies have been submitted by the accredited company named above and transcribed verbatim