Our waste management, recycling and aggregates haulage business was established over 100 years ago in Sydenham by Henry Sivyer and there are now 4 depots in the Greater London area. With over 100 vehicles, up to 44 Tonnes, involved in the organisation the daily management of the fleet requires experienced, reliable and motivated staff to lead the driver workforce with a focus on balancing operational demands with transport compliance requirements.
Our Compliance Manager, Mario Hellawell, has a key role and acts as a buffer between the drivers and senior management, reporting directly to Matthew Carter, the Sales and Logistics Director who himself has a wealth of experience from within the transport industry.
Mario comments below on how FORS has helped the business, and him, to consolidate and build upon existing systems and working practices. He is pictured with Matthew alongside one of our lorries.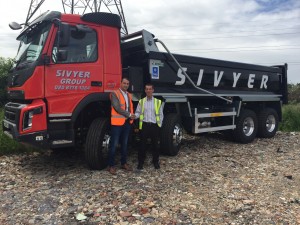 We have been involved with FORS for around 3 years, originally as a requirement of Crossrail, achieving the Bronze standard in 2012. This has been re-approved in subsequent years. With the current number of HGVs and drivers to manage we have had the occasional challenge to address to ensure it meets our own high expectations and those of our contractors and industry partners. This has meant putting in place further safeguards and controls within our operation working closely with other organisations such as the FTA and RoSPA. I have to say that FORS has been extremely helpful in supporting us and providing invaluable guidance, particularly during workshops I attended whilst becoming a FORS practitioner. This has allowed me to pass on best practice advice such as on the maximisation of fuel use within the company. We at Sivyers are confident that helped to achieve Silver status last December and to further consolidate and build upon the systems and best practice already in place to support a Gold submission. For example we have joined CLOCS and are developing a good working relationship with the Metropolitan Police who have recently delivered a series of toolbox talks focusing on general driving standards and requirements as part of a pilot programme. With the challenge we face in ensuring our drivers receive targeted training against the business needs of the operation the flexibility available through Fleet Source in delivery of Safe Urban Driver training has allowed us to develop a rolling programme that allows this training to be delivered on the basis of 5 drivers a time without severely impacting on our normal activity.
"The battle has become easier since FORS"
Close attention is paid to the analysis of infringements relating to drivers' hours and Working Time Directive offences for 88 drivers who are regularly reminded of their responsibilities in this area. A direct comparison for identical periods between 2014 and 2015 shows an improvement as per the table below.
| | | |
| --- | --- | --- |
| | Drivers hours / WTD Infringement rate   | Number of vehicles |
| Jan – Mar 2014 | 0.17 | 0.8 |
| Jan – Mar 2015 | 0.07 | 0.7 |
| Percentage improvement | 10% |  – |
In conclusion we are proud of what we have achieved with the support of FORS which has helped us to develop a culture of continuous improvement within transport operations and where good performance, especially of our drivers, is recognized. Achievement of Gold would be an acknowledgement to all our staff of the high standards we all strive to achieve. However we know we shouldn't rest on our laurels but work towards continuous improvement as we go forward"
"We strive for continuous improvement across our transport operations"