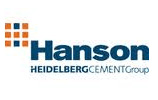 Hanson Cement, part of the Heidelberg Cement Group, is a leading supplier of heavy building materials to the UK construction industry. With operating centres nationwide, Hanson is always looking to enhance its operations and make efficiency improvements wherever possible. Ray Govier, Distribution Manager, tells us how.
"We came across FORS initially as a stipulation for working on the London 2012 construction site. We soon realised that we could utilise FORS and make the most of the guidance they offered for operators in London, we've come to consider it as much more than a requirement" explains Ray.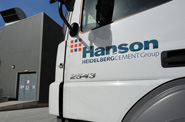 "With an operating centre in King's Cross we really are affected by all the issues drivers and operators face in London. FORS provides a platform for us to gather information but also to share our experiences with other accredited companies - we all have something in common and we can all learn from each other. We encourage others in the industry to join, the benefits definitely outweigh the investment of time."
"We welcome a scheme that deals directly with the issues facing operators in London"
Hanson passed its initial assessment with flying colours and started benchmarking straight away. "Getting such positive feedback from our assessment was really a great feather in our cap" says Ray, "it's reassuring to know the procedures we take so seriously in-house are considered high standard externally."
[Close up of Hanson vehicle door]
"The benchmarking system for us built on what we already did and really enabled us to look at what industry was doing outside of our own environment. Operating 44 tonne powder tankers in Central London makes for a unique operation and benchmarking against other construction sector vehicles such as tippers may not always favour our Miles Per Gallon (MPG) figures but nevertheless, it gives us reason to improve."
"The system also gives us the opportunity to show the interventions we've implemented in our operations, our fuel management system, low rolling resistance tyres and four-way camera system for example. We continually monitor our vehicle fuel consumption and MPG so we can accurately keep track of increases or decreases in both fuel and CO2"
| | | |
| --- | --- | --- |
| Year | Per Gallon (MPG) | CO2 (Kgs) |
| 2008 | 7.83 | 20,832,062.62 |
| 2011 | 8.01 | 12,178,202.99 |
MPG and CO2 figures for 2008 and 2011
"Since 2008 we've achieved a 2% improvement in Miles Per Gallon (MPG) and an 8,653,859.7 Kg saving in CO2. We can attribute these savings predominantly to our planning system which ensures our vehicles run the most efficient routes and minimise unnecessary road miles." explains Ray
"As part of our commitment to continual improvement and progression to gold standard, we have dedicated a lot of time to cycle safety. Working in the construction sector in Central London, this is an issue we feel strongly about, with good reason. We've fitted our vehicles with four-way camera systems giving our drivers an extra level of visibility. We've also developed our own flashing warning sign for cyclists on the back of our vehicles. Everyone's aware of the risk of fatal accidents and these features are helping to reduce that risk. The system also offers us security in terms of accident and insurance claims, we can go back and check our recordings and assess a situation after it's happened."
"Progressing to gold is all about continual improvement, we're always trying to move forward however we can and we'll continue to do so"
[Hanson vehicles in front of cement factory]
"Investing time to training our drivers is also an ongoing commitment for us. We run our own Driver Certificate of Professional Competence (CPC) courses and we feed in the information that we pick up from the FORS workshops and try and make the courses geographically relevant to keep the drivers engaged and focussed."
"FORS has helped us as a company and the business encouraged us to progress through the FORS levels and become one of the first gold operators. FORS really is a valued scheme within Hanson."