Tim Sage, Transport Manager for Hanson Quarry Products, part of the Heidelberg Cement Group. We are a leading supplier of heavy building materials to the UK construction industry; we are continually looking to enhance our Health and Safety record. We take the safety of our people and assets as well as members of the public very seriously and are striving to continually improve through the use of technology.
As a company we are proud of our fleet and are aware that this is the face of our business that the public see whilst out on the roads of the UK. We replace our mixers currently every 5 years to ensure we are keeping up with the technology that the manufacturers are fitting so that we can give our drivers the best equipment possible to operate. A lot of work has been carried out by the operational teams to ensure we can trial and suggest technology that can be retrofitted to our vehicles to make them safer on the roads for both the driver as well as members of the public, and in particular vulnerable road users.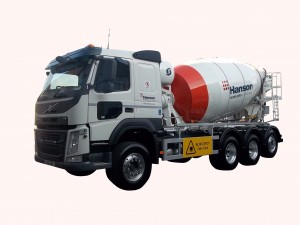 Our mixer fleet is currently being updated and we have placed an order this year for 180 new light-weight mixers. This has been a major change for the business as we have moved away from the "regular" 8 wheeled chassis to a "Tri-Dem" configuration. This vehicle can still operate at the GVW of 32000kgs but due to the axle configuration has a rear steering axle that gives it a greater manouverabilty within an urban environment as well as on customer sites.
Along with this axle configuration, we have worked closely with our supplier to produce a light-weight mixer drum in order that we can increase payload and thus reduce the number of road miles travelled to our customers. This we have achieved and are proud that the vehicle is capable of carrying 8 cubic metres of ready mixed concrete, a first within our industry. The vehicle is fitted with a near-side vision panel in the passenger door to aid direct vision for the driver, along with all of the Hanson UK safety systems which are standard across all of our fleet, these include 4 way recording CCTV, near-side turning warning device and sensors, flashing rear cyle sign and all warning signage required under the FORS standards making these vehicles as safe as possible for all VRU's.
The fitting of a light-weight drum has increased payload by 6% and reduced the amount of journeys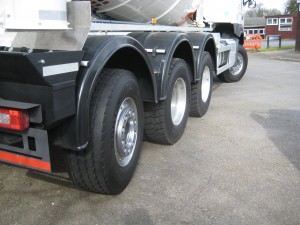 As well as VRU safety, we take our own employees safety very seriously when they are not only driving but carrying our deliveries of our products on customers sites. Safety systems we have now fitted as standard for driver safety are as follows. All vehicles are fitted with cruise control, making the drivers role less stressful when on longer journeys as well as in urban environments so that they can concentrate on the road and surroundings at all times. All vehicles are fitted with automatic gearboxes, and air conditioning is standard. They have an integrated mobile phone built in to the vehicle which can only be used hands free using the steering wheel controls also, although it is company policy to discourage the use of mobile phones and equipment whilst driving.
When it comes to safety of our drivers whilst operating our mixers we have fitted a number of devices to not only protect the driver but members of the public also. In order to be able to discharge our product the vehicle engine needs to run a PTO (Power Take Off) to operate the mixer drum. This in normal circumstances means that the vehicle keys are left in the ignition and the cab unlocked whilst the driver is working at the rear of the vehicle. This could mean that unauthorised persons could enter the cab, remove anything or indeed take the vehicle. In order to overcome this we have fitted, a "Run Lock" system, developed along with our supplier, which allows the driver to activate the system in the cab, the keys can then be removed from the vehicle with the engine running, and the cab doors locked.
The system also has a link to the park brake warning, so in the event of the parking brake being released with Run Lock in operation, the engine will be shut down.
"Unauthorised access to vehicles has been eliminated with the fitting of "Run Lock"
These additional safety systems have been fitted to not only meet with our business safety and sustainability standards but also those of FORS and CLoCS, and as such we feel that the additional cost is not only a benefit to our business but the wider industry also, as we feel that these will be taken up by other operators seeing them as best practice. .