Ray Govier, Distribution Manager for Hanson UK, part of the Heidelberg Cement Group.  Hanson UK is a leading supplier of heavy building materials to the construction industry, producing ready mixed concrete, aggregates, asphalt, cement and cement related materials. We operate a fleet of more than 1,200 vehicles to deliver our products, including 120+ own fleet concrete mixers varying in capacity from 6m3 to 8m3, plus 850+ tippers and mixers operated by independent owner drivers under a franchise agreement. Our diverse customer base includes public sector works, major infrastructure projects, local building and civil engineering contracts and DIY projects.
The industry standard configuration for a concrete mixer is generally a 6m3 volume capacity, 6 x 4,  26T GVW vehicle which made up the majority of our fleet.  Supplementary to this was the use of a lesser number of 7.5m3 vehicles.  The reason for this was that 7.5m3 vehicles were not always regarded as suitable for certain areas within our customer base.  In 2015 we asked ourselves the question as to why the 7.5m3 volume capacity trucks were not readily accepted by our customers with a view to challenging these concepts in order to gain an increase in payload at a minimal cost which would bring substantial cost and environmental benefits to the business.  Our main concern was customer acceptance, which was deemed to be fragile due to preconceived notions with regards to the larger vehicles manoeuvrability on customer's sites.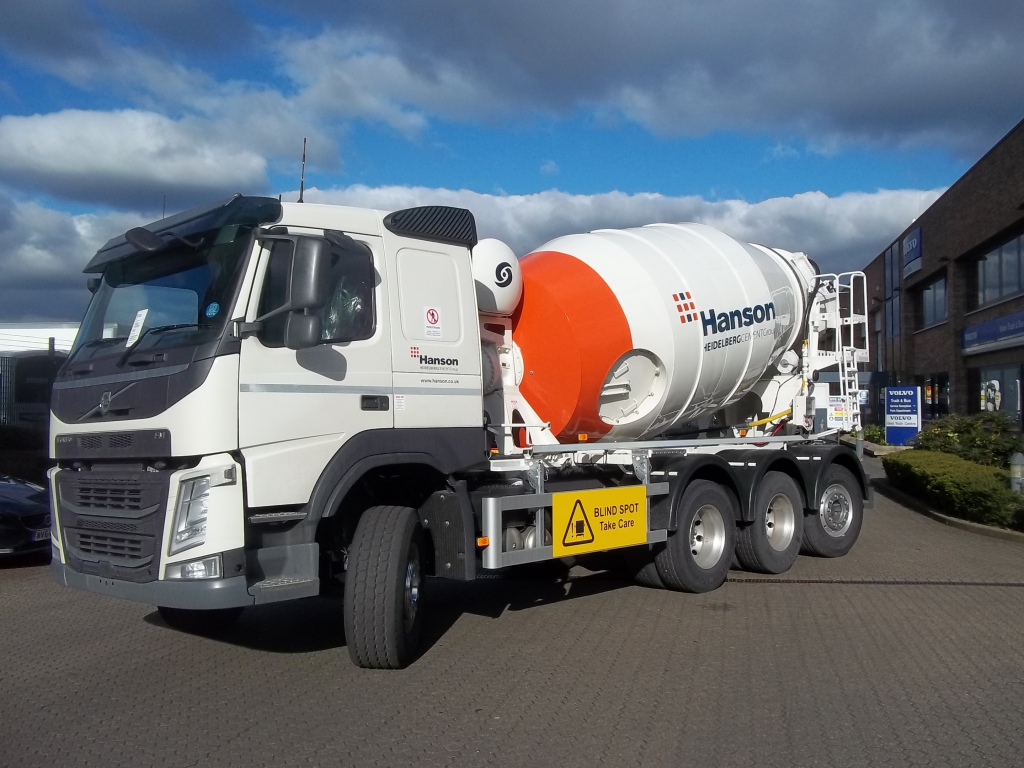 If the business forged ahead and ran a vehicle replacement scheme to specify 7.5m3 capacity trucks then we risked the loss of custom.  In order to overcome these obstacles and customer concern we looked at the option of a rear steer 32t, 7.5m3 truck which we felt could overcome the questions surrounding vehicle manoeuvrability.  Internal trials were carried out at our own concrete plants with a Rear Steer Tri-Dem vehicle where we made comparisons between this and the most accepted 6m3 26 tonne vehicle.  During this trial we proved that there was little difference in manoeuvrability between either of the vehicles.
In certain circumstances the Tridem configuration actually out performed on manoeuvrability over the 6m3 vehicle. This trial gave the business the confidence that it was the correct route it should pursue for its replacement vehicles and based on our findings it was calculated that the Tridem configuration would be widely accepted at our customer's sites. The move away from the traditionally accepted 6m3 vehicle to a Tridem was revolutionary in as much as it was not the standard specification for a concrete mixer delivery vehicle. The success of the initial trial led the team to look deeper into the whole concrete mixer configuration to see what else could be achieved. It was decided that a project team in conjunction with McPhee Mixers would investigate the possibility of reducing the mixer chassis weight in order to increase vehicle payload.  Mixer design approach has been traditional for years and manufacturing processes meant that these designs were inherently robust and heavy, due to the nature of the industry they were expected to operate in. The project team utilised Computer Aided Design technology to see where any weight savings could be made within the chassis.
Front and rear supports – redesigned to remove any non-structural metal. Mixer drum and blade thickness – reduced by utilising thinner but harder wearing metal
All these innovations proved positive towards helping the weight reduction within the mixer chassis that the team were striving for and it was decided to build a prototype chassis.
We didn't have a Tri-Dem vehicle in service that we could utilise so we decided to mount the lightweight mixer onto an existing 8 x 4 32t chassis and trial the unit in the field for a period of twelve months undergoing constant performance monitoring. During the twelve month trial any issues that were identified were rectified and modifications were made accordingly. The first stage of the trial of the prototype vehicle was to expose it to a wide and varied range of operating conditions on site at a national level, for a period of four months. The findings after the four months proved the concept and the unit then returned to its base in Scotland. It continued the second part of its trial for a further eight months whilst undergoing constant monitoring and regular inspections by the manufacturer.
Overall the twelve month trial period was a resounding success and exceeded all expectations, so much so that the vehicle is still operating and performing to the same high standard within the current business.  The trial results for the light weight chassis with its improvements, proved to the business that a goal of achieving a lightweight mixer chassis was possible and that we could achieve the additional half a metre carrying capacity of 8m3 that the business was striving for.
Based on the success of this trial it gave the business the confidence to go ahead and order its first batch of 180 Tri-Dem lightweight mixers which were put into service during 2016. The benefits to our business as a whole is that for every 16 loads the new 8m3  lightweight mixer vehicle makes it reduces the need for an extra delivery. The increase in payload has significant impact on helping us to reduce our emissions and meet our environmental & sustainability targets with an added cost saving benefit against fuel.
As Gold accredited FORS member and CLoCS champions we are constantly striving to manage the economic and environmental sustainability of our business and challenge the "normal" concepts to encourage forward thinking for our industry.
Please note: All published FORS Gold case studies have been submitted by the accredited company named above and transcribed verbatim