HARLEX Haulage Services Ltd is a family run business that has been operating 15 years strong from its Park Pale operating centre in Cobham Kent. The company runs a fleet of twenty-three 32 tonne tippers, sweepers and grabs delivering services including site clearance, bulk excavation to delivering soils and aggregates to a range of valued customers. From the office there is a small dedicated team of professional personnel under the guidance of Darren Warman.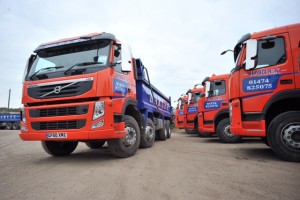 The operating centre is at present having a major overhaul with a new Head Office built in traditional Kent style to handle all the needs of the fleet and the business moving forward. Included in the development is a new multi-bay commercial workshop completed with significant major installation's allowing us to meet or exceed MOT standards, together with our general preventative maintenance.
The Company was first introduced to FORS in 2011 when we entered into the contract for Crossrail for Bond Street Station in London's West End. Harlex supplied on a 24hr 7 day a week basis lorry's and road sweepers for both ticket hall excavations. We assessed the benefits and soon understood the need for FORS. When preparing our Bronze accreditation assessment we quickly realised that we were already at a very good standard as we had prior experience of management processes from our ISO accreditations, which lead to us turning bronze with flying colours.
'FORS made us focus on fuel – MPG up Litres down by 31,000'
Having succeeded with FORS bronze the pressure was on to gain silver, as we did not wish to sit on the bottom rung but really demonstrate our quality of both operations and compliance. In early 2015 we decided to start the assessment for FORS Silver Accreditation, with help from our fuel data system supplied by Cameron forecourt we can easily retrieve all information from stock to fuel consumption.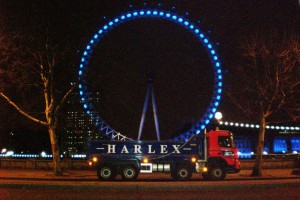 Harlex turned Silver in August 2015 at first time of asking and that enabled us to apply for CLOCS a month later, which we are now championing. We are very proud of where the company started to where we are now acting on a very professional level of road haulage. Due to our silver progression we now have continuous up to date information enabling us to monitor any changes or trends. Our fuel use has decreased by 31,790lts that's the equivalent of 22lts per truck week, even though the fleet has increased. We believe that FORS has switched our attention to monitor the entire cost chain and look further and deeper, allowing us to manage effectively and efficiently.
'FORS helped us manage effectively and efficiently'
Fuel is our largest single cost and therefore the easiest to target and whilst this was always in mind following the KPI's produced by FORS we have improved no end, to the point where we now feel in control of this important element combined with our fuel monitoring system we are reasonably confident of our opinion of, being at peak performance.
In conclusion, for Harlex Haulage to be gold accredited would be the icing on the cake for us to show how far we have come in a short period and to keep striving forward to the future of our industry.