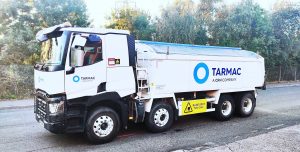 Section 1 – Introduction
Harman Transport Ltd is a midlands-based haulage business established in 2014. The main activity of the business is to transport asphalt and aggregate materials for MQP and Tarmac from their sites and quarries to the point of use. Since joining FORS the business has seen an improvement in the fleet's emissions and fuel usage. Sukhwinder Dhaliwal, director of Harman transport Ltd says the FORS accreditation has benefited his business, fleet and staff.
Sukhwinder explains how the company  has achieved significant improvements through FORS.
We were made aware of the FORS standard back in 2015 by Tarmac. I can honestly say that FORS is the single most significant factor for the development of my business since we started. I can remember doing FORS Bronze for the first time. After achieving FORS Bronze I knew that we had a benchmark from where to develop the business and use the framework of FORS. It was my aspiration even back then to one day achieve Gold.
We started to plan for the progression onto Silver as far back as 2016 and in 2019 we achieved our first Silver. We saw the benefits immediately of the Silver in terms of Driver training and awareness, this was demonstrated in the savings in fuel and incident free periods.
As a business we realised that FORS gave us the framework on which to develop our admin activities, i.e., our driver health monitoring and licence checking become part of a planned process rather than ad-hoc as in the past. Being accredited to FORS also ensured that we stayed legal and compliant. Our drivers went onto gain training which ultimately benefited the business hugely and made savings.
Karanveer Singh, Director, said ' FORS has been the driving force behind the business allowing us to manage the business knowing that we are making continual improvements to our systems and staying legally compliant'.
As you will see from the data presented we have made a 12.7% improvement in km/l that our vehicles used, from year 1 to year 2. This makes a great difference on the bottom line and this was achieved through driver training and the selection of vehicles.
| | | | | | |
| --- | --- | --- | --- | --- | --- |
| | KMPL | Incidents per 100,000 Kms | CO2 | NOx | PM10 |
| Year 2019 | 2.82 | 0.001 | 225.84 | 449.68 | 6.73 |
| Year 2020 | 3.18 | 0 | 169.7 | 381.25 | 5.7 |
| Percentage improvement | 12.7% | 100% | 24.85% | 15.28% | 15.3% |
Our incidents per 100,000kms shows a 100% improvement from year 1 to year 2.  CO2 has shown an improvement of 24.85%, NOX an improvement of 15.28% and MP10 an improvement of 15.3% from year 1 to year 2.
We have regular health and fitness reviews of our drivers which continue to drive our accidents and incidents down.
As and when recruitment is required, the company has robust policies and procedures in place to ensure that equal opportunities are upheld, right to work checks are conducted and the induction process is followed and applied.
We have taken action and initiatives to reduce noise, this involving training of our drivers on the matter by the way of policies, procedures and toolbox talks. We also have a noise risk assessment in place for the business.
We attend major commercial motor shows to keep abreast of changes in technology and other aspects in our industry. We intend to continue to invest in the latest technology and safety equipment. We aim to replace our vehicles with the latest Euro standards as and when available to help drive down fuel consumption and emissions.
The company intends to continue in investing in the latest technology, vehicles and safety equipment. The company will seek the opportunity to replace the older vehicles with the newest Euro standards as well as staying informed and aligned to industry initiatives to aid drive down fuel consumption and emissions even further. Low entry and high visibility vehicles will be continually researched and sought with the intention of upgrading the current fleet.
We promote FORS through our stationary i.e., letterheads, invoices, etc, and FORS branding on our vehicles. We are in the process of setting up social media platforms and will use these as a means of promoting our business and also FORS.
Obtaining FORS Gold will mean a lot to not only the company but also the individuals involved i.e., drivers. It is the dedication of the staff and drivers that has got us to a position where we are applying for the Gold. Along the journey from Bronze to Gold we can see clearly the benefits to not only the business but also individuals concerned.
*Please note: All published FORS Gold case studies have been submitted by the accredited company named above and transcribed verbatim