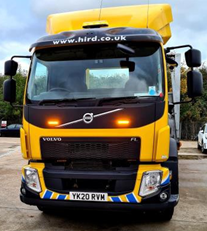 Include a brief description of your company and what your company does. Introduce yourself, including job title and a one line summary of the case study.
Hird Ltd is based in Hull, with depots in Doncaster, Birmingham and Redhill that all operate separately. We are a hire company that hires out specialised Glass lifting equipment as well as access equipment and Mini Spider Cranes. Chloe Rainbow, Transport Supervisor, explains how Hird Ltd has achieved significant improvements through FORS. 'We reduced our van fleet from 12 to 5 and increased our HGV fleet from 2 to 6, this reduced the fuel, CO2, NOx and PME by reducing the short journeys the vans were making allowing us to use the HGVs more efficiently by only having one vehicle in the area than two. As a company we make sure that our drivers are all up to date with the latest training, improving their road safety. Our drivers are issued with the latest Highway codes and London Lorry Control Guides. This reduces the fines our drivers get, especially with a new driver to HGV driving and London, as it allows the drivers to plan their journey to, from and between jobs to avoid any lorry restricted roads.
Most of our customers' projects are based in central London, with this we had to become compliant with the rules of the sites. Since joining FORS in 2014 we have been able to be compliant for the service of our customers but we also wanted to improve and better ourselves.
Hird Ltd passed their initial audit second time round, we found the experience informative, inspirational and encouraging to make sure we further ourselves.
A main reason going for Silver, again is for the sites in Central London as it was apparent to us that more and more sites were only allowing FORS Silver to deliver, other reasons for us wanting to improve the quality of our delivery service and also reducing our carbon foot print. Going for FORS Gold is for us to better ourselves and to reduce our carbon footprint as a company and not just our delivery service.
Becoming a FORS member and being accredited with our FORS Bronze and Silver we relished in the benefits that were being provided to us. Using the Fleet Tools system allows us to manage how much fuel is being used as well as how much emissions we are producing. This will help us with future plans to help keep those down. The other benefits such as discounts and offers has helped us massively with putting our employees through training that was not only essential but beneficial in helping us to understand and improve our performance as a company and individually. The tools that FORS has to offer helps manage, maintain and makes easier for us to be organised not only for auditing purposes but for informative purposes as well.
James Carr, Depot Manager, "Since joining FORS I believe we have benefited from a reduction in fines and other charges, due to the added training our drivers have been through. Also, it has helped us with our logistics planning and enabled us to review our fleet and change our vehicle make-up which has in turn reduced our fuel emissions and overall transport costs. We have also benefited from the knowledge and experience of other FORS members and it has enabled us to continue serving our customers on sites that require FORS as a minimum requirement for delivering"

Kirk Williams, Lead Driver, "Since becoming a FORS member, as a driver I feel safer with the technology that is required on the vehicles as it provides the support for the drivers, especially in Central London"
Hird Ltd has started to make improvements by reducing amount of vans we had delivering. The vans were doing short journeys with only one or two deliveries and two vans in the same area. Replacing the two vans with one HGV lorry allowed us to make more multiple drops and keep our Carbon footprint down. From the data below you can see that there was an increase in the MPG and NOx between 2018 and 2019 but then a decrease between 2019 and 2020 across the board apart from the PCNs. This is down to reducing the amount of vans we had and increasing our HGV fleet and making the most out of them. The increase and decrease of the PCNs is down to new drivers we have employed. In 2018 we employed new van drivers that hadn't didn't have great knowledge of the London Lorry Control Scheme. We put them through training which saw them improve. This has been the same issue in 2020 when employing newly qualified HGV Class 2 drivers, and as before we are providing them with training and already seeing an improvement with this.
| | | | | | | | |
| --- | --- | --- | --- | --- | --- | --- | --- |
| | MPG | Number of Incidents | CO2 | NOx | PM10 | Number of PCNs | Proportion of fleet that uses alternative fuels |
| Year 2018 | 19.66 | 1 | 269.60 | 587.48 | 23.12 | 13 | 0% |
| Year 2019 | 106.12 | 2 | 39.51 | 796.32 | 12.97 | 10 | 0% |
| Year 2020 | 31.09 | 1 | 103.49 | 679.51 | 10.70 | 14 | 0% |
| Percentage improvement | 58% | 0% | -62% | 16% | -54% | 8% | 0% |
To ensure there is a reduced risk of incidents where our drivers are concerned, we have them fill in a medical questionnaire when they start with us as well as random drugs and alcohol testing. We have an open-door policy where the drivers can inform management of any new medical conditions that have arisen or concerns, they might have. Having these implements in place allows us to check, make sure and raise concerns if they are necessary.
Hird Ltd is always looking to the bring the next generation through into the industry. We provide excellent training and offer training to any of our employees that are looking further themselves into our industry. We have improved our training needs and requirements where we feel that it has not worked with some drivers and adjusted the training to ensure that our drivers are receiving the best training that they can to benefit Hird Ltd and the industry if and when they come to leave us.
Due to our location we have to make sure that our vehicles are being considerate of the local surroundings. Our drivers load their lorries the previous night, this allows to start at a more reasonable time of 6am, although we are not located right next to a residential area, we still do have to pass by, any earlier than 6am would cause disruption the residents. We have policies in place that state when our lorries are parked, loading or unloading that the ignition is turned off.
When purchasing our HGVs, we ensured that they were all Euro VI. Our company cars all either Hybrid or electric. This is our first step into partially moving our transport fleet to alternatively fuelled/powered vehicles.
All our HGVs are Euro VI, along with company cars that are either Hybrid or Electric, our future plans are still being researched into how we can improve the rest of our fleet to being alternatively fuelled.
We recently opened an operating centre in Birmingham which has helped with the reducing the amount of fuel used as well as the number of miles our drivers were commuting doing deliveries. We will continue to improve and find alternative ways to monitor the
fitness and health of our drivers as well as continuing to ensure that our drivers including any new drivers, are always given the highest training that is available to them.
Hird Ltd positively promote FORS by having our FORS accreditation logos on all our commercial Vehicles showing that we are proud to be a FORS member. We also share news articles that FORS produce, feedback on our accreditation process and any training courses that our employees attend to any companies looking to become a FORS member.
Having FORS gold to us means that we are able to show our customers that we are always looking to improve our driving/transport standards and to lead the way in our industry to be one of the best.
*Please note: All published FORS Gold case studies have been submitted by the accredited company named above and transcribed verbatim