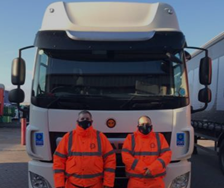 Section 1 – Introduction
I Matthew Fitzgibbon originally started back in 2002 as a driver and am now running the day-to-day business as Logistics Manager.
HMF Services (Transport) LTD is a family run haulage company based in Sittingbourne, Kent. Established in 1989 as a Proprietorship with one Luton van, we have grown over the years due to our fast, reliable, efficient service and supporting all our clients with their specific requirements, becoming a Limited company in 2007. We have maintained the family business ethos with husband and wife team Hugh Fitzgibbon, Director and FORS Practitioner, and Julie Fitzgibbon, Director, Transport Manager and FORS Practitioner. Providing general haulage throughout the UK, occasionally into Europe, we pride ourselves on being a responsible and careful haulier. Many of our customers are manufacturers producing fragile goods with high quality finished surfaces, trusting us to deliver quickly and efficiently.
We currently operate eight vehicles (3 x HGV and 5 x Vans) with an additional van and HGV on order. We have increased our Operating Licence with the aim of adding an additional two vehicles to the fleet by the end of 2020/early 2021.
We believe that we have achieved significant improvements in our operation including a reduction in fuel use and generated emission levels, our future KPI's will improve on this further. Our staff are more confident and competent in their roles following the vast array of training that FORS has brought to us.
We are currently Silver accredited and are excited to be pushing ourselves further to obtain a GOLD accreditation.
Section 2 – How did you hear about FORS, what prompted the company to join and how long have you been a member?
We first became aware of FORS back in early 2014 when one of our customers, Waterloo Air Products, required that we had a FORS accreditation as most of their deliveries were to sites in London with a growing number requiring FORS accreditation. We then looked into what FORS was and realised that it was something that resonated with us as a company. We aim to do things right, safely and efficiently all of the time and FORS seemed to be the perfect framework for us to model our policies and philosophies around – we then obtained FORS Bronze in April 2014. We passed on our first attempt, finding the process straight forward and the assessors helpful. Having gone through the process we found that by having the Bronze accreditation it opened up more opportunities as many sites had FORS Bronze as a stipulation when delivering to them. We found that in a short time we were delivering more frequently to these sites through our existing clients and generating more business with new clients.
Section 3 – What was your experience of the initial FORS Bronze audit?
We were at first a little apprehensive about the initial Bronze audit, not really knowing what to expect. The auditor very quickly put us at ease with their friendly, professional manner and constructive criticism, pointing out the areas where we could improve and progress through the FORS scheme.
Section 4 – What was your main reason(s) for you progressing (either from Bronze to Silver and then Silver to Gold or straight from Bronze to Gold)?
In 2016 we noticed that FORS was a growing force, the emphasis on safety was increasing particularly with construction sites in London, and beyond, adopting the FORS standards. We took the decision to go for Silver and achieved the accreditation in 2017, maintaining it ever since. The ongoing commitment to FORS standards has meant that we can provide evidence to our customers of our commitment to them, by ensuring that we can deliver products to any site that they require, and also our commitment to improving road safety and the environment by having the most fuel efficient vehicles, highly trained drivers and maintaining safety standards at all times.
Section 5 – Explain how you have made use of the benefits FORS provides?
Once accredited, we really made the most of the benefits on offer, in particular the FORS Practitioner workshops and Driver CPC training for Safe Urban Driving and Lo City Driving. We now have a team of confident and well informed staff that are equipped with extensive training experiences to call upon when driving in dynamic environments, especially city centres.
"As one of the FORS Practitioners I have found that the workshops have been delivered by knowledgeable trainers who have the same passion for safety and efficiency as we do as a Company. I have found the sessions productive and informative and useful to hear about the experiences of other companies who often work in different industries than general haulage. I have been able to network with various people who ordinarily I would not have, and by doing so this has enabled me to learn how others are improving and in turn helped me to improve HMF Services (Transport) Ltd".

"As a family company we are tight knit, we work hard together to develop and to be the best that we can be in every aspect, safety is key and a cleaner environment is our future. FORS is assisting us to be safer and cleaner." Julie Fitzgibbon – Director, Transport Manager and FORS Practitioner.

"The progression from not being FORS to Bronze then Silver has helped us to train and educate our drivers and provide the insight and rationale behind the training. We set high standards and the framework in place has helped us to achieve this. I instruct all my staff that safety is at the forefront of what we do, my ethos is "Safety before profit" and the policies and framework that FORS has helped with has made sure we are as safe as possible" Hugh Fitzgibbon – Director, FORS Practitioner and Health and Safety Champion.
Section 6 – What improvements have you made?
 

 

 

MPG

Incidents per 100,000

Kms

 

 

 

CO2

 

 

 

NOx

 

 

 

PM10

 

Number of  PCNs

Proportion of fleet that uses alternative fuels

Year 2018-

2019

23.48
0
100.12
459.4
7.36
9
0%

Year 2019-

2020

23.76
0.4
155.54
751.43
11.94
11
0%
Percentage improvement
1.2%
-40%
-55%
-63%
-62%
-22%
0%
Comparing year on year our CO2, NOx & PM emissions statistics have increased, showing a negative improvement – this is a somewhat distorted view because we added 1 x HGV and 1 x Van to our fleet and increased our distance travelled and fuel used during 2019-2020. We have however managed to achieve an increased MPG overall.
Driver health and fitness review – In order to minimise the risk of incidents as a result of underlying health issues or undiagnosed conditions we regularly communicate the benefits of maintaining a healthy diet, staying well hydrated and general exercising. We also offer guidance to identify possible symptoms for conditions that need to be referred to their GP and/or investigated further to ensure that the driver is safe to be on the road. Albeit some conditions may be temporary, it is stated in our policies and our driver's handbook that all drivers are responsible to inform the DVLA and us of any medical issues that arise which might affect their ability to drive safely either through the illness or the medication prescribed. In addition to the regular eyesight checks, we pay for a full opticians test annually for all our drivers.
Recruitment of drivers – we have engaged with the "Career Transition Partnership" in the hope that we are able to recruit an ex-forces driver as we believe they would share our company ethos for being a disciplined and committed driver that is used to continuous training and improvement. We also utilise "Indeed.com". We have an application for an increased Operators licence currently under consideration and hope to be recruiting again in the new year.
Noise assessment – All staff are aware of our pledge to reduce our noise pollution. They are regularly trained utilising the FORS e-learning and toolbox talks and we have a section within the driver manual that offers guidance on keeping noise levels to a minimum, especially 'out of usual working hours'. All servicing and vehicle washing is completed off-site.
Modal shift and alternative fuelled vehicles – unfortunately we are somewhat hindered by the 'not fully implemented' infrastructure for recharging and our operating centre vs. our regular customer locations. We regularly review the market for manufacturer's technology developments and new vehicle releases and hope that we can embrace electric vehicles in the not too distant future. We have currently got a bio-diesel HGV vehicle on order and are expecting a significant reduction of emissions from it.
Section 7 – What are your plans for the future?
In order to make continual fleet emissions improvements we will be introducing our first bio diesel HGV, currently on order for delivery in early 2021. Our other vehicles are all Euro 6 engines. Our vehicles are also best in class in regard to Direct Vision. We regularly conduct research into electric fuel vehicles but at the moment this is not viable, our research will continue in the hope that we can soon embrace this option.
We are very proud of our well trained, experienced and valued transport team and are keen to ensure that we monitor their fitness and health and offer support to help them if or when they need it.
As we expand our fleet size, to recruit new drivers – either already experienced or others brand new to the industry, that we can train, guide and support to become confident drivers.
Furthermore, to achieve FORS GOLD as part of our continued demonstration to our clients that we wholeheartedly support road safety and our pledge to reduce our environmental impact.
Section 8 – What evidence do you have of positively promoting FORS at requirement G7?
We have positively promoted FORS on our website, our social media, our vehicles and more recently we have had some COVID face masks printed with the FORS logo. In addition to this, we have spoken to a number of our associates & suppliers regarding the benefits and improvements that we have achieved since joining FORS and strongly recommend that they consider joining too.
Section 9 –What FORS Gold accredition means for your organisation/to you?
 FORS has helped up to continually improve our overall transport operation for the past 6 years, by giving us the opportunity to be regularly audited, to train our staff in all aspects of transport and to put in place systems and procedures to ensure safety of all staff and road users.
Achieving FORS Gold would underpin our commitment to our staff, customers and suppliers that we take road safety and environmental impact seriously and are striving to continuously improve. We now have a robust management tool (FORS) that demonstrates we can be an exemplary transport company.
We will also be able to tender for further contracts that are specifically requiring GOLD.
We want to 'stand out from the crowd' … HMF Services Transport Ltd are not just a regular transport company, we sit 'head and shoulders' above many!
Section 10 – (Optional) Please provide your social media contact details so we can follow your organisation
We display our FORS accreditation on all our vehicles. Our website www.hmfservicestransport.co.uk
Our Facebook page https://www.facebook.com/hmf.transport.5
Our Linkedin page www.linkedin.com/company/54075256
Our Twitter @LtdHmf
*Please note: All published FORS Gold case studies have been submitted by the accredited company named above and transcribed verbatim