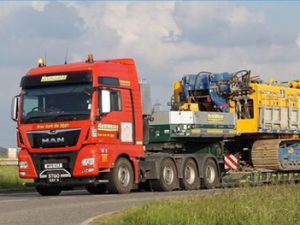 Section 1
Hutchinson Engineering Services Ltd is based in Weston, near Newark Nottinghamshire and provide a range of different services, including haulage of plant, machinery, and specialist equipment up to 100T; LGV and specialist trailer repairs & servicing; crane & plant hire; as well as welding & fabrication services. I am Kate Lewin, a Transport Manager focusing on compliance. In our previous Case Study, we looked at our school road safety campaign, this time we are looking at our investment that is driving and delivering our progress.
Sections 2/3/4
In the early days we were working on Crossrail and FORS accreditation as a way of proving to clients and future customers that we were no run of the mill transport provider. However, having been Gold Members since January 2014, Silver for the previous two years and Bronze before that, no one is owning up to remembering the first bronze audit, but as you can see from the progression it was never a plan to be anywhere other than gold. The long association with the scheme at this level means managers and drivers think, work and act in the FORS way, seeing ongoing training, development and setting the highest standards as an everyday part of the job.
Section 5
We make the most of the benefits, information, and tools we now had access too. We started using the performance management system and e-learning sections immediately, coupled this with attending FORS Practitioner workshops, HGV Fleet Management Essentials Courses, and on-line Driver CPC sessions; backed by pre-prepared toolbox talks, regular email updates, The Standard magazine and the FORS Conference. Not to mention offering the top badge of respectability to current and potential customers.
Gold in our minds was a natural progression and a way to enhance the company's knowledge, training, and development. Gold accreditation shows our intension to improve and show what a good compliant knowledgeable company looks like, indeed some drivers have asked to be employed because we are at this level.
Many of the companies that we work for require hauliers of Gold FORS standard. Achieving and maintaining Gold not only means that our drivers are well trained and knowledgeable, but we are always top of the customers list for work. However, having been at this level for so long it is no longer possible to quantify either the saving we make or the income our membership generates.
"Our Transport Section would be a lot smaller and quieter without FORS Gold Membership."

Ian Hutchinson – Director

"Working in a FORS company makes monitoring compliance simpler, as the systems are in place and drivers know we are monitoring the way they work."

Kate Lewin – Transport Manager (Compliance)
Section 6
When we look back to the pre-FORS days there is no doubting the change in the Transport Section. This seems to be accelerating with changes to drivers, vehicles, processes, and technology.
The impact of this is clear to see in an improving picture –
Incidents per 100,000 Kms
CO2
NOx
PM10
Number                   of PCNs

Proportion of fleet that uses alternative

fuels

2018
1.16
2,128.15
2,402.26
41.34
15
0%
2019
1.45
2,086.12
2,420.00
41.07
8
0%
2020
1.21
1,913.55
2,239.18
38.30
10
0%
Percentage improvement
16.20%
8.30%
7.50%
6.70%
-25.00%
0%
Our earliest driver health screening records date back to March 2009 and we still carry these out today, backed by regular in-house number plate reading checks and signed annual driver health
Operating at the heavy end of haulage and as Gold Members often means potential recruits come to us asking about work, but we also use social media to recruit from those following the Company. However, they rarely have the skills and need training up the weight scales. In the past we have progressed drivers, some from Class 2 to Class 1, but the most spectacular development remains our sponsoring a van driver with just a car/van licence to progress to the heaviest abnormal loads we
Vehicle noise has been mitigated for many years. Our site is in a rural location with signage reminding drivers to drive quietly, with parking, wash facilities and garage entrances located away from housing. Our HGVs have left turn and reversing warning alarms, which are mutable for night working in sensitive areas, as many of our loads must be moved at night to mitigate traffic hold-ups and comply with agreed routing
The nature of the work undertaken, heavy weight or abnormal load, means that alternative transport modes are not an option; nor is there currently an option to use alternative powered vehicles, with manufacturers currently focusing on return to base, lighter carrying capacity, However, this will come and will be kept under review.
None of this means we are resting on our laurels. In just the last few years we have seen continued improvements to the fleet and operation:
Vehicles being refreshed to Euro 6 (In 2018 the fleet was 15% Euro 6, 95% in 2020).
Vehicle recording systems have moved from no cameras to one and on to
Telematics developing from a simple satnav & tracker to a computer in the cab, assisting drivers with daily defect logging, incident reporting, time management and two-way written The system also allows managers to monitor driving standards, working time, engine idling, and compliance in general.
The technology has improved utilization of vehicles between our customers and
Enhanced fuel consumption through training provided though the FORS website, CPC courses and savings from educating drivers on Engine
Section 7
While the wheels keep turning progress continues to be a driving aim:
In the trucks, driver facing cameras have been delivered and will be installed imminently.
Back at base, the newest development, in December 2020, was the co- ordinating of various sources of information into FleetCheck. A system that monitors and records every piece of information relating to our vehicles and This enables multiple users to easily check what actions have been completed e.g., defect checks, maintenance, licence checks etc. and records other information such as fuel consumption for example. In the past these strands were on a variety of different systems and spreadsheets.
We are still learning our way into this new software, rather than it simply being a replacement on what has gone before, we are looking to expand on the benefits this system can provide.
Section 8
In addition to the long standing promoting FORS through the use of the logo on our vehicles, letterheads, email signatures and supplier audit questionnaires, it has been prominent in our school road safety campaign – Stay Safe Be Seen and featured in both our nominations at The Heavies and UK Fleet Champions Awards. It is also showcased prominently on our website and on our social media offerings on Facebook, Linked in and Instagram.
Section 9
In conclusion, we could sum up by repeating the words of our director – "Our Transport Section would be a lot smaller and quieter without FORS Gold Membership". Without a doubt functioning at the Gold level has improved our operating performance, with drivers, vehicles and transport managers working at the highest standards. This in turn has encouraged "blue chip" companies to use our services again and again and again, knowing the job will get done to a Gold standard. We know this because recommendations have followed and business has blossomed.
Section 10
If you would like to see what we get up to or become part of a growing following, click on the links below and have a look for yourself.
https://www.facebook.com/hutchinsonengineeringservicesltd/
https://www.linkedin.com/company/hutchinson-engineering-services-ltd/mycompany/
https://www.instagram.com/hutchinsonengineeringservices/
*Please note: All published FORS Gold case studies have been submitted by the accredited company named above and transcribed verbatim