JS Gill Ltd is a sub-contractor that transports aggregates and asphalt materials for Tarmac, Swindon & Bristol (aggregates suppliers). Established in 2015, the company has seen significant improvements in the KMPL delivered by their fleet and reduction in carbon emissions since implementing the FORS standard.
Jaswinder Singh Gill, franchise contractor for Tarmac explains how FORS has been beneficial to their company.
Our business came across FORS during our search in ways to improve our trucks fuel efficiency and how to increase the safety of our drivers and the public whilst on the road. Looking into their wide range of case studies and seeing how they have benefitted many other businesses, we knew they would be the best choice to help improve our business and help imply the best practice with our vehicles and employees.
We passed our initial bronze audit the first time around with the help of the variety of driver training courses provided by FORS. Due to the success of these training courses and how they benefitted our company drivers and improved their skill set, we are now encouraged to keep up to date with any new available courses for our drivers.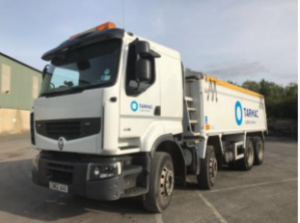 Once we were bronze accredited, we really made use of what else FORS has to offer such as their wide range of toolkits. In particular, the FORS congestion toolkit which aids in reducing the amount of time in traffic which therefore saves the company time and money. Furthermore, the Cycle Safety e-Learning course was especially useful in reminding drivers of the importance of being aware of vulnerable road users.
'Having access to training courses in an e-Learning environment makes professional development for employees easier due to the accessibility.' – Jaswinder Singh Gill
As our main focus on improving our business was our drivers' road safety skills, we were particularly impressed by the Safe Urban Driving course which provided our drivers with the opportunity to experience a cyclist's view of the road and the dangers a vulnerable road user must face day to day. Moreover, the Staying Legal course FORS has to offer helped ensure that our drivers follow the right regulations whilst on the road.
'FORS has made our drivers a lot more confident and compliant on the road thanks to the wide range of training courses provided.' – Jaswinder Singh Gill
Once we were bronze accredited we decided that we should progress to Silver and Gold accreditation as we now know that the FORS toolkits and the recommended practices they use to improve businesses such as ours are successful and beneficial overall. In particular, the benefits the implemented changes are having on the environment and the public.
In the last two quarters, we have increased our annual KMPL by 6.9% thanks to FORS.
| | |
| --- | --- |
| | KMPL |
| March – May 2017 | 3.56 |
| June – Aug 2017 |  3.33 |
| Percentage improvement |  6.9% |
| | |
Our company takes the health and well-being of our staff very seriously as they are the heart of the company. This is done by gathering all relevant health data and information from employees. This includes providing a doctor's note to ensure the employees' health is at its peak and they are fit to work. This then ensures the public is safe also as we do not want unfit drivers on the road.
Due to us being a small company, we do not recruit often but when we do we advertise our company online in order to recruit new drivers. We also offer new recruits a two-week buddy plan which allows them to adjust and adapt to their new working environment along with providing them with the necessary training courses
With the help of FORS training and toolkit we were able to implement new techniques in order to reduce noise pollution which includes turning off your engine whilst being idle for long periods of time.
Due to the nature of our business, vehicles require us to use a PTO system and insulated bodies to store and transport materials at high temperatures so we are unable to use any other alternative transport options for the time being.
In order for our business to keep improving we will continue to provide regular training courses for our drivers through FORS to ensure the correct policies stay in place.
Being FORS Gold accredited would reiterate to the public that we are working and providing a service by using the best possible practice. With the use of FORS training courses we can ensure that our drivers stay up to date with safety standards and continuously improve their professional development. In the future we hope to continue being more environmentally friendly and implementing more ways in which we can achieve this to a larger extent.
Please note: All published FORS Gold case studies have been submitted by the accredited company named above and transcribed verbatim