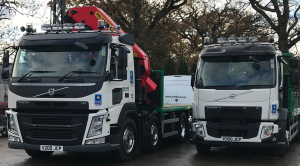 J Coffey Plant Ltd based in Park Royal are the support specialists of J Coffey Construction, and service J Coffey Construction's many sites around London. Tim Rayner, Operations Manager, explains how J Coffey Plant has achieved significant improvements through FORS
"Our journey with FORS has been one of continuing progression and the guidance provided has led to increased efficiency. Fuel usage has reduced through the training our drivers have received through the training portal, with the Lo City training being pivotal in raising awareness among the drivers on eco-friendly driving, in turn helping us to reduce fuel usage and our CO2 emissions on our Euro 6 trucks, lowering NOx and Particulate Matter emissions as well. Our road safety record has been maintained, and we maintain decreased transport related fines and charges with help from the training for drivers and managers available through FORS".
"We started FORS in 2012 with Bronze, progressing through Silver to Gold, which we now maintain. Originally a contractual obligation, it's now grown far beyond that to be an enshrined element of running the trucks. The advice and training we receive, the safety kit we fit, as well as the guidance on policies and procedures to support operations. We wouldn't be without FORS. We see it as best practise.
J Coffey Plant passed the initial audit first time round. Slight trepidation initially, but the Standard laid out what was required of us and we earned the Bronze accreditation. The sense of achievement post-audit was immense. Having completed that we then worked to getting Silver in 2014 and then built up from that to achieving initial Gold accreditation in 2018
The main reason for progression to Silver was contractual; Sites require a minimum of FORS Silver (as that aligns directly with the CLOCS standard). We then decided we would go for Gold and exceed the requirements placed upon us by contracts. We ourselves specify FORS Silver as a delivery requirement from our supply chain so we know we have quality professionals safely servicing our requirements.
Once accredited, we made the most of the benefits on offer. Although a small operator, we now have two FORS Practitioners in our company and six FORS trained drivers driving our fleet. This enhancement of the team has allowed us to progress our knowledge which we have applied to the business and seen improvements in both driver and vehicle standards and increases in safety awareness throughout the company.
"FORS provides a methodical approach to running a safe, efficient Fleet" Jim Walsh. Concreting Operations Manager.
"FORS is a cornerstone of how we do business" Tim Rayner, Operations Manager
Performance Data – Overall a good improvement over the course of the years on our performance data. Our newer Euro 6 vehicles have improved MPG over the fleet we ran in 2017 as well as better fuel control measures. The lessening of traffic in the City will have helped during the initial COVID period as well. The emissions are up overall but the fleet has gone from 4 vehicles to 7 with heavier payloads and the mileage the fleet is covering has increased.
| | | | | | | | |
| --- | --- | --- | --- | --- | --- | --- | --- |
| | MPG | Incidents per 100,000 Kms | CO2 | NOx | PM10 | Number of PCNs | Proportion of fleet that uses alternative fuels |
| 2017/2018 | 7.85 | 0 | 43.87 | 92.47 | 1.69 | 0 | 00% |
| 2018/2019 | 8.7 | 0 | 63.70 | 134.26 | 2.45 | 0 | 00% |
| 2019/2020 | 18.629 | 0 | 75.223 | 311.439 | 5.0867 | 0 | 00% |
| Percentage improvement | 137.3% | 0% | 0% | 0% | 0% | 0% | 00% |
Driver health and fitness review – Our drivers partake in our occupational health monitoring and complete an annual declaration. The company have mental health policy and mental health first aiders and champions to help with their wellbeing as needed.
Recruitment of drivers – When required, our recruitment policy provides for recruitment that demonstrates equal opportunities and fairness, with thorough induction and right to work checks carried out.
Noise assessment– The company carries out in-house noise assessment at depots and sites and deploys mitigation where needed, Routes are also chosen to avoid residential and vulnerable areas such as school areas and we comply with site construction logistic plans designed to reduce impact on noise and emissions.
Modal shift and alternative vehicles – Modal shift and alternative vehicles have been considered and continue to be researched. Management attend Freight in the City annually to investigate new technologies and methods as well as keeping up to date through the press and social media. As new technologies and methods progress, reviews are made to look for chances to employ modal shift or alternative vehicles.
In order to make continual fleet improvements we are actively upgrading our safety equipment to include HALO lighting along the nearside of the trucks and additional illuminated warning signs in a suitable location on the back of the trucks. We are evaluating the viability of using HVO fuel and how this affects our vehicles, HVO offers a large improvement on reduction of emissions if found to be suitable for use in our trucks.
We have positively promoted FORS in the last year again as before, with supplying a FORS Gold spec vehicle and blind spot floor map for a cycle safety event, this time one held near the Barbican in London to highlight what we do as a FORS accredited operator with regards vulnerable road user protection and also to enable cyclists to see the view from the cab. We continue to actively promote FORS through highly visible signage on our vehicles and look forward to being able to engage with the public again in the future to further promote road safety and FORS.
FORS Gold accreditation means we can support our sites with continued excellence. Gold for us exceeds contractual requirements and reinforces our commitment to the safety of those we work with and those we encounter in the course of our operations, both the general public and site.
The benefits we have gained from FORS extend over all aspects of the business, operations, safety and ecologically. Going forward we aim to maintain this, streamline business further and move into future years on a firm footing of quality and leadership.
*Please note: All published FORS Gold case studies have been submitted by the accredited company named above and transcribed verbatim