I am an owner operator working for Tarmac, a CRH company who are the UKs leading sustainable building materials and construction solutions business. My company is based in Bedfordshire and I have supplied services to Tarmac since 1988. In the past 30 years I have seen many changes and through the implementation of Euro 6 engines and the FORS standards there have been large improvements in fuel use reductions, reduced CO2 emissions, and road safety
I first became aware of FORS through Tarmac as it soon became part of the Tarmac required standard for contracted hauliers. Very early on I realised adopting the FORS standards and reorganising the way I operated I could run my business in a more professional and organised method. This in turn benefitted my business with reduced running costs and improved safety.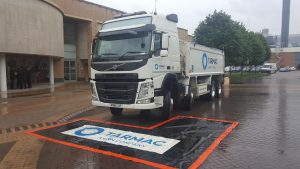 Using the benefits available from FORS and working alongside Tarmac and their on-site FORS practitioner, Wayne Woodcock, I passed my intitial FORS Bronze audit at the first attempt. This showed me what my business could achieve and I was encouraged by Tarmac to progress to Silver and then Gold.
Once I attained the FORS Bronze standard I started to look into fuel use and emissions more closely, utilising the Performance Management Tool on the FORS website. The data obtained help me when deciding last year to upgrade my current truck to a new Euro 6. I also looked at driver training and particularly useful was the Safe Urban Driving course which I undertook through FORS and gave me an insight into the hazards encountered by vulnerable road users on the public highway.
'Jim Campbell, Owner Operator – FORS has given me an insight into the hazards encountered by vulnerable road users on the public highway and enabled me to help educate cyclists by attending and supplying my truck for cycle safety events'
 Utilising the toolkits available on the FORS website has enabled me to monitor and manage the performance of my truck and in turn reduced costs through fuel savings. This has also has a positive effect in reducing emissions produced by my vehicle. In addition to this the toolbox talks and E Learnings modules on the FORS website has aided me in not only my own knowledge and competence but also that of my driver.
'Jim Campbell, Owner Operator – Achieving FORS Gold is recognition of the commitment that I have shown in improving my business and shows my customers that I operate to a high standard.'
Once I had achieved the Bronze standard moving forward to Silver and subsequently Gold seemed the natural progression for my business as I aim to run to as high a standard as possible. Working through the FORS standards enabled me to use it as a framework for how I run the business on a day to day basis, helping me to ensure I achieved the standards I was looking for.
The figures below show that I have seen an improvement in fuel useage and through the replacement of my vehicle to a Euro 6 last year I expect this trend to continue especially coupled with the added monitoring of performance I now have using the FORS toolkit.
Incidents and PCNs have continued at 0 over the 2 years I have monitored the performance data
MPL

(miles per litre)

Incidents per 100,000 Kms
Number of PCNs
Year 1
2.24
0
0
Year 2
2.28
0
0
Percentage improvement
1.8%
0
0
Going forward I intend to continue to monitor the performance of my truck using the FORS tools. In addition to this I am increasing my fleet in 2018 with an additional Euro 6 truck and the processes I have in place now will enable me to manage the performance of the vehicle and driver in the future.
In summary I feel without the help, guidance, and use of the online tools provided by FORS, I would not have been able to run my business to the standard it is now. Achieving FORS Gold is incredibly important to me and identifies my business to my customers, and other hauliers, as professional and running to high standards.
Please note: All published FORS Gold case studies have been submitted by the accredited company named above and transcribed verbatim.