Established for over 30 years, J&M Haulage Ltd is a small family run company based in Essex and operating a fleet of tipper vehicles subcontracting to Tarmac, a CRH Company. John Marcetic, Director, explains how becoming FORS Gold accredited in 2016 was a major achievement for a small business such as JMH, and demonstrated the commitment to the safety of vulnerable road users as well as continued improvement in developing drivers and maintaining a safer working environment.
"Lorries can't always see cyclists so they [cyclists] need to stay away from them".
Engaging with vulnerable road users is important to us and for that reason we offered to take part in our granddaughters Bikeability Week at school. To raise awareness of cycle safety by giving children an opportunity to get close up and inside the lorry they learnt about the dangers of riding their bikes alongside LGV's.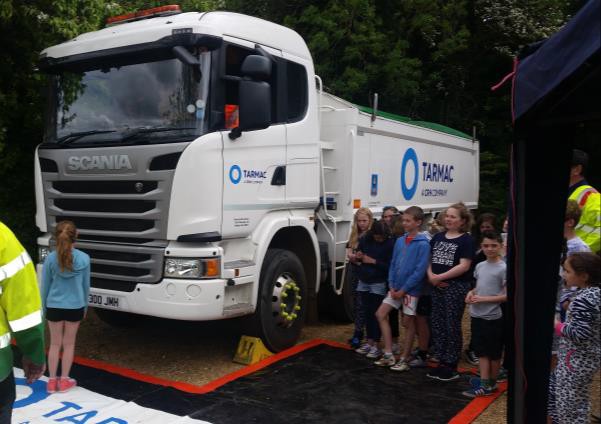 The children, in years 5 and 6, were walked around the vehicle which is fitted with the latest visual aids, including four way cameras, to show them what the driver could see from the cab while one of their classmates stood on the 'Blindspot Mat', learning where they couldn't be seen by the driver. The children really enjoyed the experience, learnt lots from it and hopefully will be safer on the roads as a result Initiatives like this promote safety awareness in an enjoyable way to children. One child said of the day, "Lorries can't always see cyclists so they [cyclists]need to stay away from them".
Safety remains high on our priority list and all our drivers have completed their Safe Urban Driving, Staying Legal and MPQC skills courses, we continue to invest in vehicle safety systems ensuring all our vehicles are fitted with side under runs bars, left turn audible alarms and side sensors as well as four way 360 degrees cameras.
One of the key benefits for us in 2016 was the FORS Practitioners Courses as an opportunity to learn from others and sharing good practice is of genuine value, particularly for small companies. The national FORS Members Conference held in November was an excellent way to network and hear about the latest developments from experts in their field – Well worth it!
We continue to make full use of the FORS online training for our drivers, as well as the Toolbox Talk pack alongside other issues which are covered in our regular toolbox talks, constantly raising awareness of vehicle and driver safety while looking for areas where further improvements can be made.
| | | | | | | |
| --- | --- | --- | --- | --- | --- | --- |
| | Miles driven | Fuel used | MPG | CO2 | NOX | PM |
| 2016 | 353536 | 46515 | 7.6 | 559.9 | 873.3 | 71.9 |
| 2015 | 338176 | 43991 | 7.7 | 529.6 | 825.9 | 68.0 |
| 2014 | 287093 | 37685 | 7.6 | 453.0 | 707.5 | 58.2 |
"Drivers have the confidence to deal with the challenges and hazards"
 Ongoing Gold accreditation means not only do we stay abreast of what's happening in the industry, we recognise that commercial driving is a skilled and safety critical job, which is why we continue to invest in our drivers so they are better equipped and have the confidence to deal with the challenges and hazards they will face while driving, making safety of all road users the main priority.
 Please note: All published FORS Gold case studies have been submitted by the accredited company named above and transcribed verbatim