Established for over 30 years, J&M Haulage Ltd is a small family run company based in Essex and operating a fleet of tipper vehicles subcontracting to Tarmac, a CRH Company.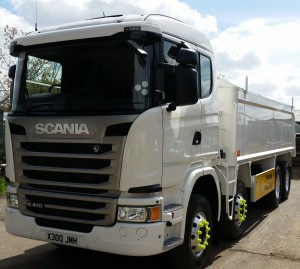 John Marcetic, Director, explains how FORS has helped JMH to reduce the risk to vulnerable road users through driver training and the introduction of new trucks fitted with the latest safety equipment.
As a fleet haulier, we were already used to being audited by the then Lafarge Aggregates Company and were one of their first hauliers to achieve the highest star rating, therefore it was a natural progression to go for FORS accreditation when it was introduced.
Having attained bronze accreditation at the first attempt and received positive feedback, we were keen to continue to upgrade to silver.
Although we already had policies and procedures in place, working through and following the FORS requirements enabled us to improve and embed them in our day to day activities.  The whole experience improved our ability to focus on driver training, vehicle and road safety as well as the importance of continued monitoring of driver behaviour and vehicle performance.
Safety remains high on our priority list and not only have all our drivers completed their Safe Urban Driving courses, we have also invested heavily in vehicle safety systems ensuring all our vehicles are fitted with side under runs bars, left turn audible alarms and side sensors as well as four way 360 degrees cameras. Footage from the cameras has been used as part of training and learning during tool-box talks, giving the drivers an opportunity to discuss what improvements can be made.
 'We have invested in vehicle safety systems and driver training'
We have recently signed up for the FORS Practitioners courses as I feel this will enable us to continue our drive to improve road safety, learn from others and share good practise. We've made use of the FORS online training modules for our drivers, both individually and as a quiz in group sessions to make it more interesting and competitive.
Through on-going training and regular tool-box talks our drivers now have a better understanding of the risks faced by vulnerable road users and the impact of individual driver behaviour on things such as idling, heavy breaking and harsh acceleration as well as overall fuel consumption.
Since March 2015 we've improved our MPG by around 1% which equates to a saving of about £3500 over the last nine months, similarly our CO2 output has been reduced. We have maintained PCN's at zero, and have reduced the number of traffic incidents to zero.
'Becoming  FORS Gold Accredited would confirm our commitment to continued improvement and a safer working environment '
Becoming FORS Gold accredited would be a major achievement for a small business such as ours and would demonstrate our dedication to the safety of vulnerable road users as well as our commitment to continued improvement in developing our drivers, maintaining a safer working environment and helping us to reduce our carbon footprint.