J Murphy and Sons is a multi-disciplined civil engineering and building contractor. The main sectors include pipelines, civils, rail, power, piling, waste and water. Barry Gaffney, Fleet Manager explains how Murphy's have continued to implement FORS standard procedures in order to reduce carbon emissions and improve MPG per vehicle.
 Firstly, we were approached by the FORS team in 2013 and immediately jumped at the opportunity to join because it sounded like a great opportunity. Having obtained and held the FORS accreditation for four years, it has allowed us to become part of a great scheme that has since improved our Fleet for both the roads of London and across the country.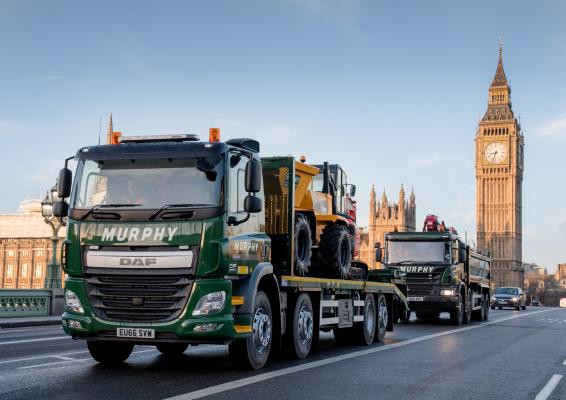 Murphy's passed the bronze, silver and gold assessments first time round. Thereafter we continued to uphold the gold accreditation, therefore, indicating we are continuously implementing and improving the  best practices for all the criteria's required. The annual FORS assessment has been very influential in order for us to keep working towards the accreditation.
The performance management toolkit has been of a significant importance ever since we were first introduced to FORS. The toolkit has enabled us to identify different strategies in order to improve the fuel consumption of our fleet, which has been a core goal of ours for this year. The training tools provided allowed us to view and compare the miles per gallon for each vehicle. We were then able to implement procedures in order to achieve more MPG and reduce fuel consumption that therefore would help reduce costs.
'At Murphys we believe that Innovation is integral to our success and we seek to make improvements in all aspects of our work – therefore improving the MPG of our fleet has been extremely important to us this year.' – (Barry Gaffney)
The advantages of the continuous implementation of the FORS standards has helped reduce fuel costs and helped improve our fleet standards. We having 4000+ employees and have been able to provide the required training to the majority in order to improve the MPG of our fleet. Drivers have been made aware of the impacts that heavy acceleration and idling times has on fuel consumption and ways that they can be avoided and improved.
'The FORS workshop and performance management toolkit has been impeccable to our business. We have seen a percentage improvement of 2.6% in comparison to the previous quarter' – (Barry Gaffney)
| | | |
| --- | --- | --- |
| | MPL | Fuel Usage (litres) |
| Jul  – Sept 2016 | 6.10 | 316454.07 |
| Oct 2016 – Dec 2016 | 6.26 | 291291.13 |
| Percentage improvement | 2.6% | 8% |
Quarter improvement in MPL
 We have continued to showcase how successful we have been in making continuous reductions in fuel consumption therefore improving our carbon footprint. By doing this it has helped us to keep progression as a business and achieve an annual gold accreditation.
We have remained gold members since November 2013 and are continuing to make improvements to our fleet working alongside FORS. We are all truly committed to managing our fleet in a safer, greener and more efficient way. Thanks to FORS we continue to remain one family – one team – one Murphy!
 Please note: All published FORS Gold case studies have been submitted by the accredited company named above and transcribed verbatim