JB Riney are a long established Civil engineering company responsible for providing Highways Maintenance, Winter Maintenance, Street Lighting, Carriageway Surfacing amongst many other services. Richard Edwards who is responsible for the Transport Operations explains the on-going work involving cycle safety and vehicles: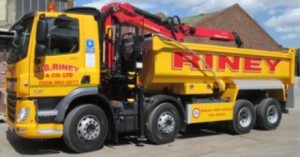 JB Riney provides Highway Term Maintenance Services for the City of London, Tower Hamlets, Royal Borough of Greenwich among others. JB Riney & Co Ltd is a long established Civil Engineering company who over the years has built an enviable reputation for reliability and quality workmanship. The company has been based in East London for over 30 years. Our head office is positioned in a busy part of London surrounded by super cycle highways, and due to this we have seen the increase in Cyclists in the area including the areas where we work – This is why we have made road safety a high priority.
JB Riney has been a FORS member since June 2012. We gained Silver status in June
2013, obtained Gold status in June 2015 and have been FORS accredited for nearly three
years.
Throughout this period, the transport team, along with other staff and managers have
looked at the fleet profile and fitted cycle safety equipment including: Cycle safety side
guards, side proximity sensors, recordable cameras and class V & VI mirrors fitted to our
LGV fleet. Additionally, side sensors have been fitted to 3.5 tonne vehicles also. All new 3.5
tonne and upward vehicles will be specified with all side guards, sensors & audible turn
warning. Most of our term maintenance contracts that we tender for specify being a FORS
member and having the above safety measures in place.
All those that live and work in London are aware that there is a great risk for road users; this
is particularly the case for the vulnerable category.
In addition, where possible, all our vehicles have had additional Safe Cycle signage added.
JB Riney has worked very closely with the City of London to implement Safe Urban Driver
Training towards our drivers and operatives in continuing to maintain the Riney fleet and
transport policy. We feel that the Driver CPC programme is crucial in raising awareness and
professionalism amongst our drivers.
JB Riney has had the FORS Silver accreditation for nearly two years. We feel that we are
committed to the safety of vulnerable road users by fitting all the safety aids, as well as
providing our staff with the relevant training. We work very closely with our clients on
exchanging places initiatives (mainly with the Local Authorities, City of London Police).
The FORS workshops have reiterated the need for continual development in the transport
industry, not just the Drivers CPC, but supervisors and managers as well. The practitioner
workshops allow healthy debates and discussions assist those of us that are shy of lack a
certain confidence to be able to voice their opinion in an environment of likeminded
professionals.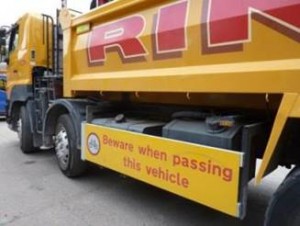 From the inception of the FORS journey all drivers and driving staff have been encouraged to "drive greener". By getting drivers to drive in the green by encouraging safe and fuel efficient styles of driving we have seen a year on year increase in MPG. On term contracts we have looked at our company car profile and added hybrid vehicles with low CO2 emissions.
At JB Riney, we are committed to all aspects of Health and Safety and have made road safety a high priority throughout our company.
We will continue to introduce all safety aids as standard to our new fleet also and are
embarking on a replacement programme at present, to include trial of alternative fuel
vehicles as well as the Low Entry Large goods vehicles that have been designed for the
CLOCS initiative. We are working with the City of London and Transport for London to trial
these low entry vehicles on our fleet, evaluate and provide constructive feedback.
''We are very proud of our modern fleet and the professional image of Riney is reflected in
our clean and safe cycle friendly vehicles.''
Brendan Riney MBE – Managing Director at JB Riney & Co Ltd