Jet Plant Hire Ltd was established in 1989 and remains a family-run business.  Stephen Phillips the Transport Manager explains that JET is one of the UK's largest planing contractors committed to providing customers with a professional, reliable and outstanding service in the construction industry.   Jet Plant Hire operate from two depots; Evesham in Worcestershire and Newton Abbot in Devon and operate over 30 Wirtgen planers, low-loaders and tippers providing the complete solution for any application on site on a spot hire or contract basis.  Out fleet covers around 3 million miles annually and our operations are supported by our scheduling, tracking and telematics systems together with good geographical knowledge deployed by our transport staff.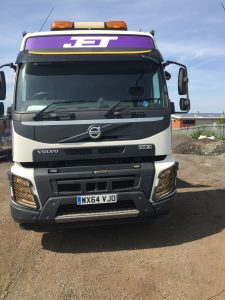 Steve Phillips explains that Jet Plant Hire Ltd came across the Fleet Operator Recognition Scheme (FORS) through advertisements in the media and decided to join and embark on achieving a FORS accreditation to help improve and monitor operational performance and safety at the same time encouraging best practice in safe working, legal compliance and environmental responsibility.
Jet Plant Hire Ltd passed their Bronze audit which then encouraged us to continue improving what we do and to achieve the FORS Silver which we did last year and now go for Gold.
Once we achieved Bronze we really made the most of the benefits on offer, in particular, performance management tool /driver licence checking etc.  The eLearning and safe urban driving courses really benefited our drivers.
Since joining FORS we have looked more closely at fuel figures and their respective KPI's and took the decision that it was time to replace some of the older vehicles with new Euro 6 vehicles and, at the same time, to spec the lorries with a host of safety features which our drivers find really helpful.
The safety features fitted to the new lorries are really useful especially the near side camera which is activated with the left turn indicator and completely eliminates any blind spots on the nearside.  Also, we have purchased new tippers with large panoramic windscreen, glazed kerbside door and low seating position which gives a clear view of cyclists and pedestrians in what was a nearside blindspot.
Once we had achieved FORS Bronze accreditation it changed our mind set and made us even more aware of our safety obligations in relation to vulnerable road users.
We then achieved FORS Silver which made us focus on the training that the drivers needed and now we are going for gold and it is training our thoughts towards what we do as managers.
| | | | |
| --- | --- | --- | --- |
| | Damage only | Slight injury | Moving traffic offences |
| Jan-Dec 2015 | 23 | 5 | 6 |
| Jan-Dec 2016 | 16 | 4 | 5 |
| Percentage improvement | 30 | 20 | 17 |
Driver health and fitness review – provide details of how your company is actively putting appropriate measures in place to minimise the risk of incidents as a result of underlying health problems or diagnosis of a condition.
We are now carrying out safety critical medicals on all employees alongside employees completing our health questionnaire annually.
Strategy for recruiting drivers – give information about your strategy to engage in industry initiatives to encourage new drivers into the industry.
We are working with the CITB to try and form an apprenticeship to encourage new drivers and plant operatives into the industry.
Noise assessment – elaborate on measures taken to reduce noise pollution during driving, parking, loading or unloading, servicing or vehicle washing which is relevant to the vehicle type, load and sector.
We have introduced an anti idling policy which now shuts a vehicle off after 3 minutes of idling reducing noise of engines ticking over.
We have introduced safety critical medicals in conjunction with our annual completion of our heath questionnaire; this being an eye sight and drink and drugs checks. This is to identify any problems that may affect ability to drive and operate plant in order to increase safety and minimise the risk of incidents as a result of underlying health problems or diagnosis of a condition.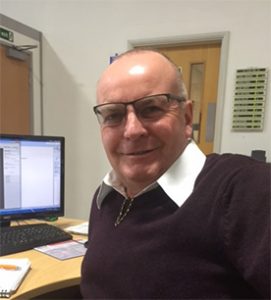 Moving forward we will be looking at anti idling; improving driver monitoring and setting MPG performance standards and anyone who does not achieve this will be challenged and where necessary extra training and driver assessments will be implemented.  More frequent driving assessments to ensure that all relevant daily checks are being carried out correctly and it is not just a tick exercise and that driving abilities to include loading and unloading of plant will be assessed to ensure it meets Jet Plant Hire Limited standards.  Telematics data to be analysed in more detail and drivers questioned about their driving in relation to speed, harsh braking etc.  Continue to purchase lorries with large panoramic windscreen with glazed kerbside door with low seating position and look at other changes that could be made to improve visibility whilst driving.
Anything we can do to contribute towards safety and making roads safer is a good thing. The FORS accreditation covers this both through modifications to our vehicles as well as driver training and competency – this assures clients that we are operating to the highest safety standards.
With advice and toolkits such as the 'Congestion Toolkit', which improves delivery plans and reduces the amount of time spent in traffic, to the 'Fuel Use Tracker' which records and tracks fuel usage, monitors miles per gallon and CO², FORS enables JET Plant to run a more efficient fleet, whilst reducing their environmental impact which, together with the enhanced safety performance, benefits everyone.  Continual improvement and being proactive is important as we do not want to stand still, our aim is to continue to reduce down the number of incidents that happen and to educate the drivers so they have a better awareness.
Facebook:           Jet Plant Hire Ltd
LinkedIn:             Jet Plant Hire Ltd
Twitter:                @JetPlantHire
Google+ :            Jet Plant Hire Ltd
Please note: All published FORS Gold case studies have been submitted by the accredited company named above and transcribed verbatim.