Jet Star Carriers Ltd are a sub-contractor that transports dry aggregates and coated asphalt  for several major aggregate companies like Hansons, Conway and Tarmac. We started our business in 2013 with one vehicle and currently we are operating four vehicles. Jet Star Carriers Ltd has seen a significant improvement in their fuel efficiency and CO2 emissions output ever since joining FORS and implementing their practices into their business processes. The Director Mr. Jagdeep Singh of Jet Star Carriers Ltd explains how FORS has been beneficial to their company.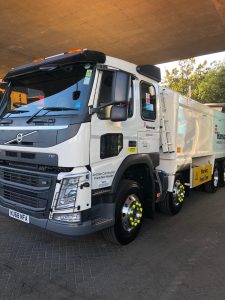 We have been introduced to FORS by our clients and we were impressed and wanted to get FORS accredited as soon as we discover the benefits of e-learning courses and other advantages for being FORS approved operator. As, we are a fleet that has a number of employees working within the business, we always keen to find ways in which we could assist our employees expand on their driver knowledge quickly and efficiently by using a method that would be easy access for our drivers. After joining FORS we definitely ticked that box.
After getting our FORS Bronze accreditation first time, our employees specifically drivers performance dramatically improved and they became more confident and vigilant as compare to their past driving behaviour. Achieving this accreditation then encouraged us to continue utilising FORS's e-Learning resources. We felt by implementing these driving modules into our driver's schedules have helped make the most difference in our business and helped it improve significantly.
After becoming FORS accredited we really took advantage of everything else FORS has to offer. We made great use out of the FORS toolkits, in particular the Environment range of toolkits. The use of the fuel tracker helped us pin-point when our fleet was using up too much fuel and helped us keep track of any progression or digression of fuel usage. This toolkit has also helped us keep track of our CO2 emissions.
'Fuel efficiency and CO2 emissions output improved dramatically, since we start using the FORS fuel tracker.' – Mr Jagdeep Singh
To continue, not only did we make use of the FORS e-Learning modules but we discovered the benefits of having our driver's also complete FORS practical courses. In particular, the Safe Urban Driving course allowed for more engagement from our drivers. Having our drivers put into a vulnerable road users position helped give them a better understanding and awareness of their surroundings when driving their company vehicle.
'Jet Star Carriers team feel equipped with knowledge and information, All credit to the FORS driving modules and courses.' – Mr Jagdeep Singh
After achieving our Bronze accreditation, we decided to aim for a FORS Silver accreditation as we saw and felt the benefits within our business from achieving our initial Bronze accreditation. As a fleet we felt achieving a Silver accreditation would further improve our business and our company's credibility to new cliental.
In the ­­­­­last two quarters, we have increased our KMPL by 7.05% thanks to FORS.
Performance data – Use figures (these may be performance management KPIs) that you have already provided to back up your words, see example below but it could be other sets of figures
| | | | |
| --- | --- | --- | --- |
| | KMPL | Incidents per 100,000 Kms | Number of PCNs |
| April -June18 | 2.41 | 0 | 0 |
| July – Sept 18 | 2.56 | 0 | 0 |
| Percentage improvement | 7.05% | 0% | 0% |
*Annual improvement in KMPL and Incidents per 100,000 Kms
Driver health and fitness review – At Jet Star Carriers Ltd, the health of our drivers is of the utmost importance as we believe their health should be at its peak to ensure the safety of other road users and the driver themselves. We validate the health of our employees by requesting them to fill out a health questionnaire. If there are any health issues that may contribute to road risk, we will then refer them to a GP for further consultation. We strongly encourage our employees to stay fit and healthy by inducting them with FORS health and fitness policy.
Strategy for recruiting drivers – At Jet Star Carriers Ltd, we like to advertise that we are looking for new recruits through online platforms. At Jet Star Carriers Ltd we are aware of how difficult it is for new drivers with no previous tipper driver experience to get into the tipper industry. This is why we offer new recruits a paid two-week buddy plan, which consists of a new driver shadowing an experienced driver in their daily duties. The new driver will then have to carry out these duties independently once the two-weeks of training has been completed.
Noise assessment – It is known that tipper vehicles are a big contribution to noise pollution on the road. Since joining FORS and using toolkits such as the anti-idling toolkit and Quiet Equipment guide, out fleet has seen a massive improvement in our fleet's noise pollution. Our drivers have learned new techniques to improve this issue such as switching off their engine when idle for long periods of time.
Modal shift and alternative vehicles – Our tarmac materials must be kept in an insulated body at a high temperature which is why our fleet must use vehicles that have a PTO system. Currently there are no more environmentally friendly vehicles available for our mode of work. However, we are aware of the electric car industry continuously making improvements and so we plan to keep informed and up to date with any new alternative vehicles made available for our mode of work.
 For our fleet to continue to improve and be performing at its optimum level, we plan to continue utilising the FORS e-Learning resources and ensuring our drivers are up to date with any new driving modules/courses. We believe by having our drivers regularly complete these modules/courses will keep our fleet running smoothly and efficiently.
As we know the FORS practice is the best practice to implement into our business, being Gold accredited would further increase our company's credibility for our current and future cliental. Being FORS Gold accredited would also reassure our drivers that their work performance is being carried out to the best of their ability and therefore encourage them to continue performing at their highest standard.