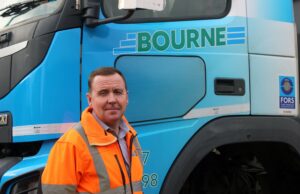 John Bourne & Co have been in the Farming & Agricultural business for over 70 years, during which time they branched out into aggregates, topsoil's and rootzones for the building and landscaping industries, providing services across London and the Southeast. We have seen the business progress into an industry leading provider of quality products and services. Being based in a rural location we are committed to the reduction of our emissions and improved safety standards, implemented through the FORS accreditation. We have continued our achievements by gaining our FORS Gold accreditation 2 years after our initial Bronze audit, giving our customers peace of mind and assurance that they are getting a high-quality delivery. John Bourne & co have a continued commitment to reducing our CO2 emissions, despite the increase in fleet size to 19 vehicles and that there has been an increase in CO2 in comparison to last year's figures but only by 5.76 ton per vehicle. We see this as a positive result in the current climate despite now travelling further afield for deliveries, we are encouraged that this will continue to improve in the coming months and years with the help of the FORS standard.
We started our FORS journey 8 years ago now in 2013. We became aware of FORS through industry and trade media. The benefit of taking such a step to become a member and continue onto becoming a FORS Gold member has provided us with massive benefits, both as a company and for our staff, not just drivers. We continue to improve our fleet of vehicles by introducing new and updated lorries every year. This has stalled slightly in the current pandemic, but we have another 4 vehicles on order for delivery in the next 24 months, these will replace older vehicles on the fleet, all meeting the high specification required and maintained by ourselves through FORS.
FORS also allows us to be up to date with new and developing safety and compliance data and changing legislation. Our drivers benefit immensely through the training and e-learning modules, they have a keen interest in their development through this platform. It also helps us to highlight any specific needs amongst the team and better our training and development plan. Combined with the LoCity and Safe Urban Driving classroom courses (to which we receive great feedback) this highlights the commitment of our drivers to achieving the level required to continue to show case our commitment to the continued development of our high standards.
Our initial Bronze audit was undertaken in 2013 and was seen as an aid to the improvement of our polices/procedures/risk assessments which we already had in place. This enabled us to focus and to improve upon areas which we lacked understanding or needed to improve. It also highlighted the fact that this was a team effort in all areas, from drivers and maintenance staff to office staff and that we would all have an impact on our future business, in a positive manner and would help improve our already high standard of safety and compliance.
The company benefits from being FORS Gold members from using the e-learning portal and the FORS accredited CPC courses (SUD & LoCity). The safety aspect of the accreditation means we can reassure our customers that our vehicles are of the highest specification and by continuing to maintain our Gold level shows our commitment, especially as we deliver to all areas including urban and highly populated areas with many vulnerable road users.
We continue to monitor KPI's in line with our commitment to reducing our CO2, NOx and PM, below is the data for the last 3 years. This shows an increase, but we have in the last year introduced an extra vehicle to the fleet, going from 18 to 19 vehicles now monitored. We also put this increase down to more kilometres being covered in getting to collection and delivery sites, due to the pandemic at lot of our product availability has been reduced and we have had to travel further afield to sites that have what we need.
| | | | | |
| --- | --- | --- | --- | --- |
| | CO2 | NOx | PM10 | Number of vehicles |
| 2018-2019 | 894.1360 | 1991.3603 | 29.8031 | 18 |
| 2019-2020 | 1111.7269 | 2123.8886 | 31.7865 | 18 |
| 2020-2021 | 1284.8148 | 2781.1162 | 41.6227 | 19 |
Driver health and fitness is highly important to us, and issues of mental health have been highlighted more during the last 12 months due to the pandemic and how it has affected people. We aim to assist our drivers in all aspects of any health concern and will continue to provide support throughout their employment with John Bourne & Co. We run campaigns to highlight the issues they may face and will help to put them in touch with the relevant supporting bodies – local support groups/online support. We carry out driver eye checks every 3 months alongside the annual health check requirements.
Recruitment of drivers – We aim to take advantage of the current industry incentive for HGV apprenticeship and hope to be able to recruit younger and less experienced drivers to help maintain the fleet for many years to come. The company continues to fund all aspects of driver training from CPC to HGV licence testing to out of hours payments for completing training during their own time.
Staff training & development – Elizabeth Kimber is now the Assistant Transport Manager and is going to be taking the Transport Manager CPC in November, funded by the company. We will be providing funding for the ALMI training for 4 new drivers this year as well and we have introduced a HGV apprentice fitter to the workshop.
We continue to monitor our Noise output and regularly highlight the importance of reducing our Noise pollution to enable us to continue our commitment to the FORS standard. All drivers are aware that each vehicle must be loaded the night before where possible and that loading and unloading times are to be kept avoiding any disturbances. They are also aware that all noise reduction is to be monitored when delivering to site, washing vehicles, maintaining vehicles and when operating in the yard.
Due to the nature of our work, we currently have no plans to move to any other method of delivery or use of alternately fuelled vehicles. We continue to purchase newer vehicles, these are euro 6 in line with the rest of our fleet. We continue to monitor the industry standards and any changes or recommendations which may help us to decide on our next vehicle purchase. We maintain the
The future……………….
John Bourne & Co remain committed to reducing our emissions, our high-quality level of driver training and driver health & fitness. We continue to maintain our fleet within the Gold standard we have now maintained for 6 years and continue to promote the FORS scheme among the industry and our customers. We are extremely proud of our achievements and our driver's commitment to maintaining this high level through our sturdy induction program and driver development program, we will continue with this and will endeavour to continue to reach the highest level of performance, efficiency, compliance, and safety.  We continue to strive towards a greener, cleaner, and safer future.
We promote FORS through all our website, social media accounts, our e-mail sign off and our vehicles carry the FORS signage. We are incredibly proud to be members of the FORS scheme and it is an honour to be part of such a recognition.
Being a member of FORS means we can be confident in our drivers and our fleet and that we are sending out a strong message to our customers of safe and compliant working. FORS helps us to be the best version of ourselves.
https://www.instagram.com/johnbourne_co/
https://www.linkedin.com/company/john-bourne-&-co.-ltd./mycompany/