John Jempson & Son Ltd founded in 1866, are based in the historic Cinque Port town of Rye, East Sussex. Jempson's are a leading General Haulage Contractor operating a large and modern fleet of LGV1 & LGV2 vehicles from their operating centre in Rye. Their primary contract is for the national distribution of British Gypsum Products, and Interplant movements between manufacturing plants. Alongside this, they work with many companies involved in the supply of Building Materials, and are shareholder members of the Palletforce organisation, servicing customers throughout Kent and Sussex.
Stephen Parker, Contracts Manager for Jempsons, explains how they have achieved fleet wide Safety Improvements, enabled new contracts, whilst also being able to deliver Vehicle Efficiency improvements through an ongoing program of Driver Development;
"Upon its inception, we recognised that the FORS scheme was being adopted and promoted widely across major building projects in the Capital. Jempson's were already working alongside a number of strategic business partners involved in the supply of building materials into these construction sites across Central London. A decision was made to join the FORS scheme to ensure we could benefit from the new standard, and going forwards be recognised as a compliant haulier with both existing and potential new customers."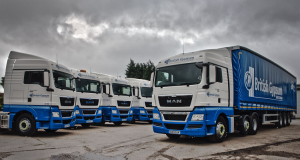 John Jempson & Son Ltd passed the initial FORS Bronze assessment in July of 2013 at the first attempt. This was viewed throughout the business as a great achievement, equally it was quickly recognised that this also highlighted some specific areas within the business, where both Safety and Efficiency improvements could be made.
"The business quickly made a decision to work towards obtaining FORS Silver accreditation, which was achieved in April of the following year. The effort in establishing the driver development programme was fundamental to this, and has been the springboard to the continuing improvements witnessed.
"The FORS partnership has also assisted us to develop, implement and maintain a system of Driver Development"

"The biggest improvement we've noticed working under the FORS scheme? For us, it has definitely been two fold; initially the FORS accreditation has enabled us to grow the business and gain additional work, and secondly it gave us the additional focus required to develop our driver standards
"The detail below demonstrates the improvements that have been evident in both our average fleet MPG figures, and blameworthy RTA's that have been recorded across the fleet. The driver feedback has also been very positive, as alongside the driver development we have introduced a "Driver Behaviour Bonus" rewarding the drivers for their improved driving standards"
'"Through the close monitoring, driver training and development, we have seen a significant improvement in our MPG returns and a reduction in Accidents across the fleet"

| | | |
| --- | --- | --- |
| | MPG | Blameworthy RTA per 100,000 miles |
| Jan- Dec 2013 | 7.71 | 1.55 |
| Jan- Dec 2014 | 8.39 | 1.21 |
| Percentage improvement | 8.82% |  21.94% |
"Participation in the FORS scheme to date has been viewed as a resounding success for the business. Not only have we seen, and continue to see, the number of accidents reducing, we are also reaping the financial benefits of an enhanced and safer driver pool. Our customers continue to use Jempson's for their deliveries into Central London, and we have been able to take on additional customers and contracts where FORS has been identified as a differentiator."