ST Services Ltd are a Specialist Crane Assisted and General Haulage Transport Company based in Telford (Shropshire), we have been servicing transport requirements from small pallets to heavy machinery throughout the UK and Europe for 10 years.
With a fleet of 7 vehicles and a varied stock of trailers comprising of flat beds, curtain side trailers, Hiab trailer and step frame low loaders. All of our tractor units are equipped with high spec Hiab cranes.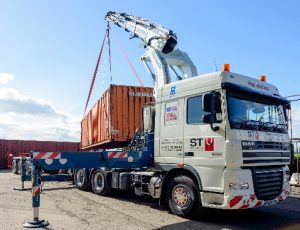 We first came across FORS when we were asked to supply transport for one of our customers in London whereby the minimum requirement was to be a FORS member at Bronze level.
We initially applied for FORS as part of that contractual obligation, however, we learnt very quickly that there were massive benefits to be had by being part of FORS.
Our first experience with the FORS assessment was great, everyone was keen to adopt FORS standards and it helped re align our current processes and procedures to significantly improve the way we operate as individuals and manage the business.
After a positive assessment to achieve Bronze we were encouraged to apply for Silver by the assessor. This was a good boost for us as we had fully embraced the FORS ethos and this became clear when we passed our Silver with no issues.
We always had a vision of achieving Gold and this was now the next challenge for us.
Once we became a FORS member we immediately utilised the support that comes with being a member, using the "Performance Management" and the "Driver License Check" tools to improve the way we manage the fleet and make commercial decisions.
Another feature we were keen to implement was the "Incident and Collision reporting" tool, this gave us the ability to collect and store data in one place and reduce various paper trails.
All of our drivers have attended a FORS workshop "Safe Urban Driving" where the drivers were lead out cycling around Birmingham to see the vulnerability from a cyclist perspective, this helped the drivers become more aware of the dangers they pose as a commercial vehicle driver in the city environment and their attitude toward Vulnerable road users, which has been the most rewarding reaction.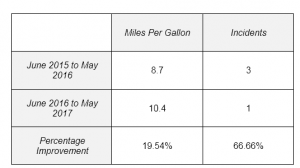 Since becoming a FORS member we have significantly improved our KPI values, by implementing certain safety features such as Audible indication and reverse speakers, front and rear cameras and fall prevention systems. As a result we have seen a consistent reduction in incidents year on year.
And with the knowledge and awareness training from FORS our drivers are becoming more skilled which, along with the introduction of Euro 6 vehicles has had a positive impact on increasing our MPG / Nox.
We feel that achieving Gold status will help establish ST Services as a leader in transport "best practise".
We have seen the benefit of being part of FORS already and this has been a significant contribution to the continued growth of the business.
Our aim for the future is to continue to maintain/promote the high FORS standards that we have worked hard to implement here at ST Services, and to invest further in our drivers, our vehicles, to help reduce our carbon footprint and incidents.
This will not only show our clients that we have a commitment to them to continuously improve but it will make us a safer more profitable business with a stable management platform.
Please note: All published FORS Gold case studies have been submitted by the accredited company named above and transcribed verbatim