Formally ran as a sole trade company Kayco Transport Ltd was formed in October 2017. It is a small family business, owned by Father and Daughter, Michael Wilson and Kay Seager, Kay is also the the Transport Manager. Kayco Transport Ltd are a contracted haulier for Tarmac, currently with one vehicle, which is based in Charlton covering London and the surrounding areas. FORS has helped Kayco to create a professional, well trained team.
We were introduced to FORS by Tarmac. We began to implement and review our procedures straight away to enable us to apply for Bronze. Kayco Transport Ltd, passed the bronze audit and soon realised how beneficial FORS is to us as a company.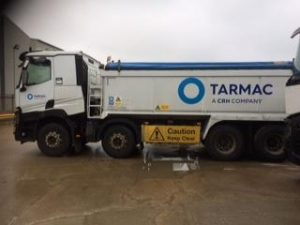 We knew once we had our Bronze accreditation we had to achieve our Silver FORS. The information available from FORS for our company has enabled us to effectively look at how our company was performing with fuel management and driver training through e-learning.
As an accredited FORS company it has one of the many things it has helped us with is our helped us with our fuel management and it made sense to move on to the next steps for Silver. We have utilised the FORS online e-learning modules which in turn has helped enhance our development plans. We passed the Silver audit the first time. Once Silver was achieved, going for Gold was the next stage.
"Implementing the FORS standard within the company has continued to improve the business and driver training through the e-learning tools." – Director Kay Seager
Once we were Bronze we decided that we would progress to Silver and then Gold because of the proven benefits to our company, in particular our emissions and fuel management.
"FORS has helped us to be more aware of our safety standards within the company." -Director Michael Wilson
All the changes we have implemented from being part of FORS, can only be viewed as positive for Kayco Transport Ltd and its employees.

Quarterly improvement in MPG also continuing our 0 record of PCN and Incidents.
| | | | |
| --- | --- | --- | --- |
| | MPG | Incidents per 100,000 Kms | Number of PCNs |
| Oct17-Dec17 | 6.20 | 0 | 0 |
| Jan18-Mar18 | 6.13 | 0 | 0 |
| Percentage improvement | 1% | Nil | Nil |
All Drivers are subject to a Fitness Review and eyesight check, on an annual basis, as well as a DVLA check of their licence details to ensure all our drivers remain safe to drive and protect the public.
To engage new driver in to the industry we train new drivers we use the two week buddy scheme where experienced drivers take out the new driver to make sure they are trained in the way the tippers operate.
We actively try to reduce any noise pollution we may make, we turn off vehicles if standing longer than 3 minutes in traffic, try to keep noise to a minimum when loading and unloading.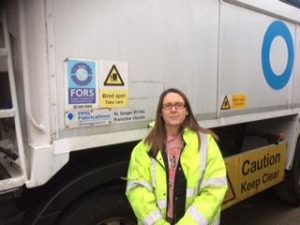 Working with Tarmac enables us to the research they have regarding new vehicles that would enable us to use an alternative fuelled vehicle and when a vehicle that could carry out our work, becomes available we will take this in to consideration when moving forward
Becoming FORS Gold accredited would show that our company is dedicated to continual improvements in our service to Tarmac and their customers and going FORS Gold will show that we are a successful, dedicated business.
FORS has enabled the company to run more efficiently and aid drivers to improve their skills. Going forward for the future Kayco Transport Ltd would use the advances in technology with truck and aids to help drivers in their daily tasks.
At the moment we do not use social media for the business but becoming FORS gold would be something to shout about.