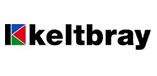 Side proximity sensor technology: Keltbray
Keltbray is based in Esher, Surrey and is a large specialist demolition and civil engineering contractor. Company turnover now exceeds £100m annually and Keltbray operates over 40 Heavy Goods Vehicles (HGVs).
Keltbray was one of the first companies to fit side proximity sensor cycle technology systems, over 4 years ago, in 2008. They are also involved in the Transport for London (TfL) and the Metropolitan Police's Exchanging Places initiative, which aims to enhance awareness of cycle safety in London. Keltbray was aware of the increasing amounts of cyclists on the roads in London, the increase in complaints by drivers concerning cyclist behaviour and above all the number of incidents involving HGVs and cyclists. Keltbray felt that some action was needed to educate and assist their drivers so that they could use roads in London injury and incident free.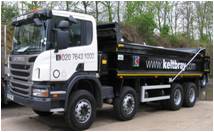 As a result it was decided that a trial involving the installation of rear facing cameras and a side sensor system would be undertaken.
There were a number of potential suppliers for this equipment and a system that also provided an audible warning for cyclists that the vehicle was about to turn left was chosen.
The rear facing camera system necessitated the installation of an in-cab monitor and Keltbray decided that an additional screen associated with a near-side blind spot camera may prove too distracting for drivers. Therefore cycle sensors were deemed less intrusive.
After a successful trial, it was decided to install the technology across the fleet. Once fitted, the side sensor system generated positive feedback from drivers, the main points raised being:
Cyclists could hear the audible warning as they approached the nearside of the vehicle
Pedestrians could hear the audible warning as they walked alongside
The driver was more aware of his blind spot when the in cab display was activated
The driver felt less stressed when surrounded by cyclists at busy junctions
Keltbray found that not only did the drivers like side proximity sensor equipment, it was popular to the extent that a driver was reluctant to take an HGV out on the road without the equipment working. Side proximity sensor technology not only supports Keltbray's work with the Exchanging Places initiative and various other safety related projects with London councils, but also makes their vehicles able to be seen, heard and avoided by vulnerable road users, including cyclists and pedestrians whilst on the road.