Hounslow Council is one of 32 London boroughs. Situated in west London, Hounslow houses some of the capital's most famous landmarks including Syon Park, Chiswick House and Brentford's Golden Mile – as well as being a stone's throw away from Heathrow Airport. The borough is also part of WestTrans.
Wendy Cheesewright, Assistant Vehicle Fleet Manager, explains how the borough has updated the vehicle fleet.
"We have been involved with FORS for a number of years. We were introduced to the scheme by TfL and quickly realised the benefits FORS would bring not only to us as a London borough but to the wider transport industry.
"Our experience with FORS has been positive from the outset. We passed our initial assessment first time round. With help from Fleet Development, we progressed to FORS Silver and now we are aiming for FORS Gold re-accreditation. The entire process has supported and encouraged us improve our systems.
"We have embarked upon a fleet replacement project for our household refuse collection department. We have sourced the latest eco friendly engine technology and gearbox combination along with improved safety features as standard fitment. We have also specified smaller vehicles for our household recycling operation to ensure our impact on the environment in minimised.
"Improvement is key to our continued development"
"As part of our fleet replacement we have also focused on a key safety initiatives such as low height passenger doors with wide view windows, GPS enabled audible warning sensors.
"We strive to be the best"
"We have also seen an improvement in our reported vehicle incidents v Fleet Size figures. The reduction in incidents is directly due to the introduction of a permanent driver assessor along with the monitoring work we introduced several years ago.
"We have also seen no change in the amount of PCN's received. As a direct result of the monitoring work we embarked upon several years ago we have found a change in the type of issued PCN's.
COMPARISON OF VEHICLE INCIDENTS v FLEET SIZE
| | | |
| --- | --- | --- |
| | Incidents | Fleet Size |
| April – March 2015 | 31 | 270 |
| April  – March 2016 | 15 | 270 |
| Percentage improvement | 50% | |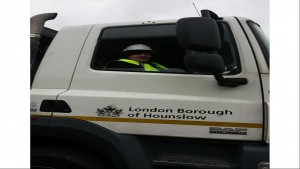 "Remaining FORS Gold accredited demonstrates we have a commitment to improvement. Our client base can also be assured they are using safe, reliable and compliant transport managed by a borough determined to be the best. Achieving FORS Gold at this time will ensure we are the first London Borough to achieve the accolade."