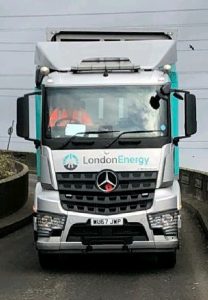 Section 1 – Introduction
LondonEnergy Ltd was first founded in 1971 by the Greater London Council, before ownership was transferred to the North London Waste Authority, which was established in 1986. The North London Waste Authority (NWLA) is the statutory waste disposal authority for seven local authorities: Barnet, Camden, Enfield, Haringey, Hackney, Islington and Waltham Forest. Until 2016 London Energy was known as LondonWaste, before a rebranding campaign was embarked upon which signalled a culture change in the Company and which has, as part of this change, seen far greater emphasis placed on the environment and road safety, which includes deepening involvement with FORS, having been with the scheme since 2009.
LondonEnergy operates the second largest waste contract in the UK, handling and processing nearly 750,000 tonnes of London's waste every year.  We have a dedicated team of people working across North London making a difference to the environment and the local community from the work we do. By processing household waste at our facility at the EcoPark, we produce enough electricity from waste to power over 80,000 homes every year. We also recycle over 70% of all items brought in by the public through our Reuse and Recycling Centres.
Katie Blowes has been with LondonEnergy for just over 2 Years and is now the Transport and Logistics Manager for the operation. When asked about her team Katie said "LondonEnergy's transport team is made up of very experienced managers and drivers. My team consists of myself, Andy my Assistant Transport Manager and Ray my Transport Supervisor. All have many years transport experience and knowledge behind them which makes us a highly capable team to take LondonEnergy's transport department forward into the future, making positive changes to help reduce our vehicles emissions and improve our driver's road safety awareness. Both Andy and I are qualified FORS Practitioners which definitely helps with our aim of becoming FORS Gold accredited. We have 31 drivers in total at LondonEnergy, these are split between driving our 32ton hooklift vehicles and our 44ton bulker articulated unit and trailers."
Section 2 – How did you hear about FORS, what prompted the company to join and how long have you been a member?
LondonEnergy are extremely proud to be seen as leaders in their sector with success stories throughout the years including being finalists in the CIWM PEEL people cup in 2012, Winners of Project Excellence in 2011 for BCS computing UK IT industry award, winners of the Jim Balance compost Marketing award in 2012 and most recently winners of the CIWM sustainability and Resource award 2017 for Best Health and Safety Initiative. We feel that FORS accredited status gives us the recognition our transport team deserves and sets us apart from the competition.
We became FORS members in 2009
Section 3 – What was your experience of the initial FORS Bronze audit?
There were some eye-opening moments at the initial audit. Katie said "As a company we hadn't considered eye test and Health declarations for all drivers until FORS came about but this is a definite must for all operators. It ensures we are compliant and are checking our drivers are fit and healthy on a regular basis. This also makes the drivers feel cared for by the company. The communication within the transport team has massively improved since becoming FORS accredited. FORS has also made the rest of the company include transport a lot more and people are a lot more aware of the transport department as a whole."
Section 4 – What was your main reason(s) for you progressing (either from Bronze to Silver and then Silver to Gold or straight from Bronze to Gold)?
The contract which we have with the NLWA dictates we must be FORS accredited but as a company we have decided that we wish to push to become FORS gold to ensure we demonstrate the high quality of our operation to the public, showing other road users and other companies we are legally compliant and trying our best to reduce our environmental impacts and help improve the air quality in and around London. London Energy aim to get involved with schools and make the younger generation more road aware. With 443 schools within central London falling below the acceptable air pollutions levels, focus on children and looking after their health and wellbeing is hugely important to us and is central to the Company's purpose.
One of the benefits of becoming FORS accredited is the high level of training given to our drivers.
 "Driver training is definitely more focused and in depth now. Before our drivers would only attend the general Health and Safety training given to all new starters in the company. With the FORS training it is now more about transport and the daily challenges in which we face. There are many benefits to drivers when working for a FORS accredited company however the main one would have to be the driver training. FORS provides so many valuable training courses from hand on training such as SUD to computer e-learning courses, group classroom sessions and toolbox talks. This makes our drivers and any other drivers fully trained to the FORS standard some of the safest drivers on the roads." Katie Blowes Transport and Logistics Manager

"The FORS training is ensuring drivers have yearly updates filling gaps from periodic DCPC training which is currently required every 5 years" Katie Blowes Transport and Logistics Manager
Section 6 – What improvements have you made?
The improvements shown on MPG will be having obvious improvements to the overhead costs logistic costs of the company. Whilst the excellent reductions in the NOx & PM10 levels provide significant benefits to the air quality and environmental impact on our local communities. However, LondonEnergy are not yet satisfied with the improvements to date and are looking to introduce more alternatively fuelled vehicles to the fleet in 2020.
| | | | | | | | | |
| --- | --- | --- | --- | --- | --- | --- | --- | --- |
| | Average artic MPG | Average rigid MPG | Incidents in this period | CO2 | NOx | PM10 | Number of PCNs | Proportion of fleet that uses alternative fuels |
| June 18-June 19 | 5.14 | 4.89 | 13 | 1128.67(t) | 820.39(kg) | 14.44(kg) | 26 | 0% |
| July 19- YTD | 4.81 | 4.85 | 2 | 460.08(t) | 401.92(kg) | 7.05(kg) | 10 | 0% |
| Percentage difference so far | 6.4% | 0.81% | -84.61% | -59.23% | -51.00% | -51.17% | -61.53% | |
All drivers, including company pool car drivers must sign a 6 monthly health declaration and undertake driving licence and eye-sight checks. This helps ensure all of our drivers are fit, healthy and safe to drive on the roads.
LondonEnergy are keen to attract new employees from all backgrounds and regularly attend graduate fairs at universities, ex-army CTP events and The army, be the best day. To help reduce the transport departments staff turnover all employees are offered great salaries and an attractive benefits package.
LondonEnergy's HSQE team regularly carry out Transport Noise Risk Assessments to ensure any noise generated is kept to a minimum, the assessment includes tasks such as driving on the road, loading/ unloading and lowering a bin from a hooklift vehicle. These are recorded at various locations that we collect and dispose waste at. When procuring new vehicles, we always search for the newest technology which improves safety and/or reduces noise.
By September 2020 we are confident we can have all of our HGV fleet running on bio-diesel, this and the electric vehicles are a huge investment but the positive environmental impacts massively outweigh the cost so LondonEnergy feel it will be a positive step for the company and one well worth making.
 Section 7 – What are your plans for the future?
As we look to the future, LondonEnergy wants its vehicles to be a clean as possible, emitting the lowest amount of vehicle emissions we can. Going forward we are hoping to run our entire HGV fleet on high grade bio-diesel. This is currently a project with our procurement team, we aim to introduce this fuel by late 2020. We are hoping to replace all of our diesel fuelled vans with fully electric vehicles but mid- 2020 and going forward all smaller vehicles purchased will be fully electric where possible.
Section 8 – What evidence do you have of positively promoting FORS at requirement G7?
Our company Linked in page is managed by our communications department, they are always posting about various topics across the company and always make sure the transport department and FORS are regularly included. We have recently supported road safety week and posted many things promoting it, all included FORS. We have also published our FORS case study. Both Katie Blowes and Andy Howes are active on Linked in and are always promoting and reposting various posts regarding both transport and company initiatives.
Section 9 –What FORS Gold accredition means for your organisation/to you?
FORS Gold accreditation will mean that we ensure that we are providing the highest level of driver training possible. We will also be actively investing in the newest and cleanest vehicles for not only our HGV fleet, but for all vehicles used throughout the company. We are a highly invested company when it comes to the environment and road safety, FORS Gold will give us a measure for this.
Section 10 – (Optional) Please provide your social media contact details so we can follow your organisation
LinkedIn – LondonEnergy
Section 11 – FORS members' feedback questionnaire
Please could you take the time to complete a short questionnaire and provide feedback about FORS. Please note all answers you provide will be strictly confidential and will only be used by FORS to help us to improve the scheme. To access the survey, please click the link here: https://www.snapsurveys.com/wh/s.asp?k=153908006313
*Please note: All published FORS Gold case studies have been submitted by the accredited company named above and transcribed verbatim