LondonWaste Ltd is owned by the North London Waste Authority (NLWA), the second largest waste authority in the UK, and provides sustainable waste management services across a principal geographical area of North London and the home-counties with a vision to see no waste sent to landfill.
The Transport and Logistics Manager, Les Calter, explains how LondonWaste Ltd has evolved and continued to reduce road-related complaints, incidents, collisions, and emissions associated with vehicular activity, and improve overall safety, operational standards and efficiency.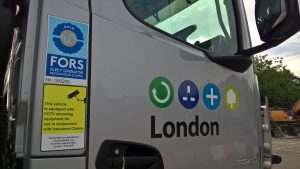 We first registered as a FORS member in 2010 with a view to assessing and improving the standard of our transport operation. Our initial 'bronze' assessment revealed that we had implemented, and was practising the necessary and important base policies, procedures and systems already; however, we sought to improve our standards e.g. reduce operational risk, improve efficiency, complaints and incidents with the professional guidance, support and assessment that FORS was able to provide.
Once the 'bronze' standard was achieved, we took advantage of the available advice, benefits and courses e.g. equipped our LGVs with cameras to reduce road-risk, negative/mitigate spurious claim and monitor thus improve driver behaviour, subscribed to 'Advanced Check', the on-line drivers' licence verification database and nominated managers, supervisors and drivers to attend the Safe Urban Driving (SUD) course.
In 2012, we progressed to 'gold' to demonstrate our safe, compliant and efficient working ethos, and to successfully retain the 'gold' accreditation since 2012 re-affirms to our employees, customers and the public (vulnerable road users, especially) our commitment to road safety and the environment. Our safe and efficient transport operation operates with frequent review and continuous development, which has assisted us with aligning our operation with the Managing Director's vision to become the safest, cleanest and greenest waste management company in the UK.
"Always be 'above' the standard!" – Les Calter, Transport and Logistics Manager.
As a company, having implemented vehicular CCTV and telemetry systems across the LGV fleet, and scheduled drivers to periodically sit and attend external and internal vehicle/driver theory and practical training programmes, we have noticed a change of driver awareness and performance, and reduction in road related complaints and incidents.
"Drive as if you have a cup of water on the bonnet!" – Allan Smith, (internal) Driver Standards Assessor.
The table below demonstrates the improvements achieved between 2014 start and 2016 end.
No. of LGVs
Miles Travelled
Fuel Used (Litres)
Average MPG
CO2 Produced (Tonnes)
No. of RTCs
No. of PCNs
Jan-Dec 2014
25
592580
454190.71
5.93
1186
10
8
Jan-Dec 2016
28
758236
434011.40
6.99
1133
8
5
% Variant
11.32% increase
24.53% increase
4.54% reduction
16.41% increase
4.54% reduction
20% reduction
37.5% reduction
It is anticipated that these figures should continue to improve, as in-line with one of the company's objectives to maintain a modern, more efficient vehicle fleet, we have ordered eighteen new Mercedes-Benz tractor units and eighteen waste carrying semi-trailers, equipped to the 'gold standard to replace the majority of our articulated fleet procured in 2015.
2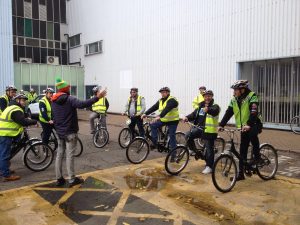 017 is our 'Start Safely' year in which all employees (including management) are required to attend interactive workshops, topic awareness and training days throughout the year.
Our large and light goods vehicle, van and plant drivers were required to attend a half-day 'Vehicle Safety' session, which included the following content with a knowledge check-test at the conclusion:
(1) safety culture ladder; (2) voting questions on current driving safety culture; (3) a video entitled, '10-Steps to arrive safely; (4) an interactive tiredness workshop; and (5) an interactive, comprehensive vehicle check workshop using an articulated goods, rigid goods, light commercial and plant vehicle including fork-truck.
The feedback from this course was exceptionally positive from both the external training provider and participants. The trainers were pleased with the constructive participation, and positive attitude and behaviour of the drivers. The drivers concluded the course, giving them the knowledge and understanding of this essential subject, which was captured in the test results.
As safety is our primary concern, and with a view to monitoring and controlling internal road-risk associated with our operations, the company has introduced a Driver Standards Assessor position. Lead Driver, Allan Smith was recently appointed as part of his on-the-road, hands-on operational role.
Allan is a knowledgeable and an experienced class one large goods vehicle driver and plant operator, and joined LondonWaste in 1996. Allan holds the International Manager CPC in Road Haulage, and has was recently appointed as a FORS Practitioner.
The primary functions of this role includes: (1) conduct assessment drives with employees and contractors, and plant operators to establish their fitness to drive and standard before or when they join the company, or post-incident or collision, or at random; (2) communicate new legislative, regulatory and in-house policy implementations and changes, and tool-box-talks with a view to ensure our drivers and operators maintain an up-to-date awareness or knowledge base; and (3) carry-out random vehicle checks at their originating sites, once drivers have declared to have carried out a vehicle safety check or at their respective exit gates before entering the public road to ensure these checks are being carried out   accurately, and to identify anything, which drivers may have inadvertently missed with optimum professionalism, best practice and compliance in mind.
To support these safer working practises, all drivers, who join us (recruited through our website and public events, hosted or attended by LondonWaste Ltd) must complete a comprehensive driver pre-employment fitness and health questionnaire (see * below) and adhere to the Fitness to Drive Policy, and sign a declaration to confirm their continued fitness to drive and undertake an eye-sight test every six-months.
(*The questionnaire is to assist with identifying issues, which might affect our drivers with their ability to drive in order to improve safety and minimise road-risk as a result of underlying health problems or diagnosis a condition in which case they will be suspended from driving without exception.)
In regards to vehicle noise pollution, our drivers are encouraged to drive with courtesy (no unnecessary revving and/or harsh acceleration) and using eco-driving techniques (e.g. anti-idling), and vehicles have been scheduled to operate during times where normal 'operational noise will be accepted – and as a potential alternative mode of transport, whilst alternatively fuelled large goods vehicles are not an option at this time, we are currently researching the practicalities of acquiring and utilising electric vehicles for supervisors to travel between sites, which we hope to implement within the next 3 years.
"A good driver is not heard!" – Les Calter, Transport and Logistics Manager.
Gaining and retaining the FORS 'gold' accreditation for several years demonstrates our focus, investment and overall dedication as a company towards road safety. We will continue to use FORS and strive to improve our safety record, standards and efficiency concurrent to promoting the scheme with a view to be the safest, cleanest and greenest waste management company in the UK.
For more information on the company, please visit:
Please note: All published FORS Gold case studies have been submitted by the accredited company named above and transcribed verbatim